L'ARc de Triomphe Hidden Behind the Christo's Fabric and Rope!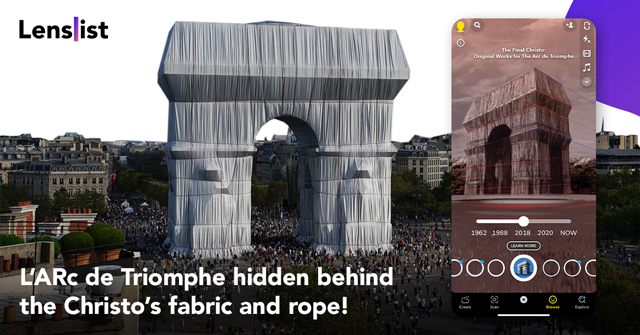 Around six decades ago two artists Christo and Jeanne-Claude came up with a quiet surreal concept – wrapping Paris's immense Arc de Triomphe. Back in 1962 Christo created the photomontage of the Arc de Triomphe wrapped and kept working exhaustively on this project. It is actually happening right now thanks to Snapchat, Sotheby's and Estate of Christo partnership. In September 2021 Christo's fantasy came into reality – not only in the physical world but also in an endless Augmented Reality used in Social Media channels by launching The Final Christo: Original Works for The Arc de Triomphe' global portal Lens.
Christo had a dream to pull the gallery out of the building and bring it to the outside world for everyone. Snap seems to follow his idea through the AR infinite capabilities. Art and tech enthusiasts can cherish the photomontage of Christo's designs by scanning a Snapcode through the app and admire fabric-wrapped monument visions in Augmented Reality starting from 1962, 1988, 2018, and 2020 to end up in September 2021:






Swaddled in 270,000 square feet of shining polypropylene fabric and braced with 3,000 meters of red ropes, Paris's extraordinary monument closing the western end of the Champs-Élysées is available to be admired both locally and globally via your phone. Lens can be easily found in Lens Explorer under "Arc de Triomphe," "Christo," "Sotheby's" or "Wrapped." Should you choose to consider a selfie… Just turn on your camera in front of the installation! Lens sets the Arc de Triomphe anywhere Snapchatters point the app's camera. Thanks to trendsetting AR Snapchat delivers you to the heart of Paris to experience a bit of travel, history and art altogether. 🇫🇷 🌍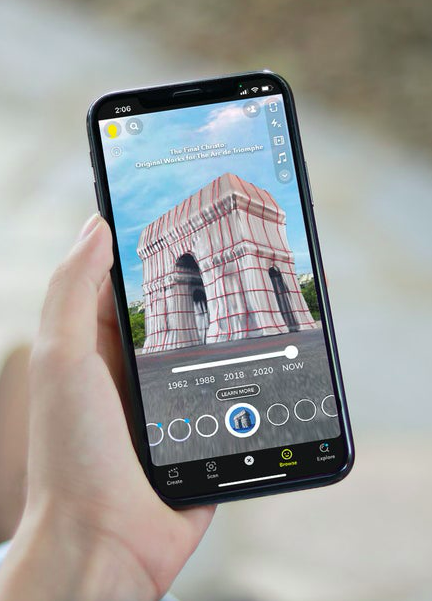 Installation will be available till 3rd of October. Until this day Sotheby's Paris is presenting a never-seen-before exhibition of 25 artworks exposing the details of this unprecedented vision – from unreal thought straight to reality!
Here is what Team Snap said regarding this matter:
"The Final Christo: Original Works for The Arc de Triomphe Lens shows how the Snapchat Camera continues to play a transformative role in how people experience what's around them, combining what they see in the real world, with all that's available to them in the digital world. Christo and Snap's shared vision of making art accessible to all and empowering people to tap into their own creativity inspired the Lens, making this partnership a natural fit."
Incorporation of AR into social media platforms not only offers brands a unique method of advertising their products but also allows for local history and culture to be shared and celebrated worldwide, making all of us more and more connected. Thanks to a highly interactive, engaging and immersive nature of social media AR, Augmented Reality may be even a better source of interaction than a regular visit in a museum – especially, since you can experience it from the comfort of your own home. AR enriches reality with digital information making it not only more exciting, but also more inclusive, making art and culture more accessible to all smartphone users worldwide!