AR Talk | Shimenta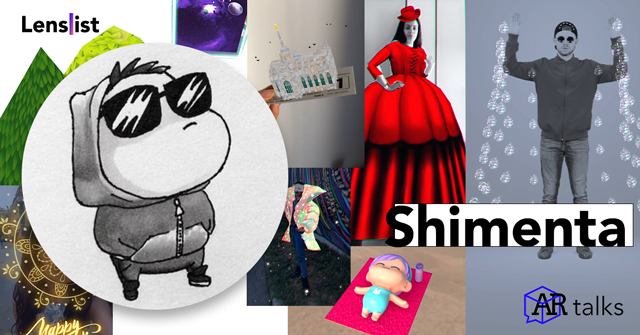 Artist, illustrator, mentor and Official Lens Creator – there are many ways to describe Shimenta. Our Italy-based guest stole our hearts with the cyberpunk aesthetic, cute dancing characters and social awareness widely present in her work. Check out our interview to learn more!
What is your background as an artist? We can see that you are an experienced illustrator. What led you to start your journey into the AR world?
I have liked to draw since I was a child, I used to spend most of my time putting ideas on paper. I have always been fascinated by the idea of creating images that could spark emotions or reactions in people. I loved the idea of being able to send a message through a simple medium such as drawing or photography. When I finished high school, I started a career in audiovisual design at the University of Buenos Aires. I learned a lot about audiovisual language and worked in several productions as an art director and 2D/3D animator. During my studies, I got to know 3D design and the great possibilities it offered when creating scenarios from scratch.
I was fascinated by the idea of being able to create scenes and designs from zero with amazing realism.
While working in a creative agency, I had the opportunity to lead the Lens production team for Snapchat and, at the same time, I started to investigate the Lens Studio software on my own.
When I moved to Italy, I took advantage of my free time while waiting for the residence permit papers to study Augmented Reality and create my first Lenses. I loved the idea of being able to take those elements created in 3D and mix them with reality.
Do you enjoy teaching others? What's the main advice you are trying to pass on to less experienced Creators?
I had the opportunity to give several workshops for Italy and Spain in the last months. I loved the experience, I really like to help others to understand the software and to be able to express their own ideas in AR.
Many people have great ideas but maybe they don't have the knowledge to realize them. I am happy to be the person to help them get into the world of AR and it is so inspiring to see the creations they make.
My advice to young Creators is to always be curious and always do the research. There are thousands of resources online to learn, but it is important to know how to take advantage of them. You can start from scratch by reading the software documentation or have an idea and research online how to achieve it, either of the ways is valid. If you have doubts, consult with the Official Creators, most of them are always willing to help and guide the younger ones.
Why did you choose Snapchat as your main platform? What are the advantages and disadvantages of Lens Studio that you notice?
I started working with Snapchat products around four years ago. I loved their approach as a camera app from the very beginning. Snap provides a playful and safe space to communicate with our friends using Augmented Reality as a way to express ourselves. I always felt very comfortable creating Lenses in Lens Studio. I found it very easy to learn and create with this software. I have only tried Spark AR and I felt it was not very intuitive. I found it very complex to achieve results that were very simple to generate with Lens Studio.
The advantages of Lens Studio are that it is a very powerful software, loaded with advanced features and tools that make it very easy to create high-quality Lenses. There is a lot of information and tutorials available online, plus a great community of creators that share resources all the time. I don't know if I can name disadvantages because I don't have much experience with other tools to make a comparison.
What is your favourite feature in Lens Studio? Which Lenses brought you the most joy during development?
I must say that I have many favourite features, it's hard for me to choose just one. Body tracking is one of them, the ability to make clothes or elements that follow the whole body is super interesting to me. I also find the keyword recognition feature fascinating. I love working with this technology using words as triggers for animations or changes. I think it is a feature that can grow a lot and change the way we interact with AR generating a very intuitive experience. Finally, a feature that I enjoy working with is the VFX, which allows generating particles easily by using nodes.
Within the Lenses that I most enjoyed developing there is the Lens I made for Google AR Indoor Forest. In that lens, I used a technology that I knew little about but I was able to learn a lot and finally replicate the idea I had in my head. I also had the opportunity to draw and hand paint the materials to generate the textures which I very much enjoyed.
I also liked a lot doing my Metaverse Lens, a portal that allows you to enter into a small universe. I had a lot of fun generating each asset and looking for different details to add to it. I even created the music and sounds from scratch, generating exactly the mood I was looking for. It was a complete creation process where I had control of everything and I really enjoyed it.
I also liked my Lighting up Diwali Lens a lot because I had the opportunity to get to know this festivity in depth and reach the result and atmosphere I was seeking in my Lens.
Finally, another one of my favourite Lenses is Summertime, where a little character changes activity depending on the time of day. I had a lot of fun thinking about the different activities and situations I could put my character in and setting light and colours for each one.
You are an Official Lens Creator (OLC). Did gaining this recognition change your perspective on your work? Are you taking creating Lenses as a hobby or, maybe, a future full-time career?
Yes, definitely. When I became an Official Creator I felt that I had a certain responsibility to generate high-quality Lenses, to pay attention to each project and to generate the best possible version of each one of them.
Currently, creating Lenses for me is a mix between a hobby and a full-time career. I am eager to grow professionally as a Creator.
I usually help brands all over Europe in their Augmented Reality strategy as a creative strategist, I also lead the production of the Lenses with a dedicated team. However, I would like to get more involved in projects where I can participate in the production myself more often.