AR Talks | Alex Bradt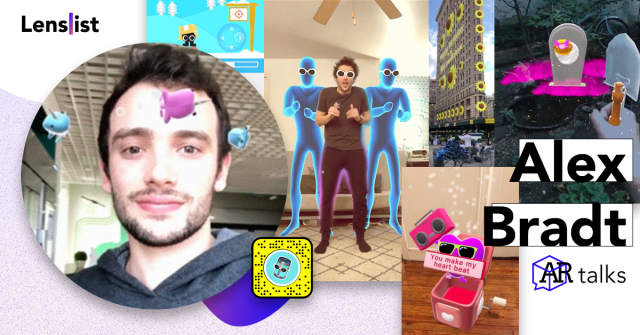 Another AR Talk and another amazing Creator to learn about and from. This time we interviewed Alex Bradt – not only talented and hardworking but also an enterprising AR designer! He just started his own AR agency, so we wanted to know all about his AR journey and especially the bold milestone he achieved. Let's give it to Alex! 👏👇
First things first – please tell us a little bit about yourself, where are you from and what is your background?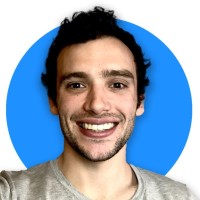 I'm from a small town in Connecticut called Oxford. We had a ton of pets, my brother was into the scaly ones (lizards, snakes, scorpions, etc). I on the other hand was into the cuter creatures (hamsters, hermit crabs, chickens).
I also loved using my parents' clunky old VHS camcorder to make all sorts of weird videos with. Sometimes they would be Beanie Baby wars or a breakdancing GI Joe Mace Windu (true story). I loved making weird funny stuff but started to realize I was limited to the physical props I had on hand.
As I got older, I focused my effort towards animation, it was much easier to tell unique stories that didn't rely on anything physical. I could create any situation without any limitations. This animation skill set was especially helpful in landing me jobs working alongside really talented people at tech companies around the US such as Linkedin, Snapchat, and Google.
I currently live with my wife and puppy in Gramercy, New York. We enjoy riding citi bikes and being tourists in our own city.
When did you get into the subject of AR and what did the whole journey look like?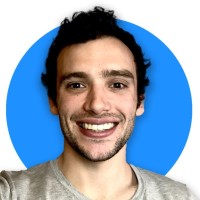 I have been interested in AR since I first heard of it in college. I was itching to create in AR so I began to teach myself 3D modeling and animation in Cinema 4D.
While working at Linkedin, a few friends and I would mess around with Unity on nights and weekends to make some very basic AR. We would call it the "Unity Slam Jam". It was fun to create with, but the technology in Unity (at the time) was too early to take off.
A few years later I was working at Snapchat during a very interesting time. The company seemed to be shifting its focus towards AR. I was part of the marketing team that helped launch Snap Camera. You can still see me wearing a derpy face filter on the Snap Camera site.
One of Snap's Lead Creatives, Will Galperin, noticed my 3D animation work and encouraged me to upload them into AR via their Lens Studio program. It was my first time opening the program but I was pleasantly surprised how easy it was to bring all my 3D creatures to life in AR. I began putting a bunch of AR Lenses focused on cute characters and animation, mostly with the back facing camera. I started collaborating with some friends who were more proficient in coding, and that's when we started to create some really cool projects like Box Bois and Spooky Smash. We created these Lenses on the side for a few years until we had a number of clients looking for similar projects. This new demand led me to create my new company, MousePack.
Now Alex, huge congrats to you for setting up and establishing your own studio! 👏🎉 Tell us all about it – are you collaborating with anybody on it, what are your goals?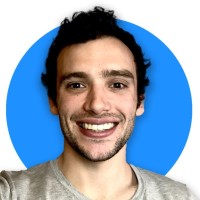 Thank you! My new studio is called MousePack. The name is both a nod to my mouse-filled home here in NYC, but also to illustrate the concept of a small yet mighty creative force.
I collaborate with a number of artists and developers depending on what's needed to complete each job. My core team is Enoch Ajagbe and Noah Huelsman. They've been working with me for the past few years on a number of projects such as Box Bois, Spooky Smash, and Chug Jug (you can check these projects out on my site).
I have always been focused on creating content that can be enjoyed by everyone. I love working on projects that promote kids' brands because of how bright, colorful and fun they typically are. I would love to create my own kid's show, one character I've been playing around with is "Stunt Rooster". He may be making a debut at some point in the future.
My goal with this studio is to develop our own characters and games that I can distribute through MousePack. I want the games to be fun and encourage cooperation with players. Solo games have never really been my thing, so I would love to create a game with a social element like Pokemon Go. We have some really awesome studio projects that we will be sharing throughout the year.
AR Creators can choose different paths to monetize their skills – some freelance, some work in studios, agencies or even brands. Others partner with platforms, others sell their artworks directly or via blockchain and some, like you, establish their own companies. Why did you choose this particular path and what are the pros and cons of starting your own AR agency?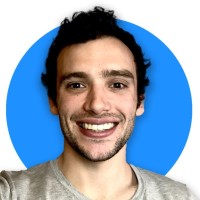 Working in-house was a great way for me to get started from the first part of my career. It let me work closely with people who were incredibly talented at what they do. I would ask questions and loved learning any new tricks or workflows. My work however was solely focused on promoting that one company.
I've always wanted to establish my own brand that is focused around my personal interests and values. For example, I love working with kid's brands (I'm a card carrying member of the NYC Children's Media Association). While I loved working at tech companies to be involved in the latest innovations, I rarely touched any products that were related to children in any way.
I find direct-to-client work to be the most creatively fulfilling and I'm an extrovert, so getting to meet new clients is always fun.
Pros/ Cons of starting your own studio:

The Pros:
flexible hours
you can select your clients
more time for personal development
The Cons:
time management needed
personal finance skills needed
building a livable client list takes time and negotiation skills.
Being an AR Creator means wearing many hats at the same time – an artist, developer, technologist, and now for you – a businessman. Do you identify with one of these more than others? And which one do you think is most necessary to become a successful AR Creator?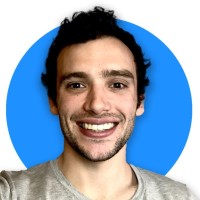 I have a hard time with my Linkedin headline because I can't decide what I am. In the past I've seen myself strictly as an Animator, but now that I typically work with small teams I find myself being more of a Creative Director / Producer. It's a job path my younger self probably wouldn't have seen coming. Being a Director / Producer is much more focused on communicating the vision and the deadlines of the projects, rather than creating it all myself.
If you plan to work for yourself, I recommend you learn a broad range of skills outside of art and development. The two areas I would research are personal financial management and marketing. They sound boring in comparison, but they are equally if not more important to be successful in the long run on your own.
If you are working for a company you can focus on honing your craft which is why they are a great place to start your career in my opinion.
Please pick 3 of your favorite Lenses you made and tell us more about them – the inspiration, creative process and development.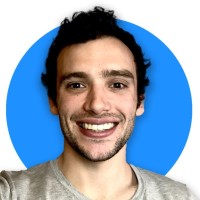 A few of my favorites include Box Bois, Chug Jug, and Inventor Center.
Box Bois was our first game Lens aimed at creating a uniquely challenging game and also establishing some basic lore with our character Bowie. The user moves the balloon character with their nose, avoids the scissors, and collects boxes that launch from the cannon. This game changed a lot as we tested it, overall we're happy with how it came out and how pretty it looks. We even created a sequel Box Bois: Unwrapped.
Chug Jug was a fun project. We collaborated with the creator of the viral "Chug Jug With You" to make a filter people can dance to the song with. We even had Gideon Chickos, a professional Broadway dancer, create a dance for the Lens. This project was the most time I spent working on a meme, but atleast I learned what "Clout Goggles" are.
Spooky Smash is a hand tracking, bad guy smashing, AR game. Our goal was to experiment with AR gaming using the front facing camera. With the help of Adain Wolf's hand tracking script, we created a game where the users defend against waves of enemy attacks by smashing them with a shovel.
What I like most about your Lenses is for one how versatile they are and two – how interactive they are. Could you tell us more about your projects overall – what are you most inspired by and what do you care most about while designing a Lens?
I want my Lenses to be both visually appealing and fun to play with. I always try to add an extra layer of interactivity to every AR creation. I would like my creations to feel like digital toys rather than pieces of art. I love it when people use my creations to make their own content and tell their own weird stories.
Now, since you're starting another stage in your AR career, what is the most valuable advice you would give (or you got yourself as a beginner) to a Creator, who's just starting up?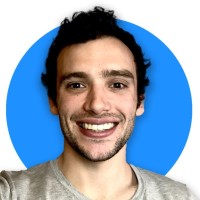 To be a successful AR Creator (or any creator for that matter) you should be constantly putting out stuff that reflects you. Try to craft a style, or something that is unique to you. This can be the colors you choose, the models you create, the music you use, etc. It's okay if your style isn't defined immediately. With more and more projects your style will begin to form itself and that will be your greatest asset.
Deadlines are important. Set them for your personal projects. It's easy to get trapped on fine tuning a personal project for months. Set yourself a date for when it is done and deliver it by that date. It's helpful if you pick a Holiday-themed Lens so that you're forced to get it out by that date.
Time yourself. I got this little timer that I slap everytime I start on a project. I slap it when I take a break to walk my dog or each lunch and then hit it again when I'm starting. This gives me a good feel for how long a project takes me so I can accurately estimate my timelines and project bids.
Other than that, be nice to people and you'll do just fine.
Huge thanks and a loud round of applause for Alex 👏 We can't wait to see what you're going to do next with MousePack and we look forward to seeing more Creators carve their own path in this AR space of ours. Hope you enjoyed this Talk as much as we did and if you have your own interesting story to tell – maybe just like Alex you achieved an important milestone – hit us up and let's talk – we're here for you Creators 💖✨