10 AR Filters' Creators You Should Follow | May 2021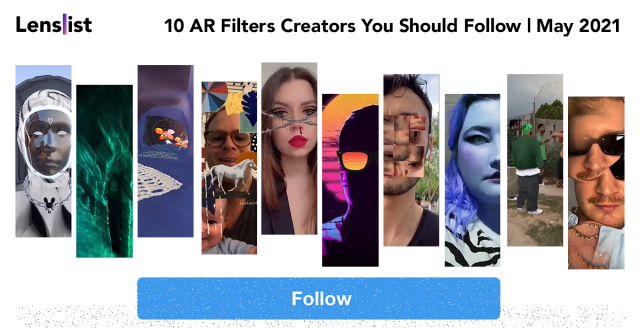 Augmented Reality is an infinite playground for the creativity of thousands of talented artists. Today, as in every month, we present to you 10 of them. We're grateful for their crafty AR filters, their engagement in the community and the quotes about their AR journey that they shared with us 👇✨ Enjoy!
Amanda Chien

@amanda.collaborative
Amanda is a 7-month, talented newbie who enjoy playing around at Spark AR wonderland. Her learning resources are from all the Spark AR creators via Lenslist, Spark AR social medias, and YouTube. Lenslist is her daily dose of insightful AR news and inspirational resource. Spark AR social medias and You Tube are her AR Wikipedia.
I am very interested in AR procedural animation, especially interactive virtual try-on with kinetic soundwave. Currently, I experiment on robotic fashion and sound analyzer. I would like to explore more in-depth creations in virtual fashion with music on forward!

– Amanda Chien
More Filters Instagram Website
Christofer Roibal

@christ.op
Christofer is a programmer and media producer who now dedicated himself fully to Augmented Reality, offering his tutorials, shaders and Spark AR project files on gumroad. He also expresses himself with singing.
Since my childhood I have been fascinated by how technology can change the world, the way of educating, how we see art and many other things. Thanks to this and my curiosity I have always been learning on my own things of interest, such as augmented reality that I learn now.

I am a programmer, audio, image and video producer but currently I only dedicate myself to creating experiences in augmented reality with Spark AR because it makes me feel really good. I read about this in 2019 and had very little opportunity to use it at the time but I was always watching tutorials and videos on Google/Youtube. This year I was able to buy a good computer and start working in augmented reality and I have discovered it as one of my passions, an addiction indeed. I am in love with Spark AR and everything I am capable of taking from my imagination and bringing it to augmented reality for Facebook, Instagram, and now Messenger as well.

My sources of inspiration, in addition to nature, imagination, dreams and God, are my family and friends who always support me. And the great Spark AR community, its members and administrators who are always there to help, support and give feedback.

My plans are to continue learning and experiencing this new world, my journey in augmented reality is just beginning and I feel that I can achieve a lot thanks to this. Another one of my plans is to be able to transmit love, feelings and emotions through augmented reality and to be able to work with brands and artists as well.

– Christofer Roibal
More Filters Instagram Website
Alice Zhang

@aliceyuanzhang
Alice Yuan Zhang (she/her) is an artist, educator, and community weaver. She has a background in digital strategy consulting and now works as a one-person creative studio. Her artistic practice explores socio-ecological entanglement through playful projects across mixed reality, browsers, and networks, as well as somatic workshops and community exchanges. Zhang is the co-founder of virtual care lab, a resident artist at CultureHub, involved member of NAVEL Los Angeles, a professor of media design at Sarah Lawrence College.
AR is a spatial and temporal tool for the imagination. In an era of short attention spans, I can choose to meet people where they are, and immerse them in powerful possibilities. When used well, AR should feel like a tangible prototype of realities that we otherwise cannot access–a forgotten memory, slipped-away dream, mythical realm, or vision from the future–set right into our physical environment.

I'm currently working on a few projects to honor immigrant roots for AAPI month. They're launching soon, and I can't wait to envelop my viewers in ancestral scenes of land, culture, and ecology that feel really special to me.

– Alice Zhang
More Filters Instagram Website
Erik Winkowski

@erik.winkowski
Erik is an artist based in New Orlean who 'treats video like collage, cutting up, drawing over, and remixing scenes from everyday life in playful, unexpected ways' (source). He integrates analog with digital in his Augmented Reality workarts. Check out his [AR]T Prints available at Kaleida Studio.
I'm interested in making work that brings the imagined world into the real world – AR is perfect for that. I use traditional art tools like paint, paper, and ink, so even though my work is digital it often feels analog. I'm primarily inspired by modern painting and sculpture. Whenever I go to a museum I look at the art and ask myself, "how would this move if it could?" AR is all about bringing things to life, it's an optimistic act.

– Erik Winkowski
More Filters Instagram Website
Lucie Bouchet

@tenessees
Lucie is an experienced graphic desgner and AR Creator. Together with Robin, she runs a digital agency in Marseille called Reckless Morning.
The first time I saw a filter with a creator name linked to it, I thought it was amazing and I wanted to create my own. As a Graphic Designer and Community Manager, I found that filters were a great mix of creativity and social media marketing possibilities.

I posted my first filter in October 2019, it was a really simple face mask but this is when a new passion began.

I always search for my « style », as I love a lot of aesthetic, I think you can definitely see it in my work : kawaii, futuristic, grunge, funny… My filters are a mix of what I love and who I am: A very confused person haha.

My main inspiration comes from fashion, music, video games and Japan culture. I love neons, colors and AR makeup, these are the filters you will see the most on my accounts because I found them fun to do, but also challenging.

– Lucie Bouchet
More Filters Instagram Website
Dylon Fiala

@dylongfiala
Dylon graduated from the National School of the Arts in Johannesburg experienced in 3D animation, VFX, VR and AR. He is a co-founder of Pixel Chefs, the provider of immersive digital solutions from South Africa.
My name is Dylon Fiala, I was born and raised in South Africa. I'm one of the co-founders of Pixel Chefs with Kym Fiala (my twin brother) and Nelson Rebolo (a long time friend from college). My love for art started at a very early age and I already knew from the beginning of high school that I wanted to pursue a career in art. So, I enrolled in art school and graduated from the National School of the Arts in Johannesburg in 2002 doing fine arts. After high school my brother and I decided to study 3d animation and vfx and then went on to work/freelance for some of the top agencies in South Africa.

The first 6 years of my career I spent mostly animating videos for commercials, corporate and music videos. After that I landed a job working at a web/digital agency where I grew a love for interactive digital experiences, and a few years later started playing around with VR and AR in its early phases. At that point I grew an obsession with AR and VR as a medium to express myself artistically even though the world hadn't accepted AR or VR as mainstream media. In 2017 I decided to quit my job and start a business with my brother and close friend and started my AR journey with Spark AR the same year when it was still called AR Studio. I was one of the first out of 20 creators in the world to be a part of their beta program. I've been making filters professionally for brands and personally for my own creative reasons ever since. Now, our company is part of the SPN members and it has opened a ton of opportunities for us.

I don't really have a style of filters per se. I generally create filters inspired by art, movies, games, history, Instagram posts and conspiracy theories.

My Angel and Devil, Enlightenment and Elementals effects were inspired by Blotter Media. I love the way he animates 2d neon elements over footage so I kind of replicated the idea as close as possible in AR.

My Apollo 11 filter was inspired by watching documentaries on the "fake moon landing", so I created the effect to fake a moon landing lol.

My Typography, A.Patuso, Ink Sketch, Xray and 89s Retro effects were inspired by art styles I love. The rest of my effects are inspired by film and games.

I mostly enjoy creating fan AR pieces and world effects. I feel world AR has the most potential for AR in the mass media space.

I feel strongly that AR is the future of media and I feel like we still have yet to see the full potential of AR in society. Creating AR effects through Facebook, Instagram and Snapchat at this point gives us the opportunity to be pioneers in the AR space which is extremely exciting, feels like being part of the generation that first started creating games for arcades and consoles.

Lastly, I'd like to thank Spark AR and Lens Studio for giving everyone the opportunity to create effects on their platforms for the world to experience, free of charge, I am so grateful for all the opportunities. Thank you.

– Dylon Fiala
More Filters Instagram Website
David Pripas

@davidpripas
David Pripas is a Creative Director, Facebook and Tiktok AR Creator and founder of Bucharest-based AR studio Augmented Studios with a lot of experience in the work with brands.
Looking back to when I first started with AR, I remember one piece of advice that was given to me: If you want to be memorable, you have to define your style. Two years later and this is still the thing I struggle with most, since I'm so curious about many different types of experiences, be it AR games, collages, or complex interactions.

There's a lot of different things to try out and settling on a particular style is still not something I see myself doing. Who knows, maybe when everything's been done already in the AR space, by the ever expanding community.

– David Pripas
More Filters Instagram Website
Amy Bell

@daughterofbell
Amy is a Visual Storyteller from South Africa who has already worked as an AR Creator and motion designer for national brands as well as with other Creators.
My name is Amy, a Motion Designer from South Africa. I picked up Spark AR in July last year! Stories untold inspire me to create. Bending the line between reality and fairytale has become a life passion of mine. Bringing the next gen of technology to the table is second nature for me, always thinking "What's next?" I get my inspiration from the fantastical world of fiction, fairies and folklore, mixed with the current trends of makeup and fashion. My dream is to do AR full time by the end of the year.

– Amy
More Filters Instagram Website
Nikita Treshchalov

@nikita24sib
Nikita is a multiplatform AR Creator whose first priority is to make people laugh with his filters.
Hey! I became interested in AR in the summer of 2019. In August, my first filter on Instagram was released. I love memes and humor, I am inspired by watching funny videos, funny situations from life, and by video games. I like to make filters that make people laugh. I love doing video tracking with face change, 3D on a plane tracker, but I'm not limited to that. The main thing for me is a funny idea, which then I turn into an AR effect.

Recently, you could see a trend with my Grove Street World effect on Tiktok. This filter was created 2 years ago on Instagram, and 1 month ago I moved it to Snapchat, and this is where the trend started. At the moment, this effect has gained more than 15 million impressions in one week. I like making filters on any platform. I love it when people make funny content with my effects. I will continue to delight them with my effects, and most likely will expand my knowledge in 3D modeling. And I will continue to make effects on all possible platforms.

– Nikita Treshchalov
More Filters Instagram Website
Aleksey Efremov

@solar.w
Aleksey is an artist from Moscow, Russia whose work spans augmented reality projects, motion design, interactive installation, visual applications. He creates his works using the 'language' of modern media culture. His work is a combination of active trends, fine art and socially-oriented elements.
"A freedom for expression"
– this is what AR is to Aleksey.
More Filters Instagram Website
Huge thanks to all of the Creators, who collaborated with us on this piece, we appreciate and support all of you. If you're a Lens Studio Creator and are still not in touch with our team – hit us up, say hi and show us your Lenses – we're here for you! 💪✨