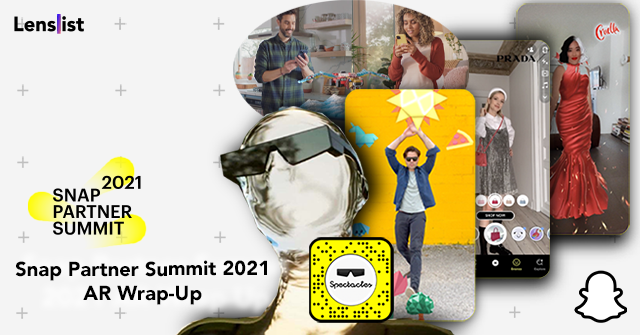 For nearly two years now, Snap has been taking big steps to prove that they're not only a camera company, but also the biggest innovator in the Augmented Reality space. They have released truly next-level updates to Lens Studio last year and in March 2021, they took the first place in the Fast Company AR/VR Innovators ranking, which seems like a cherry on top of some really bold both technological and business decisions.
It seems like Snap is not going to seat on laurels or slow their roll any time soon – on May 20th, during Snap's third Partner Summit, they've surprised us with another huge Lens Studio 4.0 update, as well asd many upgrades on products like Camera Kit Snapchat app itself and Spectacles, which happen to be the biggest leap in terms of innovation and progressing into the future viewed through AR glasses. In case you'd like to quickly recap the highlights, watch the video below 👇
Now let's go through the most important and exciting news we heard during the Summit to finish up with a big announcement on our part, which should motivate you to try the freshest Lens Studio features 😉✨
1. Stats
Since Lenses would not exist without the Snapchatters or the Snapchat app, it's worth mentioning a few stats proving the growth of the app and with it, the whole Snap ecosystem:
Snapchat reaches over 280 million daily active users around the world.
The app has over 500 million monthly active users.
Nearly one of every two smartphone users in the United States is on Snapchat.
In the US, France, UK, Australia and the Netherlands, Snapchat is becoming an indispensable part of people's lives, reaching 90 percent of 13-24 year olds and 75 percent of 13-34 year olds.
Snapchatters community outside of North America and Europe is growing rapidly — with over 50% year-over-year growth for the past two quarters.
More than 5 billion Snaps are created every day, on average.
More than 200M Snapchatters engage with AR every day.
2. Social responsibility
We know that this is not a subject that is exclusive to the AR world, but we think it's very important to notice that Snap combines they're business and tech efforts with supporting social causes, especially from the Partner's perspective. Two main issues they took on this time are:
Inclusive camera – Joshua Kissi and Bertrand Saint-Perux talked about how it's harder for people of color to take a good, life-like photo, considering both technical limitations and the fact that this issue has not been properly addressed before.
The inclusive camera is just a camera that allows any person to be seen by the camera the way that they want to be seen, the way that they are. (…) It's not going to be an easy journey and rebuilding our camera is just the first phase. Improving low light, flash capture, and exposure correction so we can account for all peoples skin tones and their undertones. So that any person, whatever phone they're picking up, they're able to take a good selfie.

– Bertrand Saint-Perux
Ecological responsibility – Snap has recently announced that they're now carbon-neutral, which is a huge accomplishment for a company of that size and now they've pledged to further reduce emissions and purchase 100% renewable electricity (Evan Spiegel). They've also launched a partnership with Re:wild in order to support restoring and protecting the biodiversity of the Southern California region, combining it with an in-app educational awareness campaign they'll launch this fall.
We're very happy to partner with a company that is not only successful, but also aware of the impact it has on the society at large – huge 👏 for the whole Snap team! Now let's dive into all the AR novelties and of course Lens Studio 4.0 update 👇
3. Brands utilizing Sponsored Lenses
At the beginning of the AR-focused part of the keynote, Carolina Arguelles Navas, Global Product Lead in Augmented Reality at Snap, cited some very interesting stats in terms of how brands use Sponsored Lenses:
Gucci showcased some of their coolest kicks which could be tried on through AR and purchased, reaching nearly 19 million people with their Lens.
Eyewear retailer Clearly offered a selection of frames using AR, driving a 46% increase in unique page viewers to their site.
And American Eagle created a virtual pop-up store, generating $2 million in incremental sales.
Plus, through a recent beta program with over 30 brands from beauty to auto, Snapchatters tried products over 250 million times, and were more than two times as likely to purchase than average.
These numbers not only show that AR is a valid and effective way of driving traffic and ecommerce sales, but also make the idea of sponsored partnerships and monetization much more possible for AR Creators – the equation is simple here – the more brands use AR, more deals are available for the Creators.
4. AR Try-ons + Fashion Through Your Lens
Let's go through the AR try-on experiences presented during the keynote and new Lens Studio capabilities making it all possible:
Wrist-tracking technology, making it possible to try on watches (like the Piaget example below) and jewellery.
TrueSize technology, allowing Snapchatters to try on eyewear with a realistic precision and increasing buyer confidence – example from Zenni Optical.
Next level UI with gesture recognition, allowing the user to switch between different products hands-free – example from Prada.
Voice-enabled controls allow users to try on different looks and change them using voice commands, making the whole experience more personalized and again – hands-free – example from Farfetch. From now on, Creators can tap into more than 40 voice commands in Lens Studio – no custom machine learning skills needed.
API-enabled Lenses will allow brands to connect their product catalogues and inventories to their AR shopping experiences – example from Estee Lauder. As Carolina said during the keynote:

In the coming months, brands can integrate their product catalog through our API in Business Manager to upload their 3D product assets. From there, they can use our Lens Web Builder to select SKUs, build Lenses from new AR Shopping templates, and publish right to their Profile in just a few clicks.
Fashion Through Your Lens – Lenslist x Snap Call for Content #2 🤩👻
In order to celebrate the Summit and encourage you to try the new fashion-focused features, we teamed up with Snap again to bring you another epic Call for Content! ✨ This time we ask you to design a stylish Lens and take full advantage of capabilities like Body Mesh, Cloth Simulation, 2D & 3D Body Tracking and SnapML. Check out our Creative Brief, submit your best fashion Lens before June 30th and get recognized by our team, Snap and the whole AR Community! 💖
5. Lens Studio 4.0
Apart from the fashion- and brand-focused features, Lens Studio 4.0 opens up amazing possibilities allowing Creators to seamlessly implement sophisticated Machine Learning models, special effects and sound-creation in their designs. Let's point out the most important capabilities 👇
Visual Classification – this feature brings in the Scan technology into Lens Studio and allows Creators to come up with Lenses, which understand the user's surroundings and even interact with it. Now, rather than having to create your own SnapML models, you can build experiences that work with the 500+ object categories already housed within Scan.
SnapML Audio – with this feature, you can now analyze and generate audio within your Lenses, which means you can come up with experiences that recognize phrases (voice commands), transcribe speech or make music. Check out this cool Lens called Scan Band, created by Artiphon and turning everyday objects into musical instruments.

Artiphon founder/CEO Dr. Mike Butera about Scan Band:

"We've been designing AR Music technology for the past few years in secret, so we're jazzed to finally show the world what we've been up to. For us, AR Music represents the possibility to go beyond the traditional notion that only musicians can make music. With Scan Band, people are collaborating with a smart virtual instrument right in the video. It's such a new experience. We just want to inspire people to be sonically creative in the nooks and crannies of their day."
Multi-person 3D Body Mesh – another fashion-focused feature, allowing for an unprecedented level of volumetric body-tracking, so virtual elements look remarkably real. This industry-defining Lens technology wraps people in a virtual mesh that allows body motion – including intricate hand movements – to become your creative inspiration. Capture two people simultaneously, even if objects are partially obstructing the camera's view.
Cloth Simulation – now you can incorporate realistic textiles into your Lens designs with Cloth Simulation. Progressive, physics-based rendering means virtual fabrics look and move like the real thing. Experiment with innovative patterns and textures or stick to the basics.

Visual Effects Editor – makes it possible to add cinematic quality effects like flames, fireworks or snow, looking extremely realistic. What's even better is that you can develop these stunning visual effects without writing any code. Using the node-based particle simulation engine from Lens Studio, you're able to direct and transform on-screen objects up to one million particles at a time.
Connected Lenses – now in beta, this feature breaks the single-user-to-smartphone scheme and allows for multiple people to enjoy the same AR experience at the same time. Develop shared state, real-time interaction, and co-located sessions all within a single AR space.
Apart from the technical novelties, Snap expands the Lens Creator universe by adding a more advanced analytics panel – Analytics 2.0 – so that you can know exactly what works for your Snapchat audience. Another upgrade is of course the Creator Marketplace, featuring the most established Lens Creators and allowing brands and marketers to reach out to Creators directly. And last but not least – Snap introduced Ghost, a new innovation lab / fellowship program focused on pushing the boundaries of what's possible in Lens Studio and supporting the most experimental, innovative Creators.
And now, finally, creme de la creme of the whole event – Evan, with some help from a see-through UFO-like humanoid friend (loving it), personally introduced us to a new-generation Spectacles! We plan to do a separate article about Spectacles and Lenses made specifically for this amazing piece of equipment, but what's most important is that they're not for sale and you can apply to get them here: https://www.spectacles.com/pl/new-spectacles. They look super cool and the view they offer is even more spectacular!
Thanks for going through the event with us and don't forget to check out our Call for Content, fashion-focused Creative Brief. We're so excited to see how innovative our AR Community is and are super proud to be a part of this journey 💖