8 Snapchat Lens Creators You Should Know | May 2021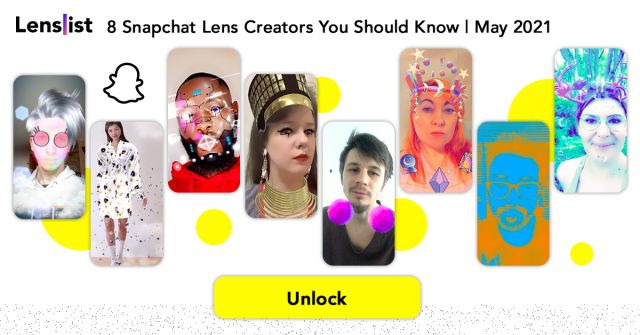 With another month passing by, we come to you with the next edition of 8 Snapchat Lens Creators You Should Know. This time we'll present to you a few well-known, established Creators and also a couple we have just recently discovered. The AR Creator's Community grows each day and we can't be more happy about it! Find out more about their stories, discover their coolest Lenses, let us know about your favorites and spread the love! 💖
Nick Kazakov
Nick is an Official Lens Creator from Bulgaria, who tends to put interactivity in the center of AR experiences he creates. Recently (at the beginning of this year) he went fully pro and launched his own agency – GrowPile Digital.
My professional career as an Official Lens Creator for Snapchat started when I was accepted to the program, back in November 2019. Since then, I have been working with clients all around the globe, and even almost 2 years later I'm still learning new things about my favourite piece of software.

My main goal at the very start of this AR journey was to scale my workflow & productivity as much as possible. This is why, in January 2021 I launched GrowPile Digital – my very own digital agency. I assembled a team of 4 more talented lens creators & marketeers to help me provide exceptional services to all of our clients. You can check us out here: https://growpile.co

– Nick Kazakov
Sufee Yama
Sufee is a super talented AR/VR artist from Thailand. We first noticed her work when she took part in Snap's AR for Good hackathon during last Lens Fest and she recently amazed us with some of the coolest fashion Lenses we've seen.
I'm a visual artist and designer that focuses on exploring creative storytelling in VR and AR. I had the opportunity to work for a creative VR company in Bangkok in 2017 and since then I developed my personal projects on XR Art continually, previously I have my VR art creations used in VR films and commercials as well as exhibited in virtual galleries like Museum of Other Realities. The artworks I created in VR are also transferred to install in AR at physical spaces. I also work to create VR AR experiences for other artists and brands and got the invitation to join the Snapchat Official Lens Creator program because I use Lens Studio to run AR Avatar workshops for Universities.

Lately I've been growing special interest toward the artform of Digital Fashion and Snapchat AR with cool latest features like 3D Full-Body tracking, etc. I think AR is the key media that will help bridge Digital Fashion from the context in the NFTs world and the Metaverses into the real world whether it be to use it as Virtual try-on or as a tool to create identity on social media platforms, for me it's interesting to see how people nowadays, especially Gen Z interact and utilize digital contents in life and how fantasy life in the future would be when people can wear any freeform impossible assets interchangeably between the real world and the metaverses.

– Sufee Yama
MAZ
MAZ is a highly creative Lens Creator from Cameroon. We took notice of him a while ago as he keeps pushing his skills with each next Lens he comes up with. We love his futuristic style and Cyberpunk-inspired face masks!
The creation of Lenses is a magical experience, I love spending time learning new things to develop my futuristic style. I love movies and manga based on science fiction where my style and inspiration comes from. I discovered Lens studio less than two years ago and I made my first Lens, which was bad – I had no basics and very little knowledge in the field – but I was so passionate and happy to be able to make my own Lenses so I really got into it. I spent most of my free time in front of my computer trying to understand the software and in a very short time I acquired a lot of knowledge thanks to the different forums and tutorials. Then I still felt incomplete, noticing that I had no personal style, so I decided to work on differentiating myself from other designers. It all started one day when I was watching Iron Man – I got hooked by the virtual surrounding that the armored suit created on his face. I didn't even finish the film and immediately started making a similar Lens and in the same style. Since then I have done several Lenses of that kind and found the perfect style that I was looking for. Currently I work a lot on 3D modeling and animation. I have a little more futuristic ideas that I will make you discover very soon!

– MAZ
More Filters Snapchat Instagram
Helena Bahdzel
Helena is a prolific and self-taught AR Creator from Belarus, who also designs in both Spark AR and Lens Studio. Both her powerful artwork and inspirational story go along with her favorite quote and motto: "If you don't try, you won't know!"
I love making Lenses with physics and also bigger, complex projects like for example, the dancing Panda Po. It combines a body tracker, physics from Lens Studio and blendshapes on the face. Now I am trying to combine the hand tracker with clothing, so more fashion Lenses are coming soon!

– Helena Bahdzel
Jorik Rosa
Jorik is a prolific AR Creator from Ukraine, who has already made over a hundred AR projects in Spark AR and now gets more and more into Lens Studio, experimenting with ML and other sophisticated features.
I really like to discover Lens Studio. It brings a lot of tools and options for creators to get different results and create outstanding AR arts. With this tool the future is here and we can create projects like online fitting rooms which I'm currently working on. I just started to dive into Lens Studio, but in the future I want to become an OLC.

– Jorik Rosa
Michelle Brown
Michelle is a VR and AR artist from Australia and we just recently noticed her work when she cooperated with Snap to design an advanced Lens for Earth Week. We can't wait to see more Lens Studio work from her!
Working with Snapchat and Google to create a Lens specifically about raising awareness on topics that I'm passionate about has been a terrific opportunity to not only push the limits of what we can do with AR but also my own creativity and arts practice.

– Michelle Brown
Mario Yanez
Mario (or wariio 🐙, as you might know him from Snapchat) is an UX specialist and AR Creator from Mexico. He has an extensive portfolio of Spark AR filters and is now growing his Lens Studio profile, taking advantage of features like SnapML and Full Body Tracking.
I'm a Product Designer and a full time AR enthusiast, I have created filters for Snapchat and Instagram/Facebook. I would say I have a particular taste for the glitch aesthetics and that definitely gets printed on most of my AR filters. I consider my digital art work as my own creative source of sanity, I use it as an excuse to blow some steam from my "day job". Every time I design an AR experience I try to hide a little easter egg on the filter for those who are extra curious. Finally, you should definitely go to wariio.com

– Mario Yanez
Helena Papageorgiou
Helena is an animator and AR artist from Australia, who stunned us with her ocean-inspired, interactive Lenses. She has an extensive AR portfolio mostly done in EyeJack and her Lens Studio experiences are truly next-level.
My background was originally in a traditional visual arts-based practice which eventually progressed into installations, projections and the digital arts. My interests naturally moved me into the areas of animation and experimenting with both the 2D and 3D mediums as a form of creating narratives to start blending reality with the surreal.

Using Augmented reality in my creative process lets me push this into a whole other dimension. Being a bit of a fan of science fiction, transposing another world onto our current one and bringing a viewer into a portal never previously imagined is a huge driver into why I create. Combining Animation, AR and Art (AAART – not a real term… yet) for me seems like a fluid progression to tap into people's imagination and release expressive elements, not only creatively but also with considered messages to take the viewer on a journey, a trip.

– Helena Papageorgiou
Huge thanks to all of the Creators, who collaborated with us on this piece, we appreciate and support all of you.
If you're a Lens Studio Creator and are still not in touch with our team – hit us up, say hi and show us your Lenses – we're here for you! 💪✨