AR Talks | Jericho O'Neill (@onamadderz)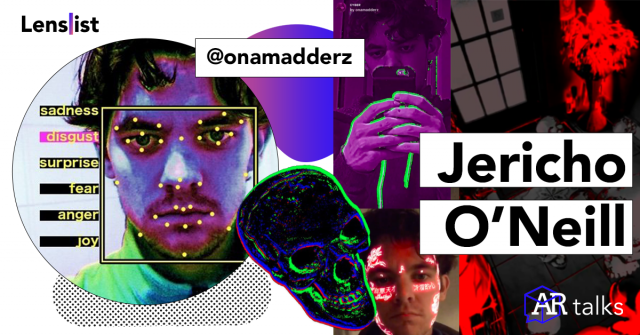 Hi AR Heads! Today we come to you with a special interview we did with Jericho O'Neill or Ona Madderz. We've been observing his work for a few years now and we're constantly amazed by his designs. He was at first well-known for his tattoo filters, but what's most exciting about his filters and Lenses is that he always tries out new things and features, while staying consistent and true to his style and inspirations at the same time. Find out more about his AR journey and explore his creations below! 👇✨
Jericho, first please tell us more about yourself – where are you from and what is your background?

Sure, I'm from the UK and growing up I loved drawing and video games.. When I got older I studied Art & Design / Music Tech. Before I started making AR effects I was focused mainly on video production, shooting music videos and stuff, made some vlogs for a bit, that was fun.
Now please describe your AR journey – when and how did you start creating effects and how did you develop your skills and style over time?

Well.. Back in like 2015 my friend showed me Snapchat and some of the Lenses. I was blown away and took her phone, started swiping through all the different options. Vomiting rainbows, angels/demons and a grandma are the ones I remember. I just thought they would be great for storytelling, like you have this full costume wardrobe at your fingertips, built into the camera. I thought it was really interesting and wanted to know how to make them, but it wasn't really possible back then. Fast forward to 2018 and I'm on Snap one day, I noticed a community tab for the effects, so I looked into it and found Lens Studio, downloaded it and started playing. The first Lens I published was lil Xan tattoos.
At the start I was making a new Lens each day. Learning more each time, and pushing myself to try different things. I made @face.tat.filters on IG to promote my Snap Lenses because I didn't really know how to promote them on Snap. I didn't have many contacts because I was a bit late on the Snap wave, I actually went phoneless for a few years, so I was behind on a lot of app stuff including Instagram, I joined that in 2015 using my friends phone, thanks Jake haha.
@face.tat.filters grew really fast, I would reach out to big pages I liked and would offer a Snap Lens for some exposure (I don't do this anymore) It was back when no one knew you could have your own Lens so I was just spreading awareness and growing at that point.
When I got recognised by Snap and became OLC I kept learning and pushing myself. It can be hard to keep up sometimes because technology is moving so fast, and I can be quite slow. Even if I get early access to software I normally don't get round to trying it until it's publicly available anyway, ha.
You're super prolific and made probably hundreds of filters and Lenses – do you have any advice on how to smooth out your workflow and make the creative process effective (in terms of time, effort, quality) as an AR Creator?

Thank you! Sometimes I forget how many I've actually made! I'd just say make custom templates for yourself to use, especially if you keep making similar effects, like for tattoos as an example you could set up everything, skin smooth, lut and a couple facemeshes, then save as Tattoo Template – so next time you can just open that and import the tattoo textures and swap the lut for a new one. You know…I don't actually do this myself haha but it would save time.
Now please tell us more about your style and inspirations – you definitely explore subjects and aesthetics like gore and the underworld – what is the core interest that made it your muse?

Yeah, I guess I've always loved horror as a genre, in video games, movies.. I even had a "sounds of horror" sound effects CD I would listen to as a kid, I don't know why. Before making filters I had a job on a ghost tour, where I would dress up like a ghoul and hide in a cemetery at night scaring people. That was fun.
If you're a fan of Snapchat you'll know all about their Halloween Lenses, I love them and I like to take them up a notch.. Snap normally avoids too much gore and stuff, that's where I come in. I actually did like 20+ new Lenses in October because Halloween just gets me so excited.
Now please pick 3 of your favorite filters or Lenses you made and tell us more about them and explain your choices.

Hmm, I love "unidentified" on Snap, it was a happy accident while playing with a template and I really like how the glitch looks. @a7_ma7 also helped me by making a script so I had more control over making the glitch look how I wanted.. thanks!
As for Insta, I feel like "снгфща" is the main one that comes to mind, since I started using it as the theme for my main feed. I love how it's dull and desaturated in the light areas, while being bright, colourful and vibrant in the shadows…It feels very symbolic to me.
And "ȶคɭเ²" because I really like how it plays on the actual mechanics of how AR works, showing the box as it tracks the face. I really like effects like that, when they feature the underlying mechanics making AR possible.
снгфща
You create AR experiences for both Instagram and Snapchat as an OLC – can you tell us more about the differences between both softwares? And how do you choose which effect should go on Snap/IG? Do you consider the differences in audiences, or more the technical capabilities?

Actually, I normally just go through phases where I just work on one software for a period of time. It's not always a conscious choice. I'm able to switch between freely but I normally find myself working on Lens Studio for a month or so, then Instagram for a month and so on switching between the two. But I love discovering unique aspects of each one, I'm not super technical so I'm still discovering and learning new things and sometimes I don't know how to translate into the other software, but there's always helpful people in the community I can ask. I think Lens Studio is more user friendly to someone completely new. They both mostly do the same things anyway, but actually Snap has a lot more features like for example the cat/dog trackers. I'm sure Spark will catch up eventually.
You've made multiple Lenses and filters with face tattoos, e.g. emulating the looks of famous rappers – tell us more about this trend and do you have tattoos yourself? Are we going to see an original onamadderz face tattoo AR filter? 😃

Haha probably not, but I do like the idea of getting some tattoos. When I was younger I wanted the triforce on the back of my hand, although as I got older I lost interest in getting any, but have discovered some really talented tattoo artists since making Lenses, so maybe one day. As for the trend, I do think it's funny how popular they are now, but I'm not surprised. When I started I landed on the face.tat.filters idea because I knew there was a sort of gap in the market with those Lenses and I saw how popular face-tats were becoming in real life. I haven't made any in a while, the last few got rejected, so it's a bit discouraging.
Your Twitter bio says you're a Gnostic ARtist – is spirituality an important aspect of your life and art? –

Yeah, it's not so much about daily practice for me but more about how I view the world and the way it works really. I'm not subscribed to one religion, but I find them all very interesting, I'm really into chaos magic.
Last but not least – as we've mentioned before you're super prolific and definitely one of the most skilled AR Creators out there – do you have any advice for Creators, who are at the beginning of their path? Maybe something you wish you knew before? –

Wow thanks, you are too kind! My advice would be to avoid tutorials at first. There's nothing like the feeling of discovery. And I made my most unique effects by stumbling into it accidentally. It can be daunting at first so defo watch the basics of the interface and learn what does what, but then experiment. Don't go straight to following other people's guides. Make your own style first and when you develop that you can take your style and apply it to other peoples guides and tutorials. Because there's too many clones of effects, but it's cool when you put your own interesting spin on something.
Thank you Jericho for taking the time to answer our questions and thanks to all our readers and collaborators – we wouldn't be here without you! 💖
More Jericho's Filters and Lenses