AR Talks | CyreneQ, Queen of Snapchat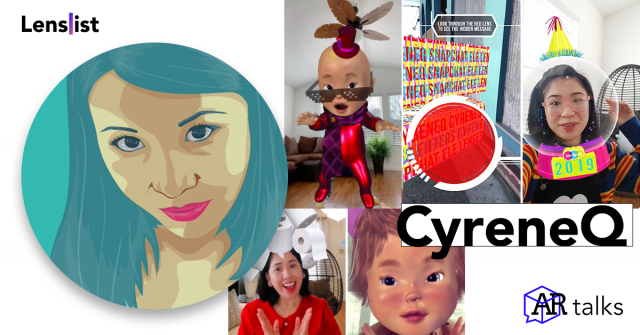 Cyrene Quiamco is a Snapchat superstar. Named the 'Snapchat's Queen', she has become an artist and influencer there long before they've introduced AR Lenses, drawing doodles and creating interactive stories: at first for her friends, then for tens of thousands of fans, and finally for brands, which made it possible for her to leave her daily job as a designer in Verizon. The tipping point was her collection of photos of celebrities besides whom she drew herself – Cyrene was augmenting reality with Snapchat before Lenses appeared.
Hello Cyrene! We're very proud to be talking with you! How are you feeling during this strange time? How do you think AR can relate to the problems with communication that we experience now?
Thank you for having me! To me, AR offers an escape to a limitless and magical world in the time we need it most. Being at home most of the time, AR has allowed me to transform my routine environment into anything I want. It's a strange time, but AR is helping me get through it.
AR is definitely a conversation starter. When days seem to blend and there's not much to talk about, sending someone an interesting AR Lens helps you connect with them instead of just texting "hi" and "what are you doing."
Being a successful Snapchat artist before Lens Studio, how did it happen that you've started to create Lenses? What did you think about these new possibilities? Being an artist already, was it an obvious choice for you to dive into Augmented Reality?
I've always wanted my art to go beyond the canvas. I want people to interact and experience my art. Before Lenses, I would get people to screenshot my art and create stickers out of it. I would create games where users tap the screen and a balloon pops, but in reality, they are just forwarding to the next snap. Creating Lenses was the next logical step for me to host my interactive art and creativity.
In 2016, Business Insider wrote about yours and other Snapchat stars' struggle to grow an organic audience. At that time, the app functionalities and Snap's approach made it so hard to go viral and become an influencer that you've called those stars 'social media superheroes'. How did the situation change in the last few years? What is the situation of influencers and artists on Snapchat now?
When I started, Discover and Spotlight didn't exist. Stories wasn't even a feature. I had to manually send snapart to all my contacts, like an email blast on snapchat. You also couldn't upload anything from the camera roll. So if you spent hours on an artwork and the app crashed, it's gone. Back then, it was the hardest app to grow an audience on, but it was also the most rewarding. The people that followed you really wanted to see your work. They weren't following 1000 other people, but only you and a few others, which made the connection special.
Now it's different. It is much easier to grow and get your work out. I like this too. I was lucky to experience both.
Snapchat has also been more open and welcoming to creators. I believe I was the first creator they invited in their HQ. Then Snapchat asked me to pick a group of snapchatters to invite to the HQ for the very first Snapchat Creator Summit (Storytellers). Shortly after that, they created the first Lens Fest with the first 50 creators. And it just started growing since then.
The OLC program I think is the most active creator program. There's a lot of cool perks. Besides the free trip to the creator summits, you also get verified and get a gold star, monetization opportunities and to be one of the first to try out new features for Lens Studio.
You've become successful thanks to your talent and hard work, obviously, and these are the two things that are always crucial. But is there anything else that you believe is needed by those who'd like to create art, eg. Snap Lenses, and make a living by doing it? Do you have any tips for people who are starting now with Snapchat or Instagram AR?
You have to love doing it and not just do it for money or fame. There is a lot of money in it. In the years I've done art on snapchat, I've been able to retire my mom and sister from their work, travel with them, and do what I love.
I didn't do Snapchat because I was expecting to strike gold. I didn't quit my full time job right away and jumped into Snapchat all the way. I made sure I had a few years saved up before diving in. I also had my house paid off. That way I'm not pressured to work with clients/projects I didn't feel passionate about and truly just create art as a passion, with the possibility of making money from it. And it's worked.
I'm able to sincerely give clients my 100% best work because I'm doing this as my passion. If I choose the project, I choose it because I really want to do it. Which results in happy clients and more work opportunities.

You're not only a visual artist but also a writer. Why did you decide to write your own book on social media marketing 11th Second to Success? Is AR an art or a marketing format? What is "art" in today's social media world? What do you think is the future of social media AR and Snapchat?
My sister and I were raised by a single mom. She survived us by working in a minimum wage retail job. I knew I needed to do everything to make sure her efforts weren't in vain.
I also wanted to be an artist, and artists have been notorious for being a "starving artists." I wanted to have my mom retire and I wanted to do that with my art.
With my art I was able to get a full ride scholarship to college. With the extra scholarship and freelance design projects, I was able to buy and pay off my first house. With Snapchat, I was able to financially take care of my mom and have her quit her job. This story is why I wanted to write the book "11 Seconds to Success." I want to inspire aspiring artists with my story and give them 11 steps on how to take their passion and make a career out of it.
A picture is worth a thousand words, that's why art is the best marketing format. It's powerful enough to convey long and powerful messages in just a glance. AR takes art to another level of interactivity. Users are connected with the art inside AR because it merges with their reality. Instead of just watching a video, the users become the main character of the ad experience, and I think that's the future.
What do you think of Instagram AR filters? Have you ever thought about trying them out or are you sticking with Snapchat Lens?
I've done a few Instagram Camera Effects. I've worked with the TV network ABC, Macy's, and Netflix on Instagram AR experiences. SparkAR is a few years behind from Lens Studio. Snapchat Lenses are more brand friendly. For example, static logos aren't allowed on Instagram. Phone compatibility isn't consistent on IG Filters. You can create an amazing AR experience, but it only works on certain phones, while Snapchat perfected Lenses to work on any devices consistently.
Environment is also different. Instagram camera takes a few taps and swipes to get to, while snapchat opens to the camera first. It's easier and more natural to experience Lenses on snapchat. Instagram is more a platform to post things you've taken, while snapchat is a platform to create. Both are great, but those reasons is why I lean more towards Snapchat.
How would you describe the style of your Lenses? ARe there any specific sources of inspiration that you take from to create?
I take inspiration on things I love and turn them into a surreal experience in AR.
Which of the recently published Lens Studio features do you like the most? Have you experimented with SnapML, LiDAR and full body tracking already?
Definitely full body tracking, but sometimes it's hard to set up your phone to stand up to take the full body video. And tripods take forever to set up and too bulky to have with you at all times. I have an invention coming that should make it easier. Stay tuned. =) 👉 Woormpod
Cyrene, thank you very much for sharing your story with our readers! We're very excited about your Woormpod project and your next Lenses.