AR Talks | Jonah Cohn's OLC Journey and Taking the Next Step with AR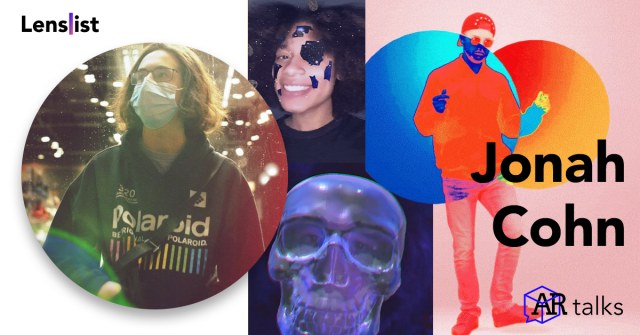 Jonah Cohn is a young Snap's Lens Studio talent from the US who recently became an Official Lens Creator. We had a chance to talk to him about his road to achieving this goal at such a young age, as well as about how to get started with Lens Studio, what makes a true AR Creator and why the community matters so much.
Hi, Jonah! First of all, congratulations on recently becoming a Snapchat Official Lens Creator! Could you tell us about your road to AR Lenses and achieving this goal?
I've always been drawn to digital creation. As a child I loved directing home videos with my sister using iMovie. In middle school I was the guy that fixed the teacher's computer or explained how to use storytelling programs to my classmates. I was lucky to attend a high school that offered an amazing digital animation and design program. When Mr. Ryan ran out of classes for me to take, we created an independent study. As far back as I can remember I would use any opportunity, in and out of school, to hone my craft. In 2018 I made my first Lens, a joke really, about net neutrality. Since then I've learned a lot more about the intricacies of AR and I've truly evolved as a creator. From SnapML to Lidar technology, Lens Studio is constantly improving, and I make it a point to stay up to date with each advancement.
How does it feel to become an OLC? Could you tell us anything about the process? And what do you think does it take to become one?
Honestly? It feels incredible to have finally received the OLC title, however my path to becoming an OLC was long. Originally, Snapchat had an application to be filled out on their website. Over the course of several months I applied three times, and three times I was rejected. After every dismissal, I printed the rejection letter and pinned it up on my wall where I would see it every day. At this point Snapchat removed the application process entirely making the Lens creator position attainable by invitation only. Instead of becoming discouraged by these rejections, I used them as fuel for my passion. It inspired me to get back on my computer and create more. After a year of hard work, my dedication finally paid off and I was invited into the program.
What fundamentally separates an OLC from hundreds of 'LUT creators' is that we are focused on creating AR Lenses, not just filters…we're changing reality, and blurring the line between the analog and digital world.
During our talk earlier you've named 'Head Space' Lens your turning point after which you 'couldn't turn back': could you elaborate on this? What makes a filter the real AR experience?
"Head Space" was my first Lens to dramatically change the world that your camera captures. Before this, I had done some experimentation with 3D Lenses but not on this scale: this Lens puts a giant hole in your face filled with an iridescent skull that emerges from an infinite galaxy. Rather than a simple LUT color correction or face stickers, this was a real AR experience that added something totally new to the image. Creating this illusion raised the bar for what I would allow myself to put out in the future.
Let's suppose that there is a beginner Lens creator reading this: where should one start to make this next step towards creating a true Augmented Reality?
Start by going on YouTube and watching both official Lens Studio and community tutorials, as well as checking out the Lens Studio forums. There is no shame in starting with Lens Studio's built in templates which are hand crafted to help you learn the basics of AR. Try thinking out of the box, create something that changes the world around you like you've never seen before.
How important is the community for Lens Studio creators? And in particular, how important is it to you?
The community has been absolutely essential to my growth as a Lens creator. I've found encouragement and answers to almost any question on the forums. Now, I consider some Lens creators to be close friends with whom I talk to almost every day. Despite a few outliers, the Lens Studio community is all about sharing, and working together to push the limits of what's possible. It is very rare to find someone selling an asset or charging for advice.
You've recently taken part in a Call for Content organized by Snap and Lenslist. What is your takeaway from this event? Do you have any favourite Lenses submitted by other authors?
Call for Content was a great opportunity to experiment with some of the most impressive technologies in the AR world such as LiDAR, full body tracking, and SnapML. It was amazing to see 100+ creators come together to explore some of these advanced concepts. Some of my favorites that I've seen are Denis Rossiev's "The Matrix" LiDAR Lens, myReality Design's "Free Your Mind" world drawing Lens, and Egyda _DigitalThing's "Cover A1" which is a wild cinematic experience! The Call for Content left me inspired to push the limits even further and dive even deeper into these new technologies.
Jonah's favourite Call for Content Submissions
Jonah's Sumbissions for Call for Content
Jonah, thank you very much for your time! We hope to see the community grow even more helpful and creative, we wish you many rewarding AR projects and again, congratulations on becoming an Official Lens Creator!