8 Snapchat Lens Creators You Should Know | February 2021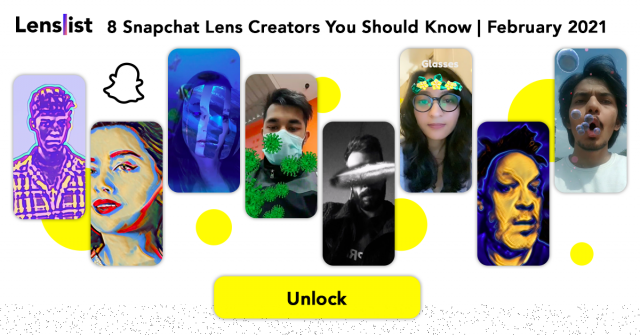 It's time for another snapping 8 for you to get to know! To be honest, even though our team is searching for Lenses and Creators on a daily basis, we were surprised to find a few submissions to our Call for Content from Creators even we haven't heard of. You can find some of them below, together with other inspiring Creators and Agencies we haven't got a chance to feature yet. So…feel free to explore and read up on their AR journeys so far!

Definition8
Definition8 took their work to the next level, exploring the possibilities of SnapML – Style Transfers they submitted for our Call for Content are super impressive!
We are a Production Company based in Croatia working a lot with the Lens Studio and creating experiences for users all around the world. We started to create Lenses at the beginning of 2020. We started by creating Lenses internally for us but more and more we are starting to implement Lenses for other brands and companies.

Since the Lens Studio 3.0 came we started to create Lenses with SnapML such as Style Transfer Lenses, ML Segmentation & Detection Lenses. When it comes to the new projects, we cannot say a lot but we are working with the Sneakers & Streetwear industry to mix the digital & physical.
– Definition8
Karun Shrestha
Karun is a developer and an AR Creator from Nepal. He really impressed us with his Covid-19 related ML Lens he submitted for our Call for Content!
My journey in AR has been great so far. I enjoy creating gaming Lenses but I also like to explore other ideas to keep the users entertained or informed. Currently I'm trying machine learning on Lenses and I look forward to creating Lenses using Snap ML in Lens Studio.
– Karun Shrestha
Nicole M
Nicole is a super prolific AR Creator from Seattle, who's very much influenced by one of the weirdest artists alive – Tim Burton!
'Insiders who question the status quo get pushed out, but outsiders are the ones who change the status quo.'

I always found myself to be one who likes to challenge the norm and be more drawn to unique concepts and outcasts. So when I started my journey in May 2020, I wanted to focus on creating more Lenses targeted mostly towards women that was less bubblegum and more monster in your closet. Tim Burton's has been a huge influence for as long as I can think because it contradicts what most would feel is "normal". I find his work very fascinating because It's dark, nerdy, gothic, and beautiful, but it still has the right level of a horror vibe.

I plan on expanding my skills in every way possible, but I also want to expand content by making more interactive Lenses along with awareness Lenses related to mental health, gender equality, and women's empowerment.
– Nicole M
Player2 Studio
Player2 is an AR studio from France – they create AR both for Snapchat and IG and submitted a LiDAR-powered Lens for our Call for Content! Here are a few words from their founder, Julien:
I'm Julien Frazak, from Paris, founder and creator at Player2 Studio, a creative studio influenced by gaming. My vision: YOU ARE PLAYER1

I want to provide game-like AR experiences through mini games, gaming culture, and level type AR filters. I started by creating Instagram filters, which is where I developed my first games, once I'd learnt the basics of Spark. Recently though, I fell in love with the new Snapchat functions and options, especially LiDAR, so you can definitely expect me to release many more LiDAR filters soon!
– Player2 Studio
Gauri Kumar
Gauri is a 3D designer and an OLC from India – her Lenses for Spectacles are some of the best we've seen!
My AR journey started during the last leg of my Masters thesis, and that was also the same time when I started exploring 3D software – almost 3 years now. I was lucky to work on some GPS based WebAR projects a few months right after and started to gain confidence which is also when I downloaded Lens Studio and created Lenses for Spectacles.

With AR I knew immediately what my goals would be within this field, transforming the way we view the world and to create tactile materials like fur which finally I've been able to make on Lens Studio.

On a more broader scale I hope to work with creative tech agencies & projects that focus on elevating the real world experiences and just simply going where technology takes me 🙂
– Gauri Kumar
Tiny Giant
No need for intro here, Norts took care of it all below!
Tiny Giant are a UK-based (Bristol) creative business formed in 2018. We help pioneering brands create stand-out ideas, craft extraordinary experiences and confidently step into new media and technology. We do a lot of creative ideas using machine learning to play with text, imagery and so on. Encouraging bravery and taking risks is integral to our creative approach. We say stand out, don't bland out.

We got into Snapchat Lenses and Instagram filters in the summer of 2019. To us it seemed clear that this is a supremely smart and sassy way for brands and businesses to engage and interact with their respective audiences. Since then, we've honed our craft and knowledge, and made Lenses commercially including a bunch for the BBC, which is cool.

But, what we really love is experimenting and trying out new stuff which we playfully lob into the Snapchat community. We do it to get to grip with new tools, but also to get a feel and flavour for the type of effects people really enjoy. You can have a hunch but you never really know what users will lean towards, until they do (or don't).

We do love using the machine-learning templates of Lens Studio. It sits nicely with other creative avenues we pursue. I predict we'll be doing a whole bunch of fun, kooky, wild stuff with it in the months to come. For us, it's about creating little moments of fun, joy and wonder. Creativity doesn't always have to be profound and entrenched with deep layers of meaning. If someone wants to be Toast Face or glitched out in intense psychedelic colour, that's alright with us.

One other thing, the Lens community is amazing. There are so many brilliant artists and creators in this space. We're always happy to collaborate with others to see where our collective thinking can take us. Bring it on.

– Norts from Tiny Giant
Maxime C
Maxime is an 18 yo AR Creator and drummer from France, who amazed us with the versatility of his projects and passions. Here's what he said about his AR journey:
For me AR is the art of the future. We have the opportunity to entertain millions of people by making them laugh or just making them happy !

Inspiration often comes to me in the moment: I will just have an idea in my head and I will reproduce it. And afterwards, it's by testing the Lens that I will have ideas on how to make it fun to use. The Official Lens Creators inspire me a lot and recently I discovered that with machine learning I can create educational Lenses.

I believe AR will revolutionize the world of art, education and many others sectors that we don't ever think about yet!
– Maxime Cabrol
Vishal Yadav
Vishal is one of the Creators we didn't know before he submitted his Lenses for our Call for Content, but he impressed us a lot with his dive-in portal and hand-tracking game – super creative, fresh ideas. Can't wait to see more of his projects coming to our platform!
Augmented reality makes all the comics books and science fiction a reality. I make Lenses because it utilizes both creativity and technical knowledge. Apart from that people interacting and enjoying your creation inspires me to make more and more augmented reality experiences.
– Vishal Yadav