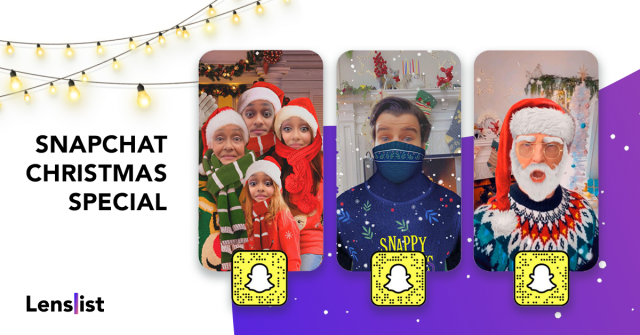 Ho, ho, hold on, is this actually holiday season? Already?! The time goes fast when the farthest you can go is your kitchen, but I guess at least we'll be done with 2020 soon. But on a real note, this year was very challenging for so many people. We're very grateful for the ability to continue what we do and hope that the next year will have so much more to offer. Now, many families and friends can't meet for the holiday celebration, but luckily, AR Lenses come to the rescue and what's even better – they will definitely lighten up the mood ✨
Family Portrait Lens: What could be more on-the-nose for 2020 than a "family portrait," of just you?! See yourself as your own set of family members through a combination of ML Lens technologies.
Ugly Sweater Lens: Wish friends and family "Snappy Holidays" while you don an AR ugly sweater with a built-in face mask.
Santa's Beard Lens: Have your very own Tim Allen "The Santa Clause" moment, and transform into Santa right before your eyes! Start recording your Snap and simply drag your finger across the slider to grow your own Santa beard.
We found more interesting winter beards – not all Santas went full grey, some prefer it more cloudy, frozen or full of accessories.
In case you're not ready to change from your casual sweats to something more celebratory (or at least an ugly sweater), use these to transform yourself into a funny, semi-xmas character or a pile of pierogis. Nobody will notice! 😃
Body Tracking is definitely one of our favourite Lens Studio features. These Lenses will help you make an awesome best-wishes video, come up with a new tradition of xmas dances or at least…get up 😄
Now more ways of sending your best wishes – use these Lenses to create an AR Christmas Card and spread the holiday love! ❤️
These were just too cute not to post them and we've got a huge throwback in the form of a Festive Dog! 😊 Who's gonna care about make-up or untrimmed beards with these Lenses on:
Now coming back to the capabilities of Lens Studio, we've managed to find a few Lenses utilizing Hand Tracking! Is this holiday season special enough for the time to stop..? ✋
And more Santa! I was thinking how easy parents have it now to convince kids Santa is real (he's not, sorry for finding out this way), all it takes is show them some of these Lenses! 🎅😂
During the holiday season, I guess we should focus more on others than ourselves, so feel free to turn your camera from the selfie mode and use these World Lenses to surround yourself with…some cool xmas accessories 😄
And below you will find even more awesome Lenses made in a holiday spirit ✨ We wanted to thank the whole Lens Studio team for spoiling us with all of these Lenses and of course all of you for inspiring us to continue what we do and pushing the whole AR game to the next level. Best wishes from the Lenslist Team! ❄️❤️