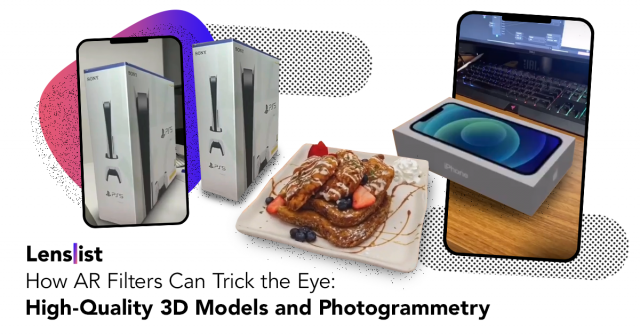 One week ago an Instagram filter by @aroneverything went viral. PS5 Box was inspired by a close premiere of the new PlayStation, letting anyone trick their friends into believing that their package with the console had arrived. So, we've decided to take a note from this Creator's RTM playbook, and have a closer look at AR effects putting lifelike objects into space.
Photogrammetry and 3D models in AR
There are two ways to create a lifelike object that you can later use in an AR filter: modelling a high-quality 3D object in a traditional way or use a technology called photogrammetry – which is a science of extracting 3D information from photographs and thus receiving realistic 3D models.
The two filters you'll see below are recent Instagram virals: the one tricking PlayStation fans used photogrammetry, and the other, which places an iPhone 12's box on the surface used a traditional 3D model.
Update: see more technological lifelike AR filters below.
Lifelike objects in AR marketing
There are a few industries that are more capable of using lifelike objects in AR for their advantage. These are especially restaurants and furniture as well as fashion retailers.
Kitchencray Cafe is a Washington DC restaurant that took a huge step forward in terms of building a presence in the digital space. As they're not afraid to put new technologies in use, they've created 11 Instagram filters using photogrammetry that enable customers to visualize the dishes via their mobile camera.
More AR menu postions from Kitchencray Cafe
Leroy Merlin went another way: together with Lens That they've used hand-modelled 3D assets to enable their fans to see how their gardens will look like with the new furniture. Meanwhile, Ikea Nederland decided to use Instagram AR to let their fans experience the PAX wardrobe system before they actually go to the store.
FINCH, a very progressive company that we've mentioned a few times on Lenslist already, created a series of AR fashion models together with @ffface.me for the Ukrainian Fashion Week. Learn more about the project and watch a video in our article 👉How AR Can Change The Fashion Industry
Check out the rest of the lifelike AR filters on Lenslist and let us know if we've missed something. If you're a marketer, ask your agency if they have an idea for a campaign with photogrammetric objects or contact one of the AR artists listed in our Creators tab.
Other notable lifelike AR filters
Even more great AR optic illusions