8 Snapchat Lens Creators You Should Know | March 2021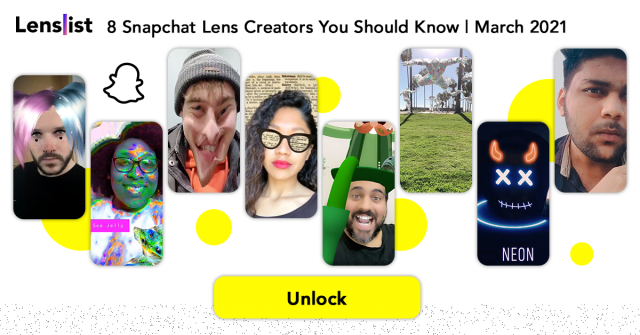 Following the first days of spring (finally!), we're here to introduce you to another 8 Snapchat Lens Creators You Should Know. You definitely enjoyed at least a few of their Lenses before, considering how imaginative and prolific these Creators are and now you can not only find out more about them, but also check out all of their work already in our search ✨👇
Luka Lan Gabriel
Luka is a crazy talented AR Creator and a graduate student of Digital Media Technology. What struck us about Luka is how he elevates his game with every next project, but also is still having fun with his Lenses. He merges working with brands and celebrities like Warner Bros and Chiara Ferragni with bringing to us the memest content like his Human Lens for pets, which is a reversal of the classic Dog Lens.
Recently I've been doing a lot of experiments with Hair Simulation on Snapchat. It is fascinating to be able to create effects similar to Snap's in-house ones that we're used to seeing in the Lens carousel. The look and feel of said hair immediately reminded me of the Kawaii style which is why my two latest Lenses are related to that. And to show the versatility of Hair Simulation I'm in the process of creating something completely different – a playful effect which will most likely turn into a clowny character.

Inspiration for my creations comes from everyday life, nothing unheard of really – things I experience, random ideas throughout the day, shower thoughts, etc.

Finding my own AR style has been a challenge since the beginning. I always like to create something innovative and unnecessarily overcomplicate things technically but I'm finally realizing that simplicity and good visuals work much better. Recently I've been trying to mash all of this together, creating Lenses combining 3D objects and style transfer using SnapML and I would like to explore this further.

Future plans? Create more and better AR. Actually, create more digital art in general. I'm also looking into generative art and some other crazy techniques which I can't even talk about yet. But eventually, I'd like to dip my toes into the NFT space too.

Most relevant thing right now? Long overdue but I finally managed to put together a personal Website where you should be able to find all the relevant things, feel free to check it out: https://lukalangabriel.com/

– Luka Lan Gabriel
Tyleciea Zachry
Tylecia is a young, yet very much experienced Lens Creator, who always amazes us with her colorful creations. She's so prolific, even we can't keep up with her, constantly working on her Lens Studio skills. What's amazing about her style and aesthetic is that her designs always put us in a positive mood – she's just so good vibes only!
My creative background is in collage. I've always liked mixing the human form with bright colors and textures, I view my lenses as a continuation of my style. I like the contrast of our reality with augmented reality. Whatever idea I have, I ask myself "how would this look as a Lens? How can I turn this idea into a Lens?"

– Tyleciea Zachry
Lenslist Profile Snapchat Website
Max van Leeuwen
Max is an Official Lens Creator with a background in film production. We really admire his experimental approach to creating Lenses. With every new Lens Studio feature, we know we can count on Max to come up with the coolest use case nobody has thought of before. He's also a part of GoSpooky – an AR agency from the Netherlands.
My background is in Visual Effects for film. When I found out about Lens Studio, I was blown away by what it was capable of. The tech in AR is similar to that used in VFX, but this is built to run in real-time on handheld devices – so no render times or expensive hardware is needed. Seeing AR improve every day, especially in combination with the constant breakthroughs in Machine Learning, is super exciting.

I now work as an AR developer at GoSpooky, a rapidly growing agency in Amsterdam. The work we do is innovative and fun. For example, when Lidar was just added and the new iPhone had a Lidar-sensor built-in, we made this Lens that allows the user to hang festive colored lights in their own living room.

My personal work is more about experimenting with what's possible and what hasn't been done before. They're not always useful or shareable, but they highlight a technique or possibility that people might not have noticed before. Like this Lens that makes a 3D textured scan of your surroundings.

But it's not always tech-y or an experiment, sometimes I just really like building something that looks nice. This 'Ocean Window' Lens is one that I'm proud of, because it tells a very simple and short story.

– Max van Leeuwen
Ashlesha Malla
Ashlesha is an amazingly creative AR designer from Nepal, who apart from making her own inspirational Lenses, works with a studio called Kerkar Creations together with Karun, who we featured last month in the previous article from this series. One of our favorite projects from Ashlesha is the Cute Rollerskates Lens she submitted for our Call for Content!
I love to explore my creativity while making lenses. I get my inspirations from all the things around me. Expressing something in AR is always exciting because you can bring imagination to life.

– Ashlesha Malla
Mohamad el-Asmar
Mohamad or developAR, as we know him from social media, is a prolific Creator from the Middle East, who on one hand works with many brands as an AR-professional and on the other hand constantly comes up with meme or prank Lenses, which we, together with the whole Community, cherish so much. His Let it Snow LiDAR-powered Lens he submitted for our Call for Content was one of the first of this kind we saw online!
Coming from a multiple background: from app development, digital marketing to games design, creating Augmented Reality was the logical next venture for me. I've jumped on Lens Studio from Snapchat since day 1 and had a viral lens within days which ignited the passion flame inside me until this day.

Being one of a few Official Lens Creators in the Middle East region, it provided me with amazing opportunities to work with biggest brands on endless ideas. Which made me extend my work to Instagram as well.

I don't have a certain style to my work, but I like to make stuff that people like to use, not just a one-time experiment. Oh, and pranks. I love doing those.

– Mohamad el-Asmar
Ansh Kumar
Ansh is an Interactive Motion Designer, originally from an architecture background. As a multidisciplinary and experimental Creator, he decided to dip his toes into AR, too. All of his Lenses are made for the rear, world-facing camera, as if he considered the space around us his canvas, which perfectly fits his architectural lead-up.
The artform helps me generate a creative perspective towards human interactions, humbly and playfully through a layer of digital experiences. My interests and research is directed towards a canvas that acts as a catalyst to celebrate human traces and their implications. With my work, I like to explore the space amidst digital and physical entities by creating a composite relationship between the void (space) and visual art. As a visual artist and an architect by education, I like to present my beliefs and engage people to interact with the space and the art within.

Recently, I have been part of a museum residency – Sensistan, Goa, India, where I had an opportunity to create interactive art installations and experiences for the museum. Furthermore, sharing my knowledge with other artists is what I thrive to achieve in near future. It is the community that I have learned so much from, and I'd like to gain a similar position where I could add to someone else's art and skill set.

I am intrigued by the possibilities of how analog-kinetic sculptures blend with digital techniques like Augmented Reality as a performance medium with its new perspective to the aesthetic, technique and interaction. The work I'd like to represent is a reflection of the users' stimuli for the act they produce while inviting them to create and be a part of the creation itself.

– Ansh Kumar
Deivis
Deividas is an inspiring Creator and photographer, who merges his passions developing Lenses for other Snapchatters enjoying taking quality images. What we know him for the most though, are his neon AR designs.
My name is Deividas / Deivisssu and I am an Official Lens Creator on Snapchat!

I love neon style! Night city, Neon Street Signs, Aesthetics! I also love photography and videography. I like taking pictures and editing them, making Lightroom presets, and then sharing my Lenses with everyone on Snapchat.

What inspires me is the hard work and perseverance, and achieving one's goal. I love reading about it, watching it, hearing about it. I love it when occasionally I stretch for my own goal as well. Just not giving up.

My plans for the future are to focus more on Snapchat Lenses with 3D/2D/Body Tracking and something to impress people more! And of course to achieve more goals and be happy 🙂

– Deivis
Lenslist Profile Snapchat Website
Vivek Thakur
Vivek is a Lens Creator, who's work 100% stems from wanting to bring as much fun to other Snapchatters as possible. Starting off with a multitude of photo Lenses, some of which he made just for his close ones, he continues his AR journey, coming up with more and more advanced designs.
AR is fun for me, I used to play around with my friends using it and I showed some of my first Lenses only to them. It's a great feeling when you do something just for someone special and then it gets recognised by the whole world. My journey started with making a surprise gift for a friend and now it's like every Snapchat user can have fun with it and use it in their own pictures and stories.

– Vivek Thakur
More Filters Snapchat Instagram
A huge thank you to all of the Creators featured in this piece. We're so grateful for your hard work and sharing your Lenses and stories with us. It's always interesting to see how versatile and diverse our Community is, considering everybody has a different background, style and approach, proving that all creative roads lead to AR 💖