10 AR Filters' Creators You Should Follow | February 2021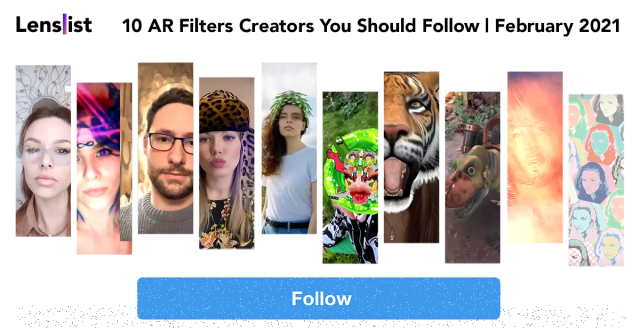 For yet another time, we welcome incredible 10 Instagram AR Creators that we recommend you strongly to follow. Browse through their AR portfolios on Lenslist, try out their effects on Instagram and read into what they wrote about themselves!
Natasha Gubernov | natashagubernov
Natasha Gubernov is a US-based interdisciplinary artist with an unconventional background in advertising, front-end/product design, and photography.
I'm a traditional artist who has been working predominantly in the painting and ceramics medium. I have a MA degree in advertising and a background working in front-end/product design and photography. These came in handy when the pandemic started and I traded ceramics for AR. I was always into futurism and hi-tech so I'm very excited that technologies are rapidly moving into the art world. In my practice, I'm bringing the fine art approach into the AR experience. And, as an artist, I'm interested in the way we construct our worldviews from material experience; how color and texture influence our perception, so my inspiration comes from all sources of human indulgence like visually appealing imagery, food, music, and other sources of decadency.
– Natasha Gubernov
Balraj Bains | balraj_bains
Balraj Bains is a creative designer, project manager and a freelance AR creator based in London, UK. You can also buy designer phone cases in her store.
Coming from a creative design background, AR opened up the possibility to combine my varied skills and imagination with the real world in real-time. I believe technology can help us feel more human and authentic than before, even though the traditional narrative is of the digital world being in opposition to people. Both can happen but I hope to take augmented reality and creative technology into the first stream. I create for both Instagram and Snapchat and like to explore as many capabilities of each platform's AR software as I can.

I plan to create more effects using custom 3D objects and experiment with more advanced capabilities to develop quality engaging effects! I have also been learning web development and expanding my approaches to digital creation, so it will be exciting to see where augmented and digital experiences can go. I hope to get more involved in collaborations with people and brands to bring new AR ideas to life and help them be cultural leaders.

My effects centre on human expression and exploration. I like to push the boundaries of my technical abilities so they span a variety of styles from camera manipulations to makeup. They explore how we feel our experience of life through a digital lens, whether we're in a playful, artistic or introspective mood.
– Balraj Bains
Kym Fiala | kym_fiala
Kym Fiala is a South African motion graphics designer, an AR and VR developer and a co-founder of Pixel Chefs. He is best known for his incredibly creative, sometimes mythical or steampunky 3D personifications of animals.
Enjoy the freedom of self expression. Since we last spoke I have been busy on a lot of brand work but still make time to tell my life story through my filters. The characters represent glimpses of what im going through be it learning to let go, detachment, patience, wish fulfillment.

My next plans are looking into some WebAR experiences. Looking forward to AR eyewear. Would love to create something in the VR space as well. Architectural rendering and architectural AR visualization has also been on my mind. So much so little time hahaha.

My inspiration comes from how I feel at that point in time. I express myself from the lesson I learn in life. Be it happiness, pain, anxiety, anger etc. I let my emotion go through my characters and the story behind it.
– Kym Fiala
Anne Horel | annehorel
Anne Horel is a francophone social media artist, director at Partizan, a witch, a vegan foodie and much more! She is best known for her incredible collage face masks.
Creating AR filters is a way to push my collage practice further and is has transformed my artwork in such an unpredictable way. What I love the most is to imagine how the masks I create can be always "more" and "too much" so they become sort of intense pop culture aliens pieces. Without even noticing I now identify to these weird characters with big eyes and giant mouths incorporated in an organized mess of contemporary iconic items.

I am now experimenting with making 3D in VR which is pushing these in an other dimension. I love the fact that despite this pandemic – which has affected art and the cultural world in the physical space – my art is spreading on digital platforms. I always had the intuition that social media are a new form of Art, even an Art Movement itself. And the more I dig into it, the more I have the confirmation it is.
– Anne Horel
MoreFiltersPls | morefilterspls
Noémie is the AR Creator hiding behind this suggestive artistic name. She is a very talented artist which is on the path to becoming an incredible representative of Spark AR community.
I get inspired by different things I see in my surroundings or the Internet, that's probably why my filters don't have a collective style. At the moment I like to explore different fields in filter making and try to figure out what I'd like to focus on. I hope to keep learning and create MoreFilters(Pls) in the future!
– MoreFiltersPls
Helena Bahdzel | bagdellenok
Helena Bahdzel is a talented Belarusian AR Creator with lots of incredible filters in the portfolio, including surprisingly detailed animal masks. Recently, we asked her about them in our article about furry filters.
Before creating AR, I worked as a salesperson for holiday products. I wrapped presents, made bows for presents, inflated balloons with helium, and aerodesign from balloons. Then I went on maternity leave and started to create filters. The moment I decided to try it was when I saw a mask on a cheek in the stories of a blogger-artist. She talked about how easy it is to make a mask and I thought I could do better. It was in August 2019 when I began to be interested in this topic. It all started with studying YouTube videos. There were few of them. At first I looked through Russian creators, especially the cheat sheets of the creator Nikolay Shaman. Then I switched to foreign ones.

It was very interesting to me, but then I realized that simple masks were not what I was aiming for. 3D seemed to me to be something very difficult, though. Later, I found some like-minded AR people on Telegram. There, I met a person who had vast experience in 3D freelancing.

Thanks to him, I learned a lot about creating 3D objects and what fun it can be. Therefore, on YouTube, I began to study not only videos on masks, but also 3D modeling. So, I'm self-taught, if you can call it that!

"Coraline's Mother" is the first mask of mine that caught the hype. I published it on December 13, 2019. Most often I draw ideas from cartoons, films, and cosplays. I cannot calmly watch the film: if I see a person with makeup, the thought immediately arises of how to transfer this makeup to the filter and if it's possible at all. Maybe that's why I made "Venom". Most often, inspiration comes at night, when I really want to sleep, so I quickly throw notes on my phone. To be true, in the morning they look like a madman's notes. However, there are some great ideas there that can be developed. I don't adhere to any certain style when it comes to filters, I just let let my current inspiration guide me.

The quote I am guided by: "If you don't try, you won't know!"
– Helena Bahdzel
Anastassiya Marchenko | nastiyasss
Anastassiya Marchenko is a professional Instagram and Snapchat AR Creator from Kazakhstan. Her filters are a combination of subtle beauty and impressive attention to detail.
My journey as an AR artist began in early 2020, when, in my IG camera in addition to standard filters, began to appear interesting filters from completely different people. As an artist, I was fascinated by how realistic and sophisticated the filters on Instagram became. And by a lucky coincidence, I came across a minute video about how to create a filter on Instagram byyourself, and on the same day I created my first filter.

With each new filter, I tried to create something more technically complex, looked through the work of other creators and tried to reach their level of complexity. All my filters had their own history and subtleties in their work.

Only a year later, I can say that I have my own unique style as an AR artist. I love creating aesthetic filters using 3D models that I create by myself. Another area that I liked is working with full body tracking. In particular, I was able to create a Pure Heart Lens for Snapchat using hand tracking.

I see a huge prospect in AR technologies inside social networks for myself as an artist, because they are available to everyone without third-party applications, which gives everyone the opportunity to touch the wonderful world of art.

On the subject of inspiration, I am inspired by stylish people and unusual images, and each of my filters is a story, a story about a separate hero or subject.
– Anastassiya Marchenko
Christian Venables | csavenables
Chrisitan Venables is an experienced AR artist and a freelancer from United Kingdom with an architectural background. He creates for both Instagram and Snapchat as an OLC.
I'm Christian Venables from Nottinghamshire, UK, I'm an XR/AR artist and developer. AR was a natural step forward from my Architectural background as I've always wanted users to experience the full extent of the 3D work that goes into a project.

I was approached by an agency to use my 3d & animation skills to create interactive AR content, since then I've been fortunate to work with & on campaigns for some big brands over the last 3 years. I'm passionate about making interactive 3d accessible for everyone to inform, educate and have fun. I'm also focused on improving the materiality and realism of AR and to make experiences as visually believable as possible.

I'm inspired by Architecture, Design, Sculpture, Graphic Design and many other outside sources to bring as much to AR as possible. I love to create in VR, record the process in XR and share/distribute with AR.
– Christian Venables
Shuripusta | shuripusta
Shuripusta is a freelancer 3D artist and an AR Creator from Russia. Check out his AR filters as well as his impressive 3D portfolio.
Since childhood I loved to draw and create something from plasticine or paper or Lego, and when in my life video games appeared, I got lost in them… and when I came back to real life, I asked myself "Who created this worlds? Are they humans? Can I create something like that? Where I can create it? Maybe on the computer? Mooooooom!". Yes, it was a computer, but there were many games there, too. So, a few years to play games was spended before learning anything necessary on a way to create my own games.

Creating AR filters is not my primary activity. I still haven't created my game, but I learned modeling, sculpting, texturing and animating everything I needed. And it's helped me to create a few AR filters… I`m a freelancer 3D artist right now. I'm also trying to learn programming for… creating games of course. Maybe someday I'll make super mega interactive AR filter, who knows…

In 2019, my friend Olga Isupova, also known as Visualizee.me, showed me that I can create my own filter for Instagram. I thought that it can be interesting. In August I released my first filter – "Depredator", after that there were "Exoskeleton" and "Xenomorph". My first three filters are a tribute to my favourite movies and video games. I also recorded a breakdown videos of creating these filters. And recently, I made experimental filters "Flames of Beauty", "Urban Ninja" and "Horns of Darkness" – that last one was assembled from animated strokes, was drawn in VR.
– Shuripusta
Brianna Wick | briannawick
Brianna Wick is Czech/Italian AR creator with an experience in variuos artistic fields, including coordination of influencer collaborations, video directing and editing and cloth designing.
My journey into AR started back in November 2019 with spending many months on YouTube, watching any tutorials I could find. At times I had to google every step. Filter creation has been my number one hobby and favorite passion. There's no other feeling like seeing your art pop up on Instagram or on the faces of your friends! I can't wait to see where this journey takes me, as my "filter idea list" is growing everyday!
– Brianna Wick