Wrapping Up Instagram's Spark AR in 2020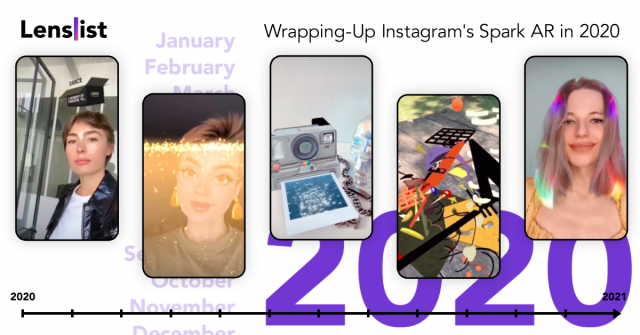 'It's a great time to be a Spark AR creator' – these words by Sue Young from Spark AR team remain true, despite everything that went wrong in 2020. To sum up this last year, we've listed a few highlights and takeaways, summed up what we'd achieved at Lenslist, and invited Spark AR creators to share their thoughts on 2020 when it comes to AR.
We're wrapping up 2020 with an extensive article about how this year went by for the Spark AR community of creators: what changed, which filters trended and if, overall, this was a good year for Instagram AR filters. Actually, when it comes to the last question, Sue Young answered it back in October, in an article containing some really impressive numbers: as it turns out, there are over 400k Spark AR creators from 190 countries (55% of which are women) who already published more than 1.2 million AR effects.
Source: sparkar.facebook.com
What you'll find in this wrap-up
We'll start by pointing out the 2 trends that dominated AR filters' world in 2020. Then, we'll go through all the new functionalities of Spark AR Studio which let creators develop even more immersive and ingenious AR filters. After adding a few words about Partner Relaunch and positive changes to the publishing process, we'll let ourselves boast for a minute about our own milestones during the past year 😄
To make this look on 2020 even more exhaustive, we've extended it with the quotes by Spark AR creators, who shared with us their thoughts on what happened in 2020 considering AR filters, functionalities and their own projects: Helena Dong, Denis Rossiev, Daria Bartczak from Popul-AR, Cibelle Cavalli Bastos, Isabelle Udo, Adriano Magalhães, Dmitry Kornilov (CEO at FFFACE.me) and Spark AR Memes.
Top 2020 AR trends
TREND #1: RANDOMIZERS
In April, we asked ourselves Why "What _ Are You" Effects Are Still So Popular? In fact now, over a year after the first randomizer by @arnopartissimo appeared, they still remain big. How big? As of now, we've got 841 randomizer AR filters collected on Lenslist (see them here). But let's return to the reasons for their popularity: summing up the article mentioned earlier, we believe that they represent a perfect combination of simplicity, immersiveness and personalized entertainment. In other words, they're easy to create while bringing a lot of fun. What's most exciting about them, in our opinion, is that they were the first step into the world of AR filters for many creators and brands.
TREND #2: CARTOON EYES
Let's be honest: many of us as children fell in love with cartoon characters. Animator's unproportional lines surely made everything cuter and more magical. That's why cartoon eyes AR filters became so popular: they let us recollect our childhood adventures and look at ourselves as one of the characters we admired while growing up. And doing it to our dearest pets?.. That's just too cute!
New Spark AR functionalities
Media Gallery & Gallery Picker
This feature, introduced in May, allowed users to pick any photo or video from their camera roll and add it to an AR filter as a material for an object. In result, any of the user's media items can become a part of an AR filter, blended perfectly with the rest of the scene, in any way the filter's creator intended it to be. Want to know more and learn what AR creators such as Noland Chaliha, Luke Hurd or Gijs Wahl had to say about the feature? Read our article Gallery Textures on Instagram: Your Photos or Videos as Part of the AR Effects.
AR Music
A launch of the feature that enables AR filters to react to sounds is, in our opinion, the most amazing thing that happened to Instagram AR this year. The great thing about May's update was that now the user picked the music – from that moment it doesn't have to be built into the filter. In fact, the first filters in which animated objects were reacting to our favourite songs blew our minds. Want to know more and learn what AR creators such as Isabelle Udo, Josh Beckwith or Domenico Amalfitano had to say about the feature? Read our article See the Rhythm with the New AR Music Feature on Instagram.
Render Passes
Render passes is a somewhat more advanced feature that creators were very excited about when it came out in July. It lets you use Spark AR's Patch Editor to 'produce multiple rendered results in a single AR effect', eg. for applying separate effects to different objects in the scene. Read more about the feature and click-through to documentations in Spark AR blog post about render passes.
Hair Segmentation
'Segmentation' is the functionality that lets AR creators separate particular elements from the scene and modify them. In October, Spark AR introduced hair segmentation, and, as a result, Instagram and Facebook AR filters gain the ability to affect users' hair, eg. by changing their colour or adding fairy flames to them. Check out our selection of hair segmentation Instagram filters.
Shader Code Asset
The last feature, published in December, is a Shader Code Asset. It simplifies writing custom shaders and using them as materials. Together with it, a new documentation and a basic guide was added to help you use SparkSL, as well as a new Shader API which lets you access your shader's data concerning light. Learn more about the feature and jump to guides and documentation in the introductory blog post by Spark AR team.
Meaningful events
In October, Facebook announced a relaunch of Spark AR Partner Network, giving it a push by adding 77 new partners (both agencies and individual creators) and publishing a new website. From this moment on, every experienced AR creator can apply to become a part of the program to grow and monetize skills.
Also in 2020, Spark AR team has made various efforts to improve a publishing experience for creators. The most significant change came at the end of October and we can encapsulate it within one word: unification. The process of publishing, simplified effect management and insights have been consolidated across Instagram and Facebook, offering the creators smooth, intuitive processes inside Spark AR Hub.
Before we dive into what the AR community think about 2020, let's make some room for the member of Facebook AR team who was kind enough to share his thoughts with us:
Chris Price, Facebook | @chrislprice

Last year we saw a ton of activity and growth on our platform. It's hard to believe we opened publishing on Instagram only a little over a year ago! And already we've seen over 400,000+ creators from 190 countries create AR experiences on the Facebook and Instagram apps. Even more exciting is that 55% of our creators are women. It goes to show what building inclusivity from the start–via free, accessible tooling and education– can do.

Spark AR is a platform for everyone, and we're humbled to play a small part in helping a truly global community express themselves this way. As we scale, we're focused on unlocking even more capabilities (more than 100 new features last year), and have continued to simplify Spark AR Studio to help more people get started with creating experiences. With the recent launch of the Spark AR Partner Network, we are fostering deeper connections with the creators who play an important part in the success of our platform, and we'll continue to engage and ensure their success in the years to come. Together we'll demonstrate what's possible and explore the types of creative applications we haven't even dreamed of–yet.
Creators Sum Up 2020
Helena Dong | @helena_dong

In 2020, the possibilities afforded by SparkAR encouraged me to pivot my career from an established avenue of fashion design to AR experiences. Prior to discovering this program and its community, I never assumed that I would merge fashion with AR through Instagram. So the development of its functionalities and resources have truly made it possible for someone with no former training in digital design to produce participatory work with heightened imagination and accessibility.
Denis Rossiev | @enuriru

In these hard times, it's a pleasure to see how augmented reality is growing on Instagram and Facebook. Despite the pandemic, Spark AR dev team continued to work and presented a lot of awesome features.

Cool thing, they gave us both: advanced features for experienced developers and some things that make Spark AR Studio easier for beginners. Shader Code Assets allow us to build tricky and high-performant visual effects. Render Passes for complicated scenes. Quaternion signals and async scripting for better maths and logic.

And beginners got a lot of handy quick actions, patches, and UI improvements. Thanks to it, we've got the largest social AR creator community with more than 400 000 creators from all over the world!

And there are not only technical features: I like community-related stuff like creator portfolio, effect gallery, and assets library. Creator collab and hackathons also were nice!

Though we've experienced some bugs, it's the inevitable result of really fast development and progress. Lookin' forward to see what they prepared for 2021!
Daria Bartczak, Brand Manager from Popul-AR | @popul_ar.experience

Generally speaking, this was a monumental year for Spark AR. We got Instagram Music, hair segmentation, render passes, shader language, and a ton of improvements to the ecosystem in general. Creators got portfolios, additions to analytics, and a new publish target (Messenger)! Spark AR also implemented great improvements to operational processes by optimizing reviewing system and upgrading their HUB.

Incorporating audio into Spark AR effects had a huge impact on our clients assignments and made us proud creators of effects like Pride EQ facemask by @borisjosz, Thermachromic or the newest Derivatives filter by @positlabs. One of the biggest game changers was activation of multipass rendering techniques. Render pass experiments made us develop multi-layered effects like comic-style Mangaka or Colored Photo Booth by @mitsukokubota or Locus by @positlabs. Hair segmentation & big comeback of face deformations also opened the door for more original and abstract filters and redefinition of beauty by AR creations. Go to @sarahmayer.co to discover some unique beauty projects (eg. The Girl from Now, Atomic or the newest Alpha Skin).

We believe it's not crazy to say that Spark AR has tackled the challenge to drive AR into the mainstream. Let's not underestimate the happiness it can bring to see our friends and families finally understand what we do for work 🙂

Our next big target lies now with the Landscape capability of Spark AR Player for Artistic installations and the other amazing capabilities Facebook Reality Labs has prepared in the cross technology usage of the framework.
Cibelle Cavalli Bastos | @aevtarperform

Becoming a member of the Spark AR Partner Network was definitely a highlight for me. To be in the company of so many incredibly talented AR artists, developers and creators and with full support from FB is really quite something. Tech-wise, sound capabilities and render pass were the things for me this past year.

The projects that really got me going were music collab commissions I've worked on for artist PortraitXO and Berlin label Innervisions. Both, with the help of Spark AR, can turn anyone's phone into an instrument. Like a pre-loaded sampler and effector.

If I were to use hardware to make an analogy soundwise, I'd say it would cross a Roland SP-404 sampler patched to a Korg Khaos Pad. The bonus is the AR on IG. It is easily accessible to anyone with an IG account, and to be able to affect sound and image at the same time.

I got invited to this collabs after I released ATTUNE, which is a synth of digital sculptures I've shown at CADAF this year in Miami.

For PortraitXO we incorporated sounds she generated through AI which were part of her album WIRE into touch gestures to the screen and to an object by Harriet Davey (@harriet.blend). By using the screen pan we affected the sounds and vertex displaced the images according to the movement required to affect the sound.
The piece for Innervisions' release Limbo was the most fun to work with as it set new ground in music and AR as I gamified the experience of remixing music. For Limbo, I chose loops from artists in the compilation and remixed together into a new "track" by assigning each sound to a different object and touch gesture on the screen.

It then gives people the opportunity to experience music in augmented reality through remixing an artist's track, and in this case, mixing and remixing stems from artists within the Limbo compilation into a brand new track. It generates track versions that will exist impermanently at any given time as the combinations of layers, beginning and endings of sounds would never occur at exactly the same time. That's what I mean about the game: trying to beat match tapping a floating AR object.

These new tracks depend on the one playing them. The sounds are also linked to a visual experience and some of them are patched to effects. Each movement opens up a sound, affects it or closes it.

The visuals on the screen respond to your finger motion and sound. As you play you can enter a sound, pitch it, enter the object's colour field. You can literally probe within the objects in the screen as you tap them on and off.

I'm currently working a series of art commissions of my own practice for early 2021. I'm excited to keep making sound experiences in augmented reality, for myself and others.

I've been mostly publishing as @aevtarperform, which is directly related to my art practice as an interplatform performance piece. All I publish there must match conceptually, however, there are many types of experiences I've been working on that don't belong in @aevtarperform as they don't fit the concept, so I started @4dhd.xyz to expand the experiences, post client commissions and collaborations with fellow creators.

There will be more filters and AR experiences popping up at @4dhd.xyz in 2021. So stay tuned there too.
Isabelle Udo | @vi.de.or.bit

2020 Has been an unbelievably eventful year looking at the developments of interactive design. Augmented Reality softwares like Spark AR Studio and Lens Studio are developing at a rapid pace.

To me this has a lot to do with the accessibility which changed dramatically because of social media platforms like Facebook, Snapchat and TikTok.

I strongly believe the AR creators on these platforms are the force behind these innovations as they are the ones utilising the software in exceptionally surprising ways. Asking for specific features and giving feedback as they go helps the AR software to evolve and mature.

I feel extremely lucky and proud to be one of those creators. The effects we create are wonderfully entertaining yet also a powerful commercial tool. Never before was it this easy to create an experience which can potentially be used by millions of people worldwide.

Going into 2021 I can see the use of augmented reality only growing as our devices innovate and the online places to experience it are expanding.

In the future AR will grow from being merely entertainment to functional tools which will make our lives easier and more efficient. I'm looking forward to seeing what will be next!
Adriano Magalhães | @finofinissimo

Last year was a great year for Spark AR when it comes to technolgy and audience reach. As the pandemic set foot, the digital life reached new heights and more people became aware of face effects, leading the industry to a level of 400k creators all over the world. What we saw was a boom in creativity and quality of the effects, as Spark AR implemented amazing new features like hair segmentation, render passes and SparkSL, long awaited features. With the Desktop Player we can take Spark AR to places beyond Instagram and Facebook, giving the creators the option to explore environments like art exhibits and kiosk applications.

There is no best time for AR as we expect the industry grow even more in 2021.
Dmitry Kornilov, CEO at FFFACE.me | @ffface.me

While there were a lot of new technical upgrades in Spark AR this year (our favourites are – hair segmentation and render passes), our studio focused on searching for hacks and tactics to achieve predictable and measurable marketing results for brands with the help of Instagram effects.

Here are some of our findings:

Instagram effects can be used to generate offline sales

If you launch a promo with an Instagram effect, you can reward participants with freebies that trigger further product sales. Ideally, these freebies should be received directly at sales points.
With Luxoptica, our goal to generate offline sales was reached by gamifying eye tests:

1) We put the idea into practice using an Instagram filter game. This filter was posted on the brand's Instagram profile and announced through a post and page on Instagram, so every Instagram user had the opportunity to try it.

2) In order to use the Instagram filter, users open the Instagram camera and start recording video with the selected effect. Users learned through the instructions shown that you blink to play the game.

3) To participate in the promo, users were required to: open the filter, start recording video and blink their eyes.

4) The funnel of this activity had the following structure:

– Users learn about the Instagram-filter and promo conditions from the Luxoptica profile and join by swiping from the story-announcement.

– Audiences who are not subscribers to Luxoptica can learn about the promo from their friends who have subscribed to Luxoptica.

– The brand creates hype around the promo thanks to story reposts from promo participants and this attracts new participants.

– The brand activates promo participants through personal messages and offers them a free vision test.

– Some users who have taken this test even purchase luxoptica products to solve their vision problems.
And finally, a sum-up of 2020 by Spark AR Memes 😄

If 2020 was a filter it was kira kira, static text and a fake music player with Nickelback songs.
Lenslist Team – what we're proud of after 2020
As we're approaching Lenslist's 3rd anniversary, we would like to thank creators and agencies for their cooperation, kindness and open minds: we would not exist without you! In 2020, we really pushed the tempo while making relations with creators our top priority. As a result, our database grew up to 15.000 AR filters (including demo videos and direct links to the filters) and over 200 profiles of AR creators (with filters' portfolios, bios and short interviews).
Every day we scroll through Instagram looking for fresh, outstanding filters, bringing our followers a daily dose of AR inspiration with our Stories. To keep the community up to date, every Friday we curate a Weekly Selection of dozens of newly published Instagram AR filters, both branded and inspirational ones. What's more, every week we publish articles and interviews on our blog that let you know creators better and bring to you news, case studies, and AR marketing tips.
New on Lenslist: Briefs
In December, we've published a new Briefs section on our website and launched the first brief for AR filters. We're hoping that the events we're about to announce there will help creators gain wider recognition and give them an opportunity to prove themselves in the eyes of potential clients. Don't miss out on what's about to come to Briefs in 2021 – we will do even more to help you achieve your AR goals!
We're very thankful for the whole effort the community put in during last year and we're very happy to be a part of it. In 2021, we'll continue to fulfill our mission of supporting AR creators, encouraging brands to include filters in their marketing strategy and inspiring everyone with the curated database of thousands of AR effects.
---
Below you'll find 30 of the thousands of AR filters from last year that you can find on Lenslist and in our Weekly Selections. Let them be an inspiration for you to keep us in mind in 2021 😊
Branded – made for promotional purposes
Inspirational – made by the community for the community