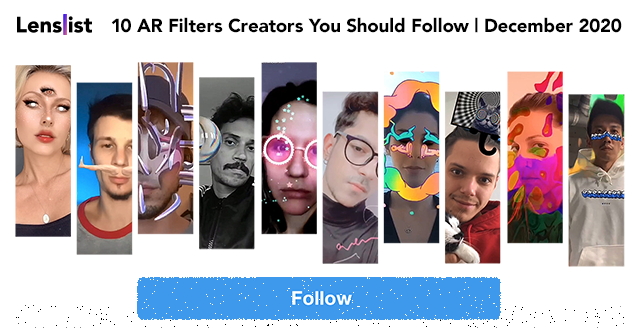 10 amazing Instagram AR filters' creators, artists skilled in Spark AR studio and so many other things. We've collected some information on them, curated their AR filters for you to have a glimpse of their artistry, and asked them some questions considering their AR filters. Try out their effects or contact them with a brief!
Marina Santarossa | @marinarossa
Marina is a freelancer Spark AR Creator and a digital marketer from Canada with 50+ community Instagram filters and also a lot of projects for brands.
For me, I see two themes within my filters: everyday use and special occasions. As an avid Instagram user, I love making filters that enhance the moments you capture throughout the day, which is where my LUT/camera style filters come in. Each one sets a unique mood. On the other hand, I love pushing my limits as a creator and making unique beauty looks that completely transform you (such as my Halloween filters). I take a lot of inspiration from the aesthetic of Instagram influencers I follow, along with that of the creators within the Spark AR community! We constantly share ideas and push ourselves to learn more every day! – Marina Santarossa on the style of her filters
Jorik Rosa @jorik.rosa
Jorik happened to be a photographer, a graphic designer and even a music video director from Ukraine. The thing he likes most about Spark AR Studio is visual coding which enables designers to create using logic instead of, well, coding.
All filters in my gallery I create to learn something. I guess most of my filters are silly and for fun, but I use a lot of technics to achieve results. I found inspiration from a lot of AR artist on Lenslist and Instagram. Also a lot of great things I get inspiration from 3D artists and 2D artists. – Jorik Rosa on the style of his filters
Erwin Souveton | @erwns
Erwin is an 30yo architect living in Paris, his interests spreading from creating 3D spaces and objects to esotericism and sci-fi. He creates AR filters as a freelancer.
My inspiration for most of my filters came from my childhood. I always had a certain taste for videogame/videoclip/series character. i really have fun and enjoy reinventing them through filters with Spark AR. – Erwin Souveton on the style of his filters
Adriano Magalhães | @finofinissimo
Adriano is a musician, coder and an electronic technician from Salvador, Brazil. He's making AR experiences since 2010. He's very proud of the effect he co-created for Rock in Rio. Adriano is an author of over 100 filters for Instagram and Snapchat.
I was really delighted when the Render Pass feature appeared and decided to put it to the test with the Trick or Threat effect. It was like creating two completelly different effect in a single package. First did some reasearch trying to find some theme which could be used in dual, like fire/water, black/white and, in my case, angel or demon. I've made the 3D objects (angel ring, demon horns) in Blender and created some textures using Photoshop. Then I created two entirely different scenes for the angel and for the devil and used a Mix patch to join them. In Spark, the most difficult thing to do was to "normalize" the effect, because of many discrepancies between Android/iOS. Some stuff only works on Androids and others only on iOS. So I had to make some choices to make the effects as similar as possible between the two platforms. In the end I've learned a lot about Render Pass workflow on Spark AR. – Adriano Magalhães on his Trick of Treat filter
Beth Allison Wickerson | @bethwickerson
Beth is a "web developer at Signal Theory marketing and design firm in Kansas City, as well as the co-founder of Wickerson Studios, a digital creative partnership with her husband". Having background in photography and art, she is a web developer and AR creator.
My most recent filter makes use of the new SparkSL shader code, which is pretty new to me, and inevitably I started out with one idea and ended up with something wildly different. I am interested in using shader code to create geometric shapes and distort the camera view, and I love combining it with audio reactivity to add a level of interest and randomness to the effect. – Beth Wickerson on her latest filter ≋
Viv Galinari | @viv_galinari
Viv describes herself as a "self-taught coder exploring AR technologies". She comes from Brazil and lives in London. She is a Software Engineer at BBC and a freelance AR filter creator with over 30 filters made.
I am fascinated by the eyes and use it in most of my filters, there is something really satisfying in reiterating over face features (like eyes and mouth) and playing with rearranging the face. I like the weird and distorted beauty of it. – Viv Galinari on the style of her filters
Honey Bhagya | @honeybhagya
Honey Bhagya is a person of many talents: he's a web developer and designer, AR artist as well as Instagram influencer and CEO of templateclue.com – a blogger template store.
My filters are random , aesthetic and clean. I try to keep my filter UI & basic function simple so the user can use filter more efficiently. For example "Frame H3" Is one of my favourite filter. It Is minimal, aesthetic and well designed. I believe that you don't have to create something complex to get the attention. Most of the filter ideas come natural to me and I'm creative, flexible and curious. I always try to think from user perspective so the end result can be more creative and easy to use. – Honey Bhagya on the style of his filters
Yusuke Kashiwabara | @yusuke_kashiwabara
Yusuke Kashiwabara is a Japanese AR creator who specializes in developing filters for events' marketing purposes. Check out his website.
It's everything that can't happen in reality. AR can represent it all! – Yusuke Kashiwabara on the style of his filters
Meltem Şahin | @meltemsahin
Meltem Şahin is an illustrator and animator from Turkey. She completed a completed a master's degree at MICA. She illustrated a book "P is for Pussy", curated an AR show PSM and co-founded an education company "Mindhood", among other things. "Recently, she is creating AR effects, AI generated pieces and 2d animated gifs." Visit her website.
Alex Dohotaru | @alex.dohotaru
Alex Dohotaru is a managing partner and creative director at CreativeVR VR/AR production company, with clients such as Fanta, RedBull, ING Bank and more. He is a skilled in marketing, AR, VR, PM and team leadership.