UNEP & MeshMinds Invite Everyone to 'Clean the Air" Using Instagram AR Filters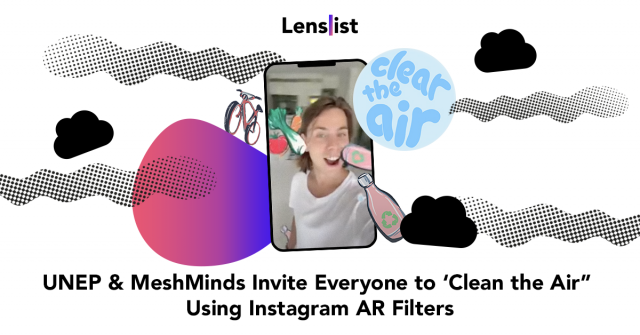 Clear the Air is an AR face filter aimed at youth and communities online to share important messages that allow people to immerse themselves and take action in the challenge of tackling air pollution. UNEP Goodwill Ambassadors, Li Chen, Lucas di Grassi, Dia Mirza, Antoinette Taus and Alex Rendell, are lined up to help support the campaign.
What are the top three actions you could take to improve the air in your surroundings? If you were given a flyer or poster to read, how much information would you remember? Augmented Reality (AR) is creating unique new opportunities to raise awareness and reach global audiences on the sustainable development of people and our planet. Singapore creative technology studio partnered with the UN Environment Programme (UNEP), MeshMinds, has created a unique 360° AR experience that invites every person to spin around and pledge to take action to "clear the air".
The AR experience includes three original animations that show the switch from a life dependent on cars, meat and dairy-based diets and plastic bottles. Simply by pressing record and spinning around, people see the haze clear as they pledge to switch to public transport, adopting a more plant-based diet and establishing a reusable bottle as the norm, rather than the exception. People are able to #ClearTheAir and make a social pledge that they can easily share online in support of various Sustainable Development Goals including Goal 3: Good Health and Well-being, Goal 7: Affordable and Clean Energy and Goal 11: Sustainable Cities and Communities and Goal 13: Climate Action.
Kay Vasey, Chief Connecting Officer of MeshMinds, says AR is helping to engage and track audiences around the world on complex issues.
We are believers in environmental education through play-based learning. By offering AR tools, such as face filters on Facebook and Instagram, with simple interactions and animations we can help to significantly engage youth and communities online on the problem of air pollution. This time, you have to spin around, making it a fun activity for everyone to enjoy.
The AR experience aims to help visualise the apocalyptic effects of air pollution by immersing them in a haze-filled environment surrounded by actions that they can take. The main ask, to the public, is to post a video of them spinning around and around to show that air pollution is something that affects every person on our planet and that can only be addressed if everyone takes action. People can also download the sticker pack for WhatsApp to make their pledge.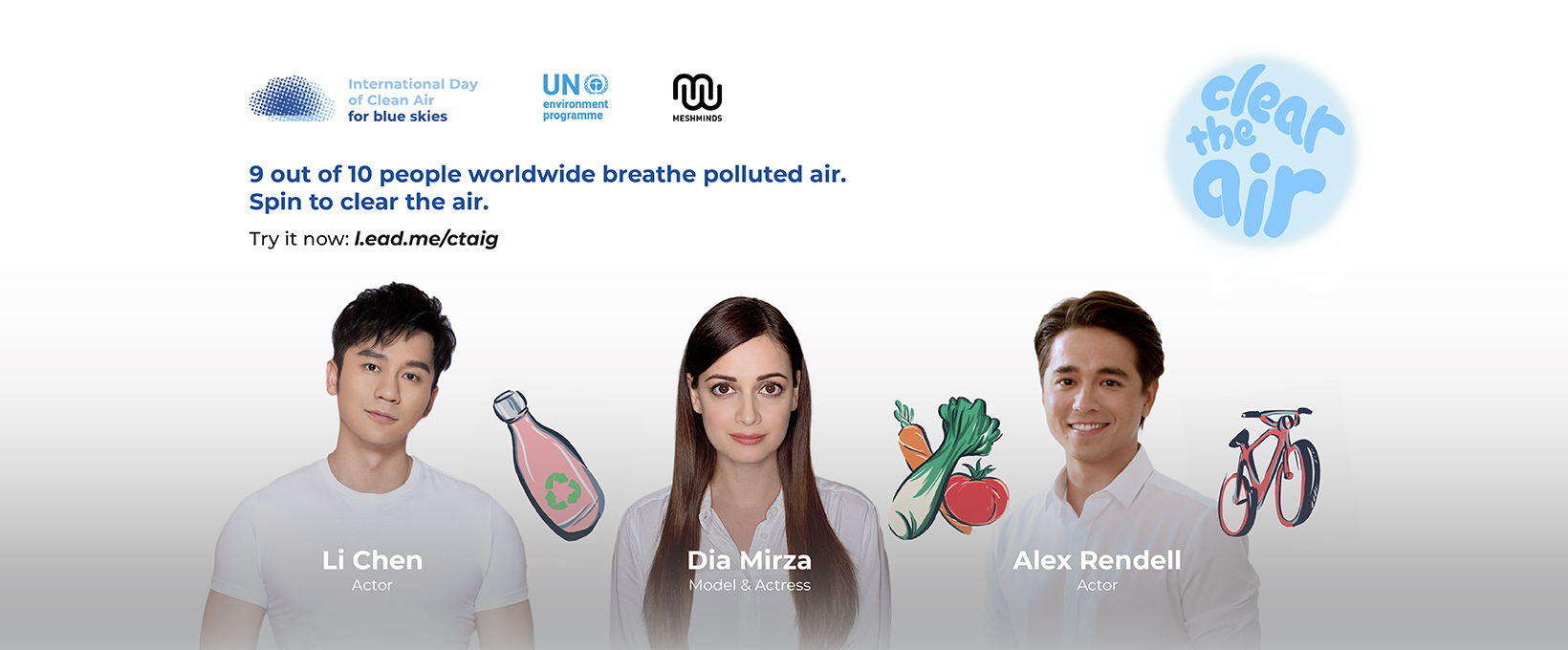 Banner of Li Chen, Dia Mirza and Alex Rendell
The use of art and augmented reality builds on the work by MeshMinds for World Environment Day 2020, which was the second time that UNEP had commissioned an AR filter for use on Facebook and Instagram. To date, over 1.2 million people from over 90 countries have tried out the AR game, Run For Nature, by UNEP, actively pledging to build back better for people and the planet.
Atif Butt, Chief of Public Advocacy and Communication Section of UNEP underscores the increasing popularity of integrating AR experiences in campaign communication:
Air pollution affects us all and, therefore, everyone has to take responsibility to contribute towards reducing air pollution. With increasing access to and popularity of social media platforms, online immersive tools that provide AR experiences are a great way to engage people from all walks of life and help achieve educational objectives.
Everyone can try the Clear the Air AR experience with Facebook and Instagram installed on their smartphone. Simply visit http://l.ead.me/ctaig or head to @UNEP and find the link in their effects gallery to try the experience on Instagram or http://l.ead.me/ctafb on Facebook. Then record video and share with your network to pledge to #ClearTheAir and encourage your friends and family to do the same. Make sure to tag @UNEP in your posts for a chance to be featured on of their social media channels.
You can also download the WhatsApp stickers, download them here.
If you're rerpesenting an agency or a brand that recently has done an AR campaign, send us materials for a case study or press release like this one using the link below 👇