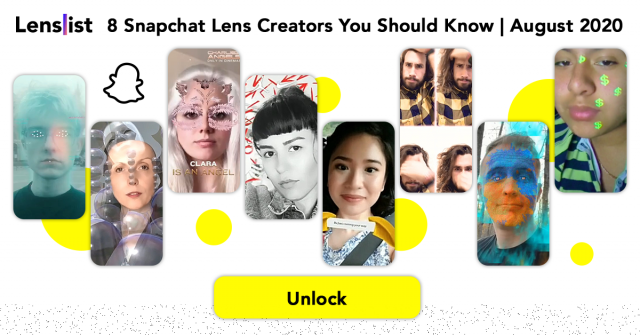 Another gathering of 8 exceptional Snapchat Lens Creators is ready. Get to know these amazing artists, try their Lenses and check out what they do besides AR: some of their activities will blow you away! No point in delaying it – dive in and get to know your new favourite creators.
Aaron Jablonski
Aaron is a digital artist based in Berlin who specializes in face filters. Surrealism and posthumanism are main themes of his AR artworks. Visit his portfolio to discover his other amazing XR projects.
In my work I often make use of video feedback and recursion. Virtual phone is a world facing AR effect that features a big floating smartphone with an ever repeating copy of the live camera stream. For my lens 'enter the void' I wanted to create an AR effect that removes the user from the camera view and blends them in with their surroundings. A second mode is accessible via screen tap. – Aaron Jablonski
exitsimulation.com | exitsimulation@protonmail.com
Helen Breznik
Besides being Lens creator, Helen is a successful photographer. She uses wide range of tools to shoot, and her photo portraits lean towards melancholy (source). The same level of creativity and self-expression applies to her Lenses – which are as well-crafted as they are fun to use.
Clara Bacou
Clara is an animation director and a 3D and AR artist. She is currently doing a masters in digital animation in France, her work has been exhibited internationally, and she has experience in creative consultation (read more in her bio). She's done a lot of stunning Lenses, including the one called Pierced which was showcased on Snapchat's national carousel on Halloween day.
My lenses are often 3D focused and I regularly create digital beauty and jewellery looks such as 'Pierced' and the Charlie's Angels lens. I also take inspiration from CG Character animation and film to build my more playful lens experiences, such as 'Cartoon Bear' and 'Dragon'. – Clara Bacou
clarabacou.com | clara.sawyer.bacou@gmail.com
Alie Jackson
Alie is a Snapchat Lens creator with over 10 years of experience in art direction, graphic design, production, video editing and more, with dozens of clients such as Nike, Marvel or Warner Brothers. Read more about her achievements here and if you're a marketer, check out metrics of her AR Lenses to see the potential of AR marketing.
I made this germ stream lens during an artist residency at The Line Hotel in Austin during the coronavirus quarantine. It was really interesting because I had this hotel to myself and very few guests and staff for some of the time. I couldn't stop thinking about all of these invisible germs that were surrounding me and how they were occupying this huge space what would normally be busy in the middle of tourism season. This lens was the result of trying to imagine an abstract representation of these invisible " germ streams" that were floating and moving around in space. – Alie Jackson
aliejackson.com | alisenjackson@gmail.com
CyreneQ
The wide range of Cyrene's creative activities is astonishing and doesn't leave much space for more precise clarification: she's an artist. When it comes to AR, she is definitely the most popular Snapchat Lens creator on the planet, working with the biggest brands and giving back to the AR community at the same time. Check out the video that leads us through her Snapchat Lens story.
Augmented Reality helps me show others the magical world I've always seen. – CyreneQ
cyreneq.com | All my social media: @CyreneQ
Robin Delaporte
Robin is a recognized creative front-end developer. Born and graduated from Paris, he works in Amsterdam at Resn. As an Official Lens Creator, he's made more than a few unique social media AR experiences.
robindelaporte.fr | delaporte.ro@gmail.com
Wayne Lambo
Wayne is the person of many talents as a former military man, web designer and Snapchat Lens creator. His 3D creations put onto the world thanks to Lens Studio are definitely something special. Happy Pig Dance has been viewed by 6.9M Snapchatters!
I created Vote 4 the Future to try to get people across America to register to vote in the 2020 election. The Lens features a Snapchat Mini button that takes the user to an internal voter registration page. I created the main title sequence in After Effects and the 3D world was created using Blender and scripting tweens in Lens Studio. – Wayne Lambo
innerspacewebdesign.com | innerspace300@gmail.com
Juan Gonzalez
Juan is a young Lens creator and an influencer who made dozens of simple, yet popular face filters.
Make the world colorful with indie kid be the main character, you are the main character. – Juan Gonzalez
lensstudio/juangonzalez | juan0303juan@gmail.com
Thanks you for reading, we hope the article helped you in getting to know these amazing lens creators. Don't hesitate to contact them for business purposes or if you just want to congratulate them on their work 😊