8 Snapchat Lens Creators You Should Know | August 2020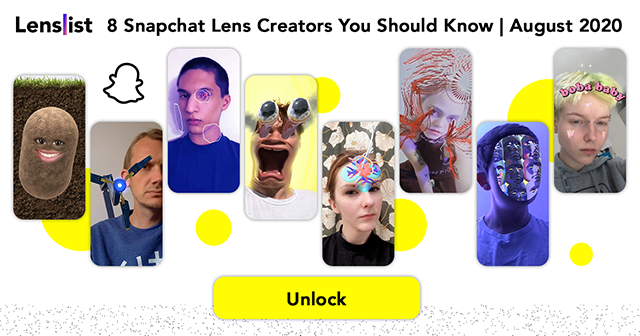 Last week, we presented to you Instagram creators worth following. Now, it's time for Snapchat lens creators! We've asked 8 great AR artists about their favourite filters made by themselves. Meet the authors of some really special lenses, follow them or simply get in touch!
Phil Walton
Phil is an experienced animator, writer and AR/VR Creative Developer from Tennessee, currently working for Big Banzai. Most of his lenses let you stop being human for a while by turning you into something completely different.
www.phillipwalton.com | [email protected]
I've made many different types of lenses, but probably the one that has become the quintessential example of my signature style is the Potato. It was already my most popular lens at the time, but when the #PotatoBoss post went viral on twitter, the number of people using it with Snap Camera on video calls went through the roof. The lens is really a great combination of an appealing design that's also fun to use and re-use. It just makes people smile whenever they're a potato and I really love that. – Phil Walton
Anrick Bregman
Anrick is an Official Lens Creator that specializes in immersive storytelling and emerging technologies. Up until this point he did a whole spectrum of lenses, from futuristic masks inspired by sci-fi to animals and artificial planets on the sky.
www.studioanrk.com | [email protected]
What I love most about AR is the ability that it gives us, like a superpower, to have hidden layers as part of our own body, or the world around us. I try to create lenses and filters which explore and build on the idea that our identity, and our interactions with the world around us, will be forever changed when AR becomes a part of our every day life, through wearable devices, in the very near future. – Anrick Bregman
Joshua Keeney
Joshua is a 3D computer graphics artist from Washington State. His artwork has been shown is such locations as Tate Modern Museum, and as an Official Lens Creator he worked together with Nicki Minaj and Post Malone. As his website tells us, under the identity of 550am, his work explores nostalgia, ego, identity, and his evolving worldview through surrealist inspired visuals.
550am.net | [email protected] | Snapchat: josh550am
My lens BUTTERFLY is one of my personal favorites. I've made versions for both the regular snapchat camera as well as spectacles 3. I think it best represents my style as someone who's futuristic but also inspired by the past and visions of the future from the past, specifically capturing the turn of the millenium futurist Y2K style. My lenses are all connected to my work as an artist and this lens in particular really captures my current vision of a fun glossy surrealist future. – Joshua Keeney
Jinnie the Wew
In the interview from 2018, Jinnie told us that none other word describes him as good as creator. He's here to entertain, and indeed, his lenses can and do entertain! From games and memes to witty works like Foggy Mirror, his filters are always fun.
dripdigital.tech | [email protected]
I am constantly inspired by the things around me. I'm always sure to write down anything that could turn into a fun or interesting AR lens. In this instance I was watching Scott Pilgrim Vs. The World, this movie is full of amazing special and stylised effects. I've always been super interested in SFX and VFX, so creating an AR filter that adds VFX in real time is something that I love to do. I saw a scene in the movie that I thought could add a lot of value into a snap and had high meme potential. In the scene the camera zoomed into a person's head, turned them into a silhouette with an old-timey meter that ranged from no clue to gets it. The needle on the lever animates from no clue to gets it and the camera pans back out and returns the person to normal. This was my inspiration for this lens. – Jinnie the Wew
Meredith Binnette
Meredith is a graduate from Rhode Island School of Design and a coffee lover.. Being an experimental animator and a creator of both Snapchat lens and Instagram filters, she prides herself to be an active member of AR online communities.
www.meredith-binnette.com | [email protected]
With AR, you can make anything happen, and so I hope to keep bringing more weird and colorful elements into the real world. For this lens, I was inspired by all the gooey and colorful sea creatures that are out there, and tried to achieve underwater gravity with lens studio's chain physics. – Meredith Binnette
Sarah Mayer
Sarah is a fashion designer and lens creator who is all about sustainability. We've actually had a chance to talk to her this week, so grab this AR talks | Sarah Mayer to get to know her better!
sarahmayer.co | [email protected]
The OLC program is quite nice. They update us constantly on new features and invite us to try out new beta versions of the program. What I like the most though is that they always reply to any question or problem I have with the program super quickly, I appreciate that. They also offer to join several real live meetings and for this year mainly virtual conferences which are informative and interesting in general – if you like AR. – Sarah Mayer on Official Lens Creators program (source)
Noah
Noah is an Official Lens Creator from Norway that creates a lot of futuristic, neon masks and moody photo filters. He describes himself as a social media nerd, so be sure to follow him on Twitter.
twitter.com/noahfifty | [email protected] | Snapchat: noah
Exit hallucination is a Snapchat lens making your mind go WOW! It's a colorful lens that makes it look like you have people inside your mind. – Noah
Tyler Woodford
Tyler is a lens creator with a consistent style of simple yet engaging face stickers. They perfectly match his material forms of art which you can buy on Teespring etc.
linktr.ee/tylerjameswdfd |[email protected] | Snapchat: tylerisntcute
Space crown lens was the first of many, I had no idea something so simple would take me this far. It's kind of crazy that I've stuck to my roots so closely since I started creating but I'm glad people still find enjoyment in my work regardless. – Tyler Woodford
Thanks for staying with us till the end! We hope it means that we helped you in getting to know those amazing lens creators. Don't hesitate to contact them for business purposes or if you just want to congratulate them on their work 😊