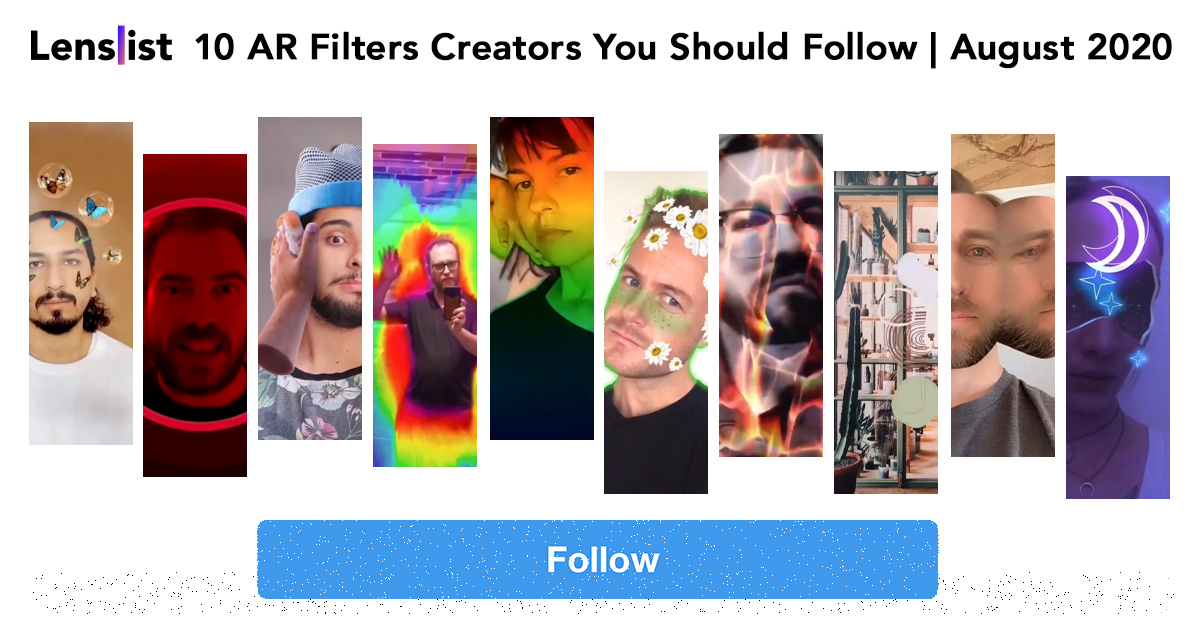 In August, we've asked 10 creators that we believe you should follow about their favourite filters. Read what they had to say about this one filter of theirs that stands out from the other. And start following them for amazing content!
Jan Trejo | @janmahavan
The author of famous Glitter on White filter didn't stop there, making dozens of beautiful AR filters afterwards. Many of them are not-so-obvious frames which will turn your Instagram photos into something magical and unique. Other filters that he wanted us to share with you are Danaus, Boho Filters and Emoji Crown.
Back in November 2019, when I created my most personal and recognized filter 'Glitter on white', I never imagined that it would become viral overnight, seeing celebrities all over the world using it daily and inspiring hundreds of creators to create their own version of it was something for the record.

The inspiration for this filter was to create something related to stars and universe but at the same time, something that felt magical and dreamy. I loved how it turned out that I decided to create both versions, glitter on white and glitter on black. To date it's still my most popular filter, having over 30 billion of shares and 13 billions of impressions and still my favorite. – Jan Trejo
Roman Pillai | @theroznick
Roman is a motion designer and AR creator. His Instagram feed is full of beautiful motion designs, and on his YouTube you'll find tutorials and timelapses from making of his filters. The AR effects he considers his top ones are Idi0t Sandwich, Banana, Shrooms, and Cone Hat.
My most favorite filter is Idi0t Sandwich. There was no real starting point to this project and I didn't really know what I would end up with. I had seen a couple of 3D bread models online but never bothered to check them out, except this time.Initially, the filter took shape as being a sunflower where the user's face would be in the center and the bread would be petals around it. This turned out to be a very fun filter.

Fortunately or unfortunately, I was also browsing Facebook at the same time and saw a meme from a few years back where chef Gordon Ramsey is holding two slices of bread up against another chef's head and calling them an "Idiot Sandwich". After seeing that, I knew that I had to recreate this meme in Spark AR. I think this is the best mistake I've made in my life and I don't regret it haha. – Roman Pillai
Josh Beckwith | @positlabs
Josh is the author of many high-quality personal and branded filters and a creator for Popul-AR Agency. He graduated from SCAD (an art school) with a BFA in graphic design. Make sure to check out his github. The filters that he wanted us to share with you are Youvee, Temporalis, Spectra and Noctiluca. Read more in Creator's Spotlight.
I made an experimental slit-scan effect for the web ages ago and called it "Temporalis" (https://temporalis.app). This is an evolution of that original experiment, and it comes with several time displacement modes: infinite, waterfall, and scanner – each with 3 variants (vertical, horizontal, and radial). It's fun to play with on its own, but here's a great article to help inspire some techniques. – Josh Beckwith
Jade Roche | @ramenpolanski
Jade is a creator from Paris with lots of ideas for Instagram filters. She's also engaged in antiracist education by collecting the francophone resources on the matter. Some of her favorite filters include CŒUR SUR TOI, À PEELED ORANGE, EAT THE RICH, and CHROMOSOME.
I love Chromosome and taking pictures using it because none is similar and the combination of these pictures in the photo gallery also make a great picture. – Jade Roche
Max Mollison | @maxmollison
As a fashion designer, Max apprecaites the reach of AR digital designs through Instagram. In his opinion, the key to great filter is it's simplicity and… a great name. His suggested filters have super names, indeed: Daisy Chain, Whoopsie Daisy, Anti-body Ascension and IVY2000. Read more in Creator's Spotlight.
One of my best filters is Daisy Chain. It was inspired by one of my favourite cartoon shorts, What's Opera, Doc? with Bugs Bunny and Elmer Fudd from 1957. In the Cartoon, the streams of painted flowers are draped around the scenes. I wanted to decorate my own environment in the same way, so I made Daisy Chain. It is a unique particle system that can be used to draw streams of flowers. These flower clusters are dispersed as you move around the real world space and linger for 5 minutes, allowing you to build, paint and decorate the space around you.
Noland Chaliha | @alwayscodingsomething
Noland is a Machine Learning Developer and AR creator. He treats filters as a true art, so it should reflect the creators heart and be personal, political, involved, and relevant.
My best effect is Lost In The Funhouse. This one is a visual shader-based selfie effect that responds to the users face position and orientation and distorts the image like a funhouse mirror. I love this one because of all the options of different effects. – Noland Chaliha (source)
Gül | @ekrulila
Gül is the author of over 100 filters and a photographer, so her main interest are photo presets. The filters she wanted us to share with you are Ritim, Blur, Paint and Super 8mm.
I am a photographer and I work for a technology company. When Spark AR first came out, I encountered color filters and wanted to apply my own presets to the program. That's how I posted my first filter. I'm more interested in camera filters than Augmented Reality. Maybe I use this part of the program because of photography. As I got to know the program, I found that what we could do was more than what we thought. I'm more interested in it now. Besides photography, I like painting as a hobby. That's why you can see pallets in my filters. Ritim filter is pretty simple too, but I like that it moves with sound. – Gül
Seth Brown
Seth is a Studio Director at Elite Modeling Agency Network and an AR creator of dozens of Instagram filters. Check out his non-AR work on his website. Here are his four favorite filters from his personal collection: Loonar, Planar Rotation, Hipparchus and Gregarious.
Look at me. Look at my face. Look at more of my faces. There are a lot of my faces shown in this filter (gregarious).
Jace Kay | @anonamister
Jace is an experienced AR creator with a great deal of sense of humor and infinite creativity. He's also a co-founder of Stationhead, the social radio app. The filters that he wanted us to share with you are Pinch Me, Mouth Off, The Corny Filter and Got Your Nose. Read more in Creator's Spotlight.
Pinch Me is one of my favorite filters as I'm a big fan of physical humor. It came to me in the shower, as many of my ideas do. I love how it has resonated with tens of millions of people all around the world. I really got a kick out of seeing random people on the street who would look at me, pull their cheek and smile. – Jace Kay
Aliya Ataulova | @Whiteabysses
Graphic, motion and AR designer who lets her work speak for herself. She comes up with the ideas for filters spontaneously, just going with the flow and 'not knowing what she will create next until she starts doing it'.
We hope that this article let you discover some new amazing filters to have fun with, as well as creators that may develop an AR filter for your brand. Feel free to contact them! Also, if you have any AR-related questions or would like to suggest a creator for the next month's decad of creators everyone should follow, write to us.