Creator Spotlight: Jace Kay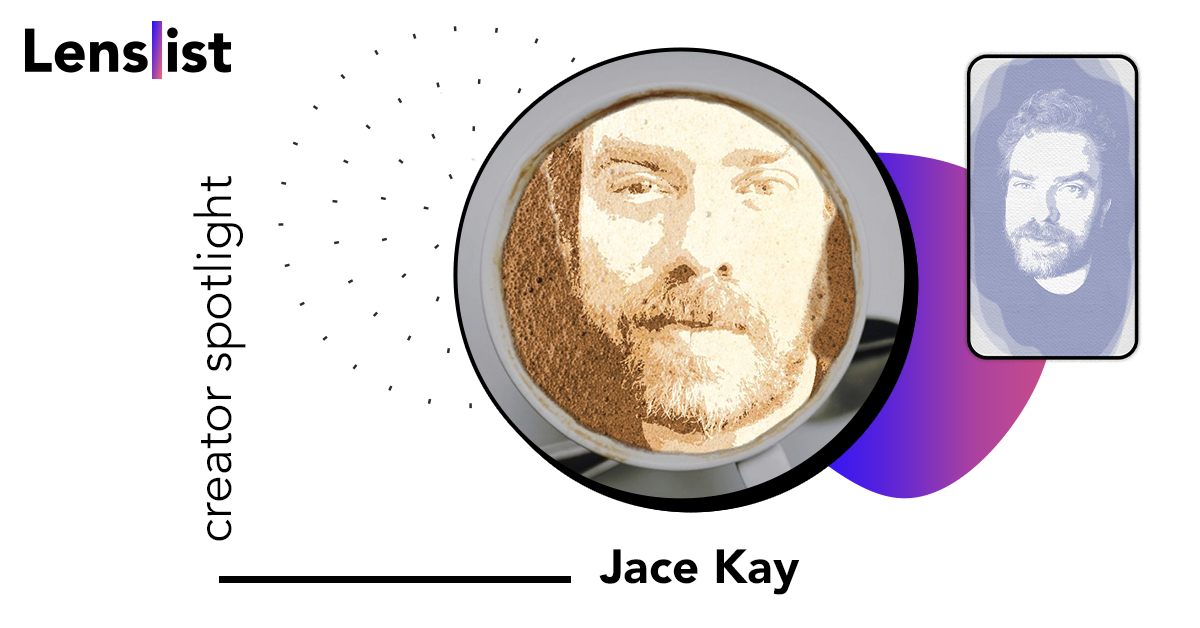 Can you tell us something about yourself? Where are you from and were do you work? How long are you creating AR Effects? Are you freelancer or member of a company specializing in AR Effects?
Hi, I'm Jace (@anonamister). I've been creating digital tech & media since 97 & I love combining the real and virtual worlds. Before jumping heads first this year into Spark AR, I co-founded the music tech startup Stationhead (google it, it's pretty sweet). I've had the honor of working with some amazing clients over the years – one of my favorites was creating and animating the official site for Shel Silverstein (with Flash), followed closely by building out the official sites for Muhammad Ali, Tom Brady and David Blaine. I'm NYC based and I started with AR / VR while going to NYU's ITP in 04 – 05. It's amazing how much the industry has matured since then. I'm currently freelancing & exploring new opportunities/partnerships. I feel a growing wave coming with AR and I'm really excited to work with others to create amazing experiences."
How many effects have you created so far and for which platforms?
I am constantly brainstorming and making new effects. Currently I have about 40 ready and I'm in the process of getting them all applied for Instagram. I will probably put them up for FB once they are live on IG. Snap's Lens Studio is pretty powerful as well and I've made some test effects but have not put anything live yet. It was pretty interesting to be able to turn the famous Flatiron building in NYC into a wedge of cheese with mice running around it!
Name the best three effects you created and briefly describe them.
Three of my favorite IG effects are: So Money, Swipe, and Talk 4 Me.
So Money turns you into Ben Franklin on a $100 bill. Something about this one always makes me laugh and I love seeing people use it.
Swipe simulates a Dating app – As you use it (by swiping left or right) you see yourself turned into a bunch of different people. You can tap to cycle through a bunch of pictures of the user, just like in a real swiping app.
Talk 4 Me is a unique variation of a face swap – it lets you talk for the other person! Instead of just swapping your faces, it keeps your face on your own body but uses the facial movements (and mouth/eyes) of the other person.
Which platform for creating Augmented Reality Effects is your favourite and why?
Spark AR is my favorite platform because it's a powerful tool and creating for the Instagram platform has the most potential value in my eyes.
What in your opinion makes an AR effect successful?
A successful effect from my point of view is something clever and unique that inspires people to use it / leaves an impression. Many of the more popular effects reference some common idea or nostalgia that brings up fond memories for people. I'm still learning every day what actually works though – to get the effects seen is another story though and is not always based on how 'good' the effect actually is.