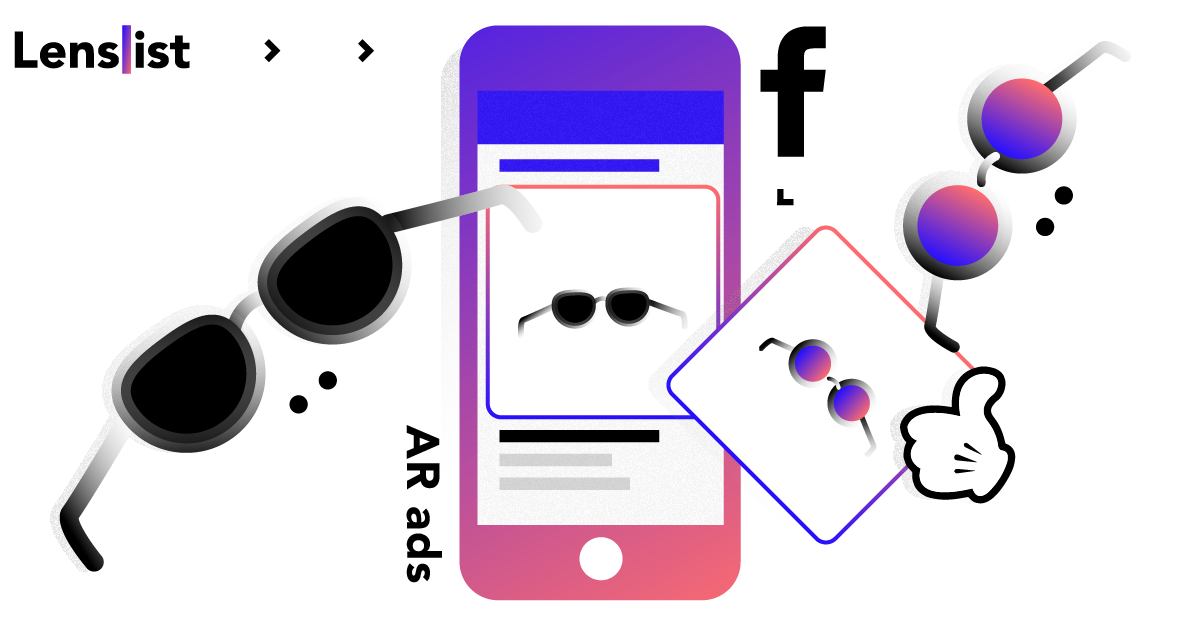 AR ads in News Feed is Facebook's functionality yet-to-come which has already been tested by a few brands during the last year. It presents itself as the next stage of the development of social media AR, pushed by two main contributors: Facebook and Snapchat. After the announcement of Messenger & Instagram branded AR effects during last year's F8 Conference, Facebook AR developers focused their attention on the (still) most important Facebook's advertising medium: News Feed. And so, as Messenger Chatbots are a perfect distribution platform for Facebook Camera Effects when pushing your subscribers, News Feed AR ads were made to gain the new ones.

How does it work?
Introducing AR ads as one of the new tools, Facebook wanted to help marketers capture people's attention on mobile, where they expect to find the same rich, visual inspiration as they would see in a store window.

As we can see on the videos below, the ad resembles the usual post promoting a camera effect, but instead of a call-to-action button 'try it' there is a 'shop now' one. The accent is put not on linking to any kind of AR effect which the user would like to have fun with, but on trying something on using AR and going straight to the online shop to buy it.

Now, with the introduction of AR ads in Facebook News Feed, people can experiment with your brand's AR camera effects in just one click from your ad. And by incorporating calls-to-action within the camera experience, people can seamlessly go from engaging with your product—such as trying on a lipstick shade or exploring a new game—to making a purchase or installing an app. Facebook Business, Introducing New Ways…

Some of the brands testing the functionality were Sephora, NYX Professional Makeup, Bobbi Brown, Pottery Barn and King, but the most successful was the first one to test it – Michael Kors, which enabled people to try on a pair of sunglasses and buy the model they liked most. In fact, mobilemarketer.com called it the 'campaign of the year'. The question is: what made this form of advertising so special?

Why use AR ads?
The two main advantages of AR ads come from the fact that they can provide the answer to the basic problems of online marketing and shopping. In the first place, they overcome a certain monotony of digital advertising, bringing interaction where earlier there was only a passive act of watching graphic or video materials. Secondly, the development of Augmented Reality is bringing more and more advanced tools for trying things online and gives brands the chance to cut the cost of customer-friendly, free returns, which are meant to compensate for the lack of online fitting rooms.

As Paul Hickey rightly points out, placing AR ads in News Feed will let brands take advantage of Facebook targeting, bringing a relevant AR experience to the particular audience which will potentially be interested in a purchase.

Thanks to Michael Kors AR ad, you were able to try on sunglasses before buying them online. There are also many AR effects that make it possible to try on makeups (read more). It is only a matter of time when Facebook introduces tracking of other body parts and thus enable brands to bring their whole fitting rooms into Facebook News Feed ads or Messenger Chatbots. AR has an ability to change the look of online advertisement – and it already started to do so.