All you need to know after the F8 2018 conference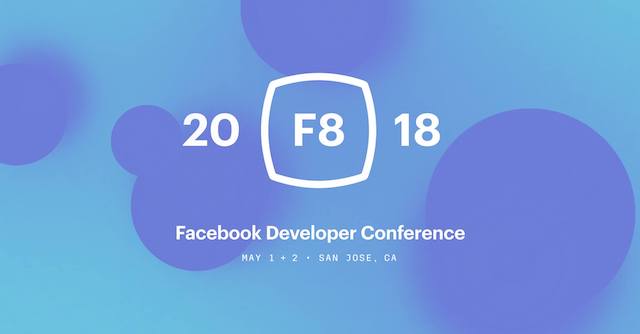 During Facebook's annual conference for developers and businesses we got a glimpse of what's next for Facebook, Instagram, and Messenger in terms of AR, bots and few other game-changing solutions. We gathered all the new stuff in a brief summary, so that you can have a full understanding of what the future holds for Facebook platform.
The numbers are growing
First of, let's talk about the AR. Facebook has extended its Camera Effects Platform from a Facebook Camera feature to others apps – Instagram and Messenger. That's a huge shift that will reach additional 800 million users on Instagram and 1.3 billion on Messenger, if 2 billion Facebook users wasn't enough. And even Android's Facebook Lite app is getting the AR experiences support. That leads to an AR domination accross all Facebook's products with camera functionality.
Instagram joins the AR revolution
Instagram had been out of the AR filters hype-wagon for a year despite its own basic camera effects available to every user. Until the F8 conference. It is a great platform to connect, share, and explore content, and millions of people use Instagram Stories to share their moments every day. Knowing that, Facebook announced that Camera Effects Platform is making its way to Instagram giving users new creative tools to express themselves in a whole new ways.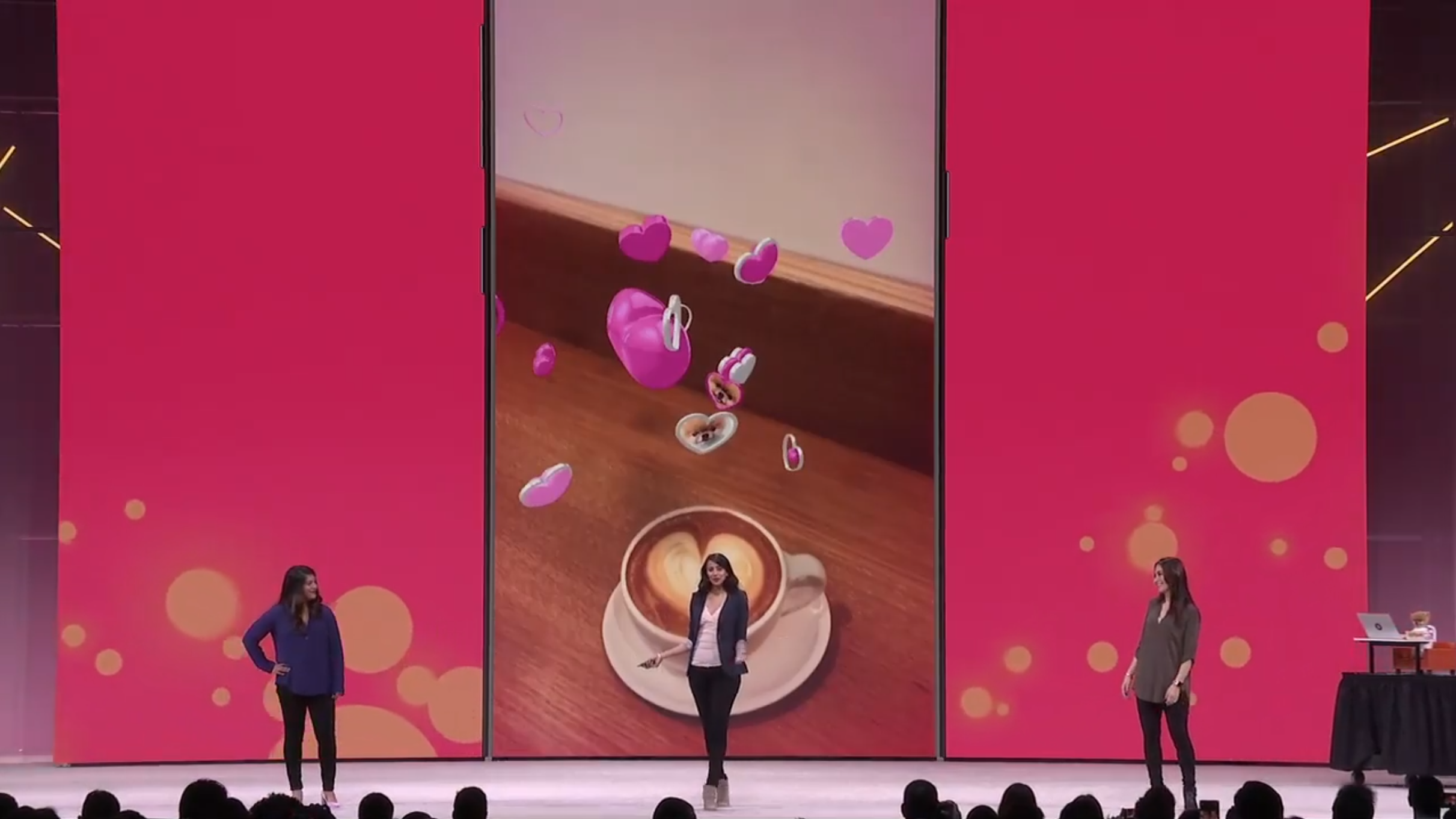 Dedicated lenses will be available to brand's followers and and non-followers who see branded Instagram Stories. It will be key to delivering brand messages accross whole Instagram platform. Finally brands will be allowed to provide more interactivity between their products and consumers who decide to engage with their Instagram profiles. This will effect in reaching new audiences for those who implement AR experiences into their Instagram communication.
It is important to understand the difference between Facebook's and Instagram's camera effects in a way they will be used. Instagram takes a more personal approach. Showing brand's AR experience on a personal account shows dedication and trust. And while Instagram still doesn't use bots, all you can do with the camera effect is showing it to others. Soon there will be new, more commercial ways of using AR effects. Keep reading and you will see the difference.
Meaningful and enhanced conversations between brands and consumers
The more-than-ever camera-centered Messenger platform is also getting the AR functionality. Facebook announced that the platform is due to provide AR experiences combined with bots. That will allow consumers to unlock, experience, and buy products presented on the Messenger platform. Just one app will be providing the ability to play with and share the unique experiences prepared by brands in order to entertain and loyalize consumers. A win-win situation for both sides of Messenger community.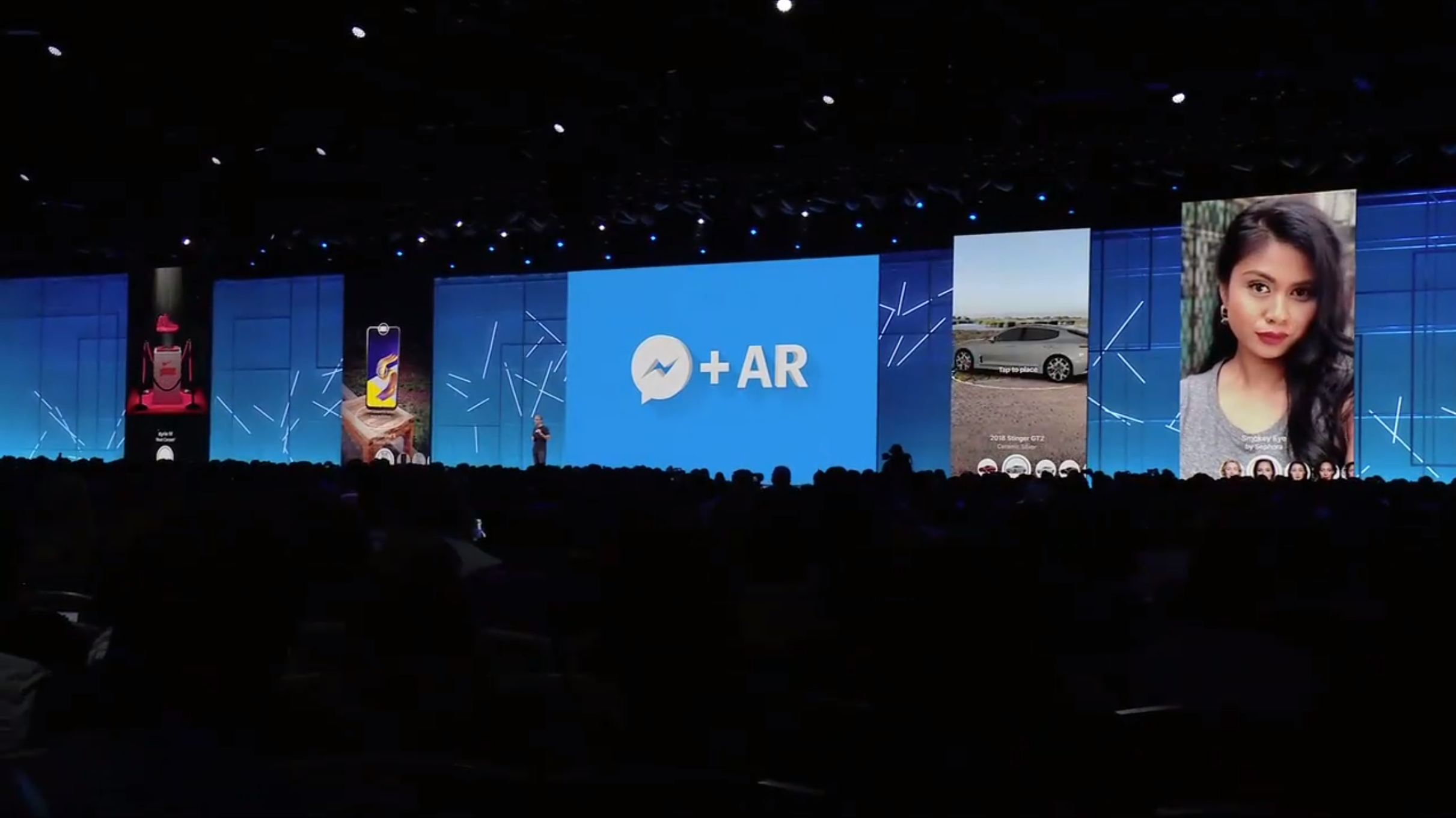 We've already seen many lenses prepared for the Facebook Camera for the past year. The significance of the ongoing change is making it easier to put the AR creations to use by consumers who are eager to contact brands through the Messenger platform. And we don't mean only using lenses.
The AR effects have been a singular experience so far. With Messenger integration they become a part of the conversation between the brand, the consumer, and other people who will be contacted by the shared content. This shift from one-to-one to one-to-many communication will bring more publicity to highlighted products by try-ons, customization options, and product walkthroughs, which are just a top of the mountion. This will give marketers new possibilities of bringing their products to consumers before they buy them.
Just see below what new possibilities Messenger brings with AR and bots implementation.
Heath Black showcased few examples of the new AR experiences during the conference. Those included Nike's sneakers unboxing and shopping process, Kia's 2018 Stinger customization and try-on, multiple Sephora's looks and makeovers try-ons, and Asus's new smartphone walk-through. There are really just a few showcased examples compared to the see of endless possibilities the AR platform gives to developers.
These are just a glimpse of what's to come in pack with AR on Messenger. As usual, the main feature is to set the creativity free from marketers, creator, agencies in order to bring the best experiences possible. To make them visible, accessible, and shareable. The few showcased examples are relitively small compared to the see of endless possibilities the AR platform provides.
Video: Augmenting Brand Experiences on Messenger
3D objects in real life
Facebook introduced new ways to connect augmented and virtual reality with 3D posts at the center.
When Facebook launched 3D posts in February, it was just the beginning of a new way to create and share virtual objects. Now it's getting mixed with other solutions like AR and VR.
3D objects will make their way outside the News Feed. With just a tap, those interactive 3D objects will be brought to life through the Facebook Camera where people will be able to play with them and make them part of real surroundings in real-time. This feature is launching in June.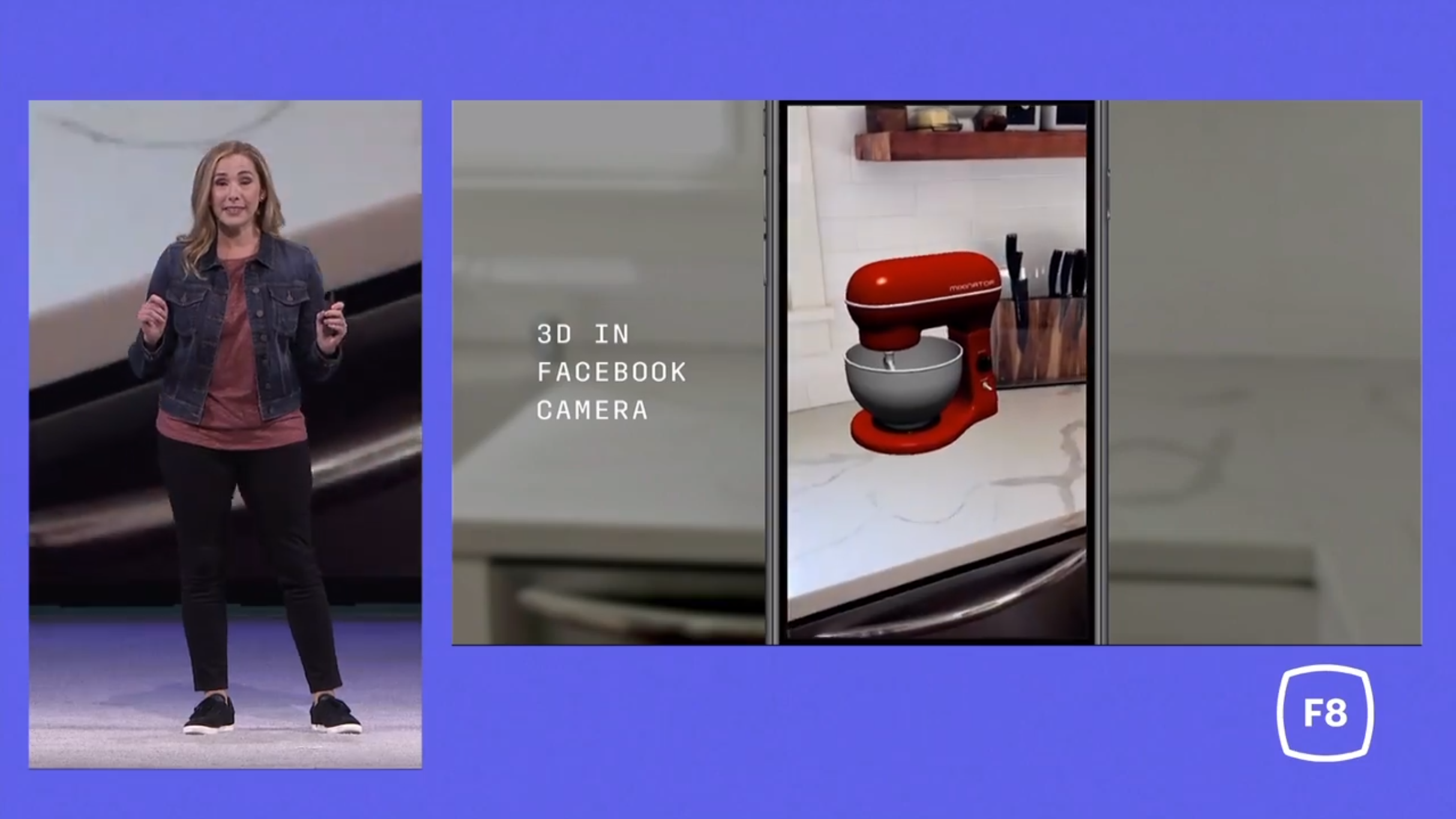 Playing with 3D objects spread accross Facebook gives consumers the ability to see and fit their most-wanted products without leaving home. It will be just a click away.
Facebook also showed a new feature for reliving memories with an AI-generated spaces based on 2D movies and photos. This is the kind of feature that is still at a work-in-progress stage, but is very promising in terms of solutions using AI technologies.
AR for everyone
During the "AR for Everyone" panel, Michael Slater wrapped-up Facebook's push to AR as a brand new way of communication between people by making camera the first augmented reality platform. With a cross platform integration across Android and iOS, and solution delivery through Facebook Camera, 1.5 billion people will have access to AR experiences.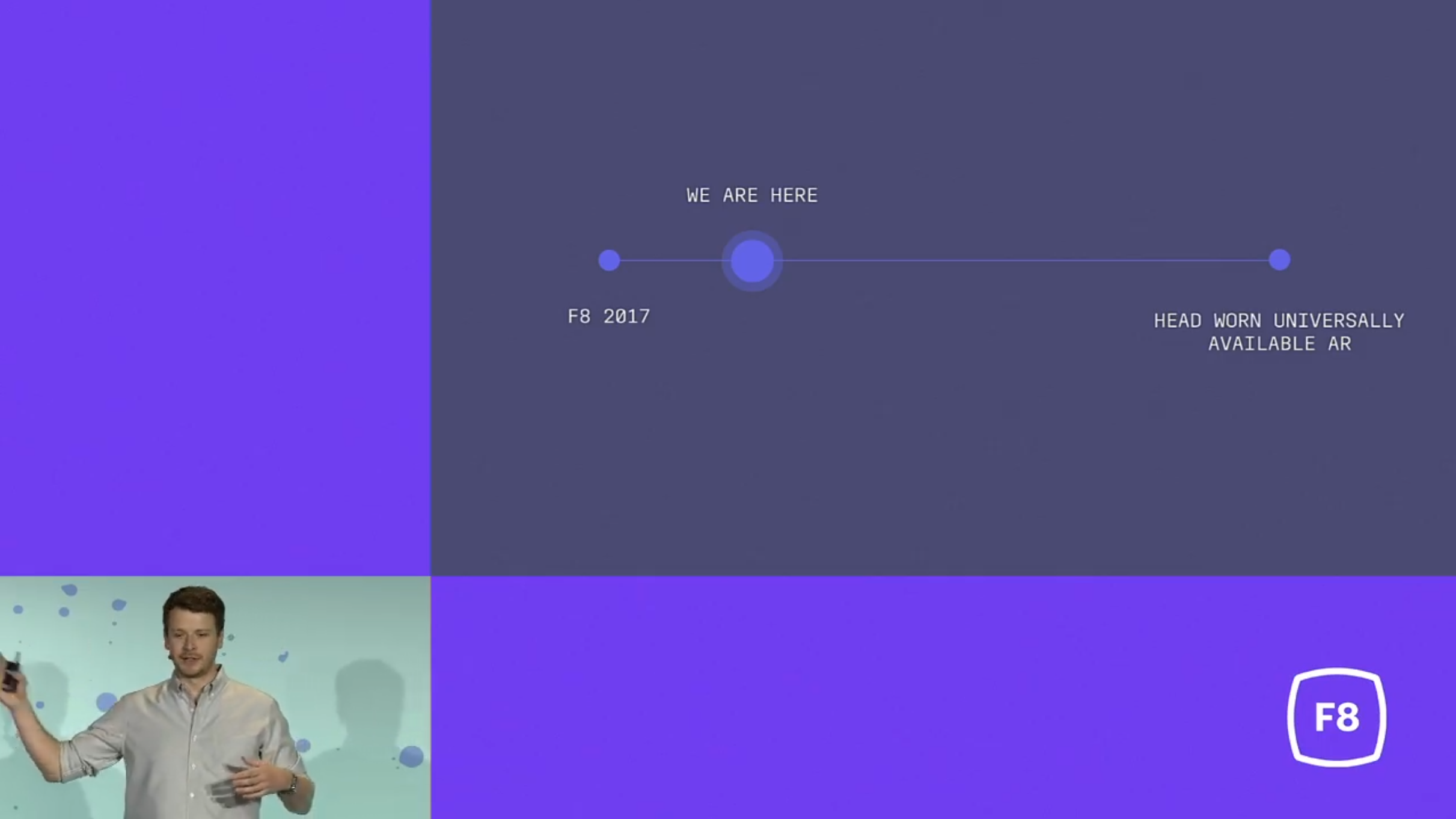 But that's just a potential number of users of content that – in a large extent – hasn't even been created. So what Facebook want's to do, is to complete these three goals:
1. Ease of creation: offering tools to make AR development accessible to all people
2. Capabilities: empowering relevant, context-aware experiences for people
3. Distribution: opening up more channels where people will experience AR
Better creation tools for AR
Facebook's ambitions are great and the company delivers on every goal it's set for itself.
With Patch Editor in constant development, people can create their own effects without knowing how to code. Sketchfab integration allows people to put objects in motion without the knowledge about modeling and texturing. Sound Collection is a way to make those effects sound richer with a library of samples. And later this year, AR studio is coming to Windows which will open ways to create and share AR experiences for even more people.
More relevant AR experiences
When talking about capabilities, Facebook talks about better tools to interact with reality.
Better high fidelity face tracking will provide 30% more facial points, enable more precision and accuracy around eyes & mouth, and support realistic makeup. Hand tracking will unlock hand detection and bounding box tracking, as well as support for more hand poses. Body tracking will track a selection of key points along the body, supporting full body effects/experiences. And great background segmentation we will be able to separate a person from the background andtransport people to new destinations. This will be possible thanks to the core technology from Instagram's Focus mode
The AR tools are also getting location-aware allowing to interact with users' surroundings through finding known 2D targets, tracking and following, augmenting menus, images, posters, and many more. That shifts the AR capabilities few levels higher from what we've seen so far. It's fair to say that Facebook is adding another dimension to what can see with our own eyes using Facebook camera.
The location will add a new variable in AR thanks to more cool stuff put into the AR Studio tools. Semantic scene understanding is going to recognize 40+ concepts of surroundings at the beginning which can trigger responses of experiences. By concepts Facebook means a living room, a kitchen, or a tree. This is going to be huge once the concepts base grows. And using location AR feature, which is another big thing, will help make camera effects relevant to businesses and consumers. With a growing popularity of this type of content, creators and Facebook will have to not only flood people with their creations, but also make them relevant and intuitive to explore.
New distribution channels for AR
Having so many tools with great capabilities and ease of creation brings a question about the distrubition. But that's not an issue. Facebook has got things covered.
Starting this Spring, the AR experiences are starting to rollout to Facebook Lite Android app. Integrated Messenger bots tied to dedicated AR experiences will make it easier to deliver branded camera effects along with the key features of chatbots, combining those experiences and enhancing the customer journey in every way. And Instagram is getting a closed beta this spring for camera effects for Instagram Stories, expanding to more creators later this year.
Some of you might think about AR experience the same way you think about classic Facebook posts. That brings up the question about statistics. This was also mentioned during the F8 conference. Coming soon, analytics will be available for AR effects published by Facebook Pages. Creators will be able to track the reach and engagement of Page's published experiences by measuring impressions, captures, and shares. That will make optimalization of AR experiences easier.
Video: AR for Everyone
Get AR done
Facebook is welcoming us in the year 2 of augmented reality. It's not a done deal. It's a process of enhancing the experiences, getting to know new tools, combining solutions like Facebook camera, Messenger bots, 3D posts, and making a collaborative effort to push the AR platform even further. Businesses, creators, and developers have been playing on the AR field for a year already, but now it's time to get agressive with more realistic, relevant camera effects and deliver the best content possible as a whole new experience to consumers.
If you're still eager to learn more about the AR revolution, see the video below. Creators, developers, Facebook partners discuss their experiences using the Facebook AR Platform over the past year.