Snap AR x Lenslist AR Asset Hackathon: Lens Studio Assets Explained #2: | Materials & VFX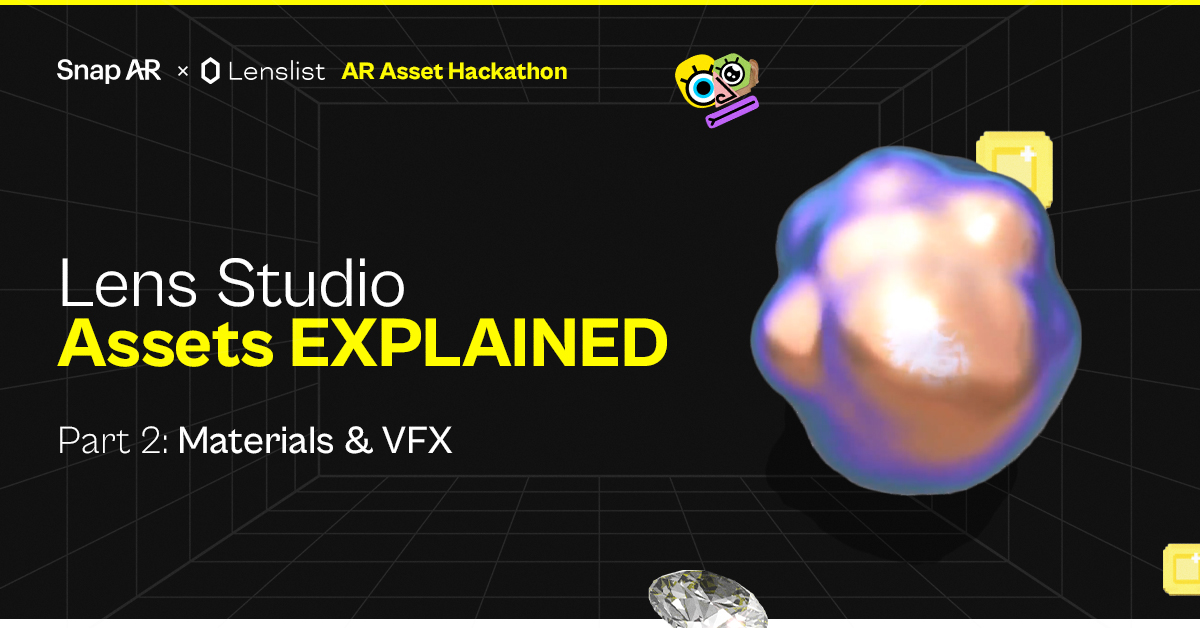 The deadline for the Snap AR x Lenslist AR Asset Hackathon is getting closer… but don't worry – there's still time until August 20th! And most importantly, you can count on us for support. 😏 We're back with another Lens Studio Assets Explained, which we hope will make the process much easier. Last time we unveiled the secrets of 2D Textures and 3D models, but it's not all there is to know!
You must categorize your assets when submitting them for the AR Asset Hackathon. You'll be able to submit the following:

This time we're switching to Materials & VFX – the best tools to make your effect exceptional.
If you didn't read the first part, make sure to do it now, before we go any further.
Materials
This might seem a bit tricky at first, but we promise you, it's not that scary! But let's start with the basics which is that all materials used in the asset should be Graph materials.
(You can also check out Material Editor for more details)
👉 Make sure that all material parameters should have meaningful Title and Script Name.


👉 The material graph should be readable and not tangled, use subgraphs or code nodes where possible.
👉 You can add a comment node if needed to group nodes and explain what they do.

👉 For longer multi-line comments, use sticky notes!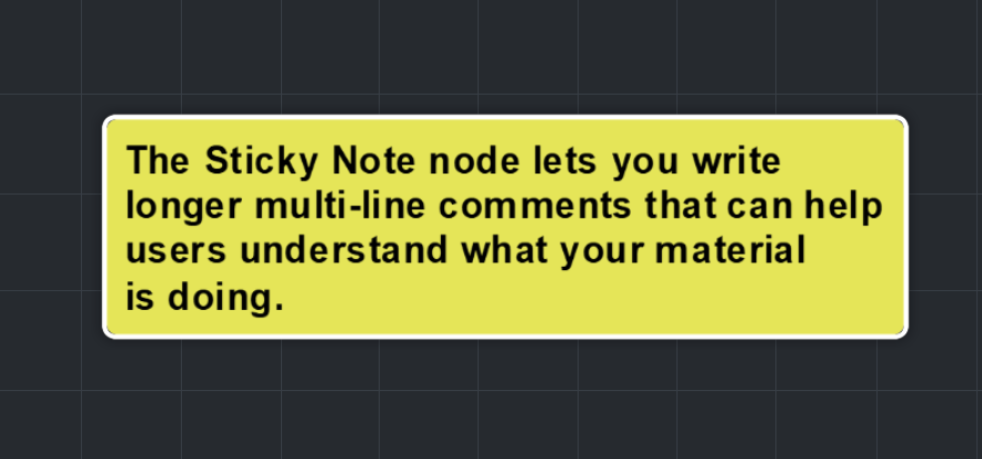 VFX
To create an excellent VFX asset, you need to remember the same things as with Materials, but here's what's also important:
👉 When you're thinking about your project, remember that the smaller number of particles in it, the better. Avoid publishing VFX assets with more than 50,000 max particles.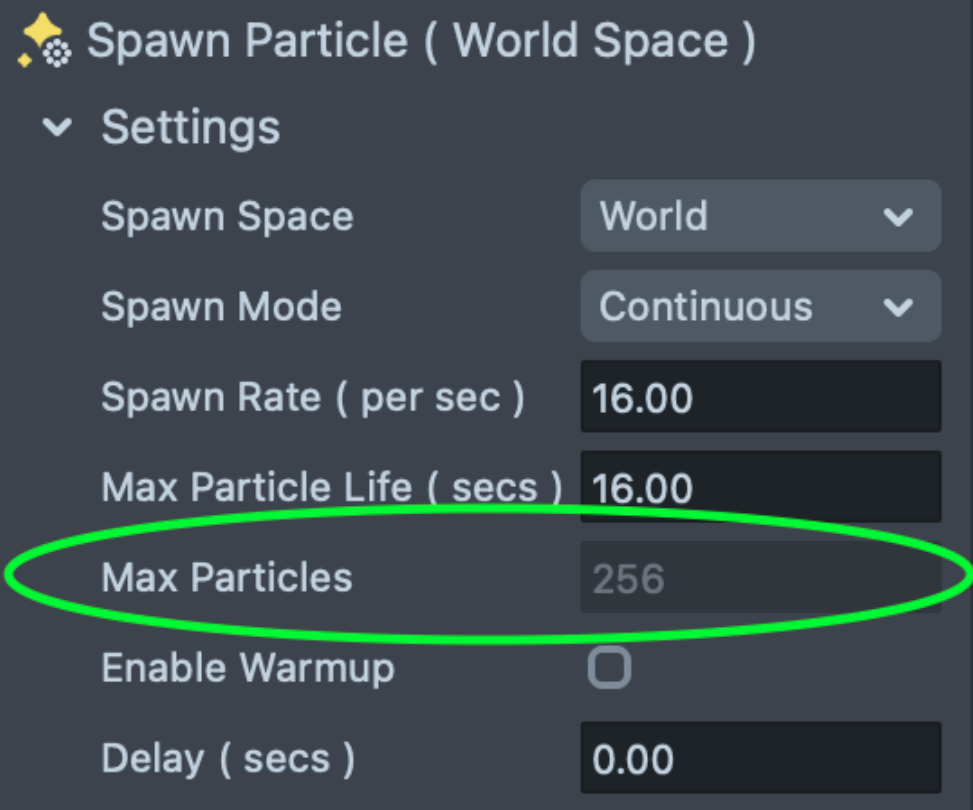 👉Make use of subgraphs and code nodes that go directly on the Spawn, Update, and Output containers to keep the graph area clean and readable.
👉 Refer to the VFX Graph Optimization page for tips on how to keep your VFX systems running smoothly.
ASSET THUMBNAIL
First, you have to design a preview image of your asset that will be the user's first impression. It's important to make it engaging, reflect your asset well and fit a colorful Asset Library aesthetic.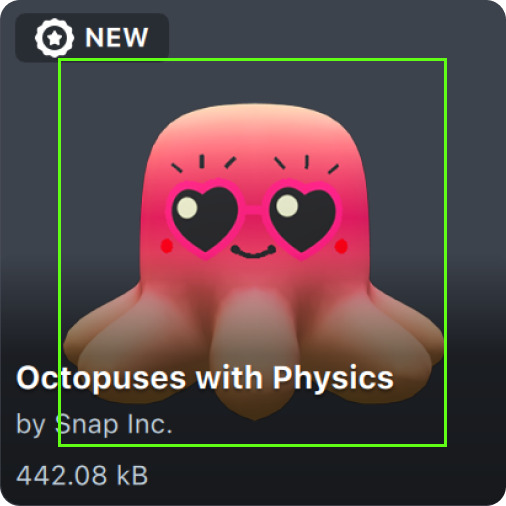 Export your image as a 512 x 512 px png file, preferably on a transparent background. And remember to allow some space around the subject for UI elements!
Here are a couple of additional references for you to use:
Custom Component Thumbnail Template
Script Module Thumbnail Template
DESCRIPTION
Another must-have is a short characteristic of your asset, in which you explain what it's used for. For example:
"World Object Controller allows you to add a 3D object to the world that the user can walk towards and around. This tool gives you access to manipulation control which allows the user to move, scale, and rotate the object."
What should you provide:
Useful links that would provide some context for your asset (Guide, Template, etc)
Keywords that could be used to find your asset. If it consists of several elements, list out their names so they can be used for search.
Then it's time to submit your project! But before you do, make sure it follows the rules ⤵️
REQUIREMENTS

✨ Must be compatible with Lens Studio 4.49+, please check that your assets work as expected in the latest Lens Studio version,

✨Assets must fall within one of the categories outlined above,

✨Both previously built assets and new assets are welcomed.

Asset Guidelines

A good and viable asset is a versatile building block that allows for use in a variety of ways. Some examples are if you are creating a texture pack, please allow for several different example use cases. For materials, please provide some customizable inputs so others can fine tune your materials to fit their needs. For 3D assets, please allow for several variations or animations that inspire and enable creators to work on their projects.

Make sure to provide clear instructions on how to use your assets. For example: Does it only work with a Screen Transform? Does it require special configurations? Which parts of the asset should a creator edit and which ones should they avoid editing Make your asset work as out-of-the-box as possible!
Asset Submission
Now, that you finished your work – what's next? Since this time it looks a bit different than usual, we would like to focus a little bit on the process.

In the registration process, you will be required to go through 2 submission forms. The first one you can find here, on our Lenslist website and the second one is provided by the Snap team via Google Forms. You can connect both submissions with a UUID code that you will get after filling in the Lenslist's form. Then, you can simply paste it into the Snap AR submission. Both forms must be completed to officially enter.
Now, all you have to do is sit back and relax, while waiting for the winners' announcement. You're just a step away from receiving a share of the $40,000 prize pool, with a round of 100 prizes distributed in 25 inspiring categories with 4 tiers each:
💎Diamond ($1,000), 🥇Gold ($300), 🥈Silver ($200), 🥉Bronze ($100).
Do you have any other questions or concerns? 🤔 We're here to help! So make sure to look out for all of the inspiring content we share on our blog and social media. 👀 Whether it's a workshop with tips directly from the experts, or an article explaining technical difficulties – we got you covered!
Send your submission by the August 20th, to have the chance of winning one of the many prizes! 🤑