Best Branded Instagram Filters – January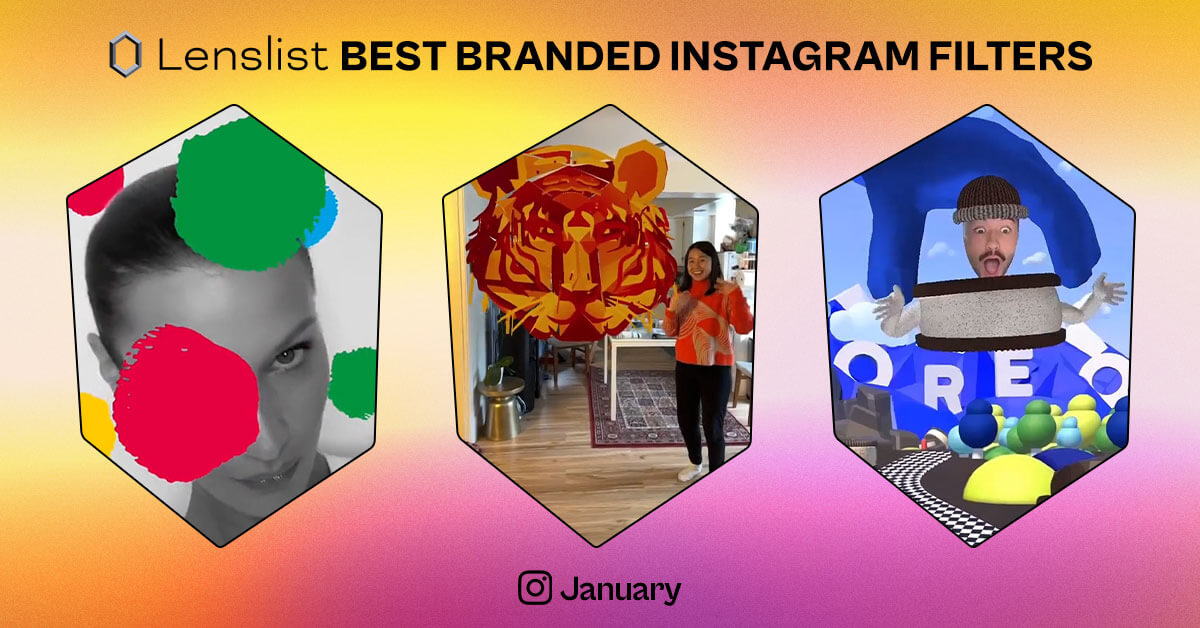 Marketing campaigns infused with Augmented Reality definitely know how to steal the show, whether it's about digital fashion, worldwide celebrations, or new collections. ✨ Giving the audience an experience that goes beyond what's touchable and possible in the real world, brands find various ways to power up through AR. The bar has been set up high and we want to appreciate all the most memorable branded AR activations even more – by inviting you into a new world of Branded Selection. 🦋
From now on, apart from showcasing branded effects only, we'd love to shed more light on the whole "brain" behind specific AR campaigns that have recently caught our eyes. 💥 Take a look at 3 truly outstanding projects from January that have proved just how much can change by adding a digital layer. 👇

Louis Vuitton x Yayoi Kusama
One of the oldest and most recognizable fashion houses in the world has recently introduced us to a truly 'dotted' collaboration. By working with Yayoi Kusama, a Japanese contemporary artist known as "the princess of polka dots", Louis Vuitton decided to let dots flow inside its designs, giving them another life – from infinity and metallic aesthetic, to trippy and painting-like.
This collaboration invites you to see the world through Yayoi Kusama's eyes.
In celebration of the Louis Vuitton and Yayoi Kusama collaboration and with desire to light up physical places, iconic locations in New York, Chengdu, London, and Hangzhou were transformed with hyper-realistic 3D anamorphic imagery.
To cover iconic buildings in LV dots yourself, try out geo-localized Snapchat Lenses accessible in, among others, London, New York, or Paris.
McDonald's x Karen X Cheng
Celebrating the Lunar New Year together while being surrounded by culture, technology and the metaverse? Why not! Karen X Cheng, a digital artist with a special love for AI , decided to turn her childhood dreams into three different virtual experiences made for McDonald's.
By collaborating with other unique digital artists, including Victoria Kamila, Denis Rossiev, and Jonathan Gaurano, users could celebrate the transition from the Year of the Tiger to the Year of the Rabbit by placing the filter anywhere, discovering two animals hiding in one and experiencing the magic of illusion!
Apart from the filter, Karen has created an immersive metaverse experience on Spatial – mixing Asian culture with a futuristic touch, and a groundbreaking commercial of the future using AI technology – which then generates a 3D scene.
See how the Metaverse was built! 👇
How we built this metaverse for @McDonalds
Try it here: https://t.co/TuadiMAQhp (works on your computer)!

Collab with Merciv Studio

Event details in thread below pic.twitter.com/5O4Lhh4PMB

— Karen X. Cheng (@karenxcheng) January 31, 2023
Oreo Dunk Yourself!
Oreo's extra-creamy AR filter has conquered the hearts of all. By launching a limited-edition cookie, "The Most Oreo Oreo," that includes Oreo grinds in the creme, the brand also created… the Oreoverse. Made in Meta's Horizon Worlds, the digital realm is accessible through a microsite, QR code or VR headset and includes games and a chance to win sweet prizes – you can enter it here. The experience was created in collaboration with Media.Monks and The Martin Agency, and features Martha Stewart in a tour of the Oreoverse to attract a wide audience.
And now, check out the rest of January's top branded picks! 🙌🏻
We hope this more extended Branded Selection has made you feel closer to the brands and helped you dive deeper into the campaigns! 😎 There is always a story behind each experience and we want to discover them all with you. Now that February has begun, we're waiting for the hottest AR takes on marketing – we wonder what brands will come up with this time. 👀