10 AR Filters' Creators You Should Follow | September 2022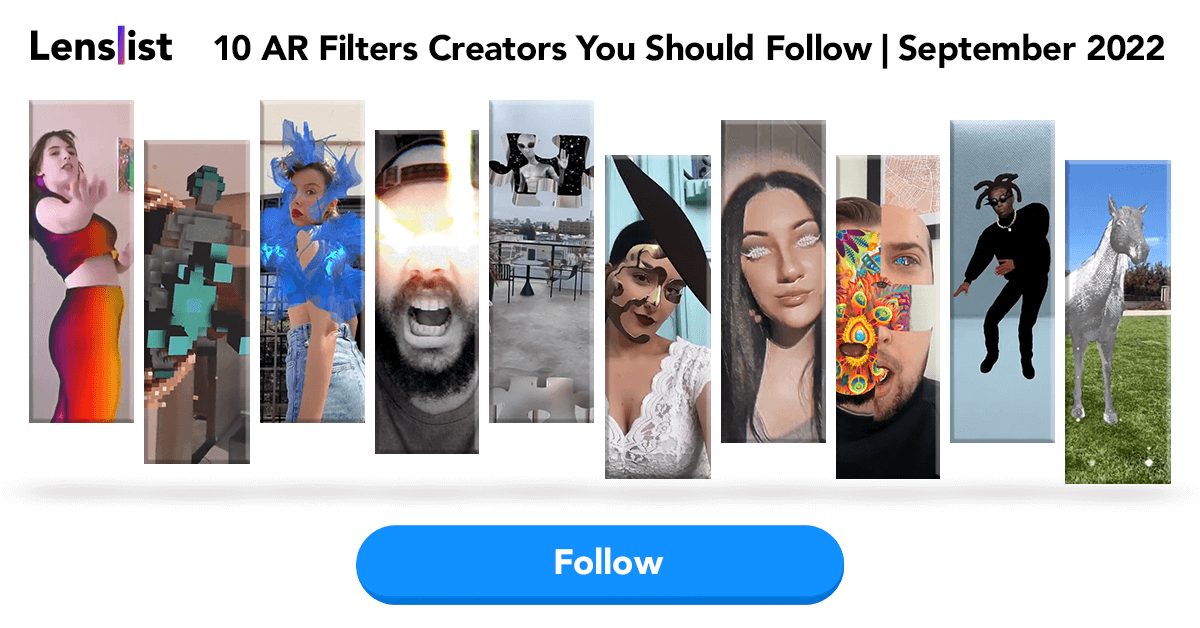 As you all know, we're trying to spread some digital awAReness and share outstanding Effects almost every day. ✨ We hope that, in this way, we could be an inspiration to someone, provide a dose of daily entertainment, or simply cheer you up after a long day. 🥰 However, none of this would be possible if it wasn't for our wonderful AR Developers, so, as every month, we would like to introduce you to 10 AR Filters' Creators You Should Follow! 🥳
We would like to take this opportunity to thank them for their work, motivate them, and give a little shout-out so that more people can reach out to their wonderful projects! 🥹 Get yourself comfortable and dive into these 10 amazing & inspiring stories! 💜
Margianna Katsigianni

__margie__
Margianna Katsigianni is a talented Spark AR Creator and Snapchat Ads Manager who draws inspiration from everyday life to create a variety of moody, trendy, and enchanted-like face mask filters. She hopes to improve her coding skills to excel even more at creating original Effects.
Hello, my name is Margianna, also known as @__margie__ on Instagram. Since discovering Augmented Reality, I've been obsessed with expanding my skills and knowledge of it.
I'm currently on my way to acquiring advanced 3D and coding skills, as well as the Spark AR Certification.
Movies, television shows, music, and Pinterest boards have all served as sources of inspiration for me. The best ideas for an AReality project can come from anywhere, which is why I keep a journal to jot down notes, inspirations, and solutions when I need them.
I plan to focus on creating AR projects about space, nature, and fantasy characters as they connect with augmenting everyday life. As I become more comfortable with coding, I hope to implement various AR experiences.
Still learning and creating virtual ideas into reality. ✨🚀

– Margianna Katsigianni
Vitor Guilherme

vitorguilherme___
Vitor Guilherme, a prize-winning Creative based in Brazil, is an artist with many faces. His work cannot be confined to one single category: from refined face mask filters to technically advanced 3D models, Vitor always succeeds to surprise us.
Hi, my name is Vitor Guilherme, I'm a filter Creator from Brazil.
My trajectory in the world of filters started at the beginning of the pandemic (2019/2020) when I asked myself: how do you make an Instagram filter? Since then I have made and published hundreds of filters!
My specialty is making color filters (LUT), but recently I started to take a chance on 3D Effects, which have already won prizes in two META competitions.
My biggest inspirations are our dear Jeph Araújo and Paige Piskin.
Thanks for the opportunity and I hope you like my filters.

– Vitor Guilherme
Samuel Mecenas

omecenas
Samuel Mecenas is one of those AR Creators who cannot be ignored. His work can be defined as a mix of advanced 3D skills, outstanding ideas, and attention paid to the slightest detail – amazing and original results guaranteed. Anyway, check it out yourself.
The filters came into my life at the end of 2019 and never left. I've always liked digital arts a lot and it made my creations a lot easier. Today I can say that my style of filters is very much based on series and movies. And I can also say that my filters have to have light, lots of light hahaha.
And for the future, I think of one day making a filter for a big movie and series company. And of course, I intend to dominate more and more all AR creation platforms.

– Samuel Mecenas
Jake Berg

itsjakeberg
Jake Berg is an editor, animator, XR & AR designer, and 3D modeler based in San Francisco. His trademarks include creative, conceptual, and well refined AR space-changing Effects that change the perspective of reality.
I started AR development in 2018 by making face filters in Spark AR. Recently though, my passion has been re-ignited by world Effects. My background is in VFX so once I realized I could bring CGI to AR, I was once again hooked. My goal now is to use AR to make VFX as accessible as possible to anyone interested in video magic.

– Jake Berg
Luke Pilkington

lukepilky
Luke Pilkington is an Australian AR designer who creates a variety of original and refined filters. Engaging games and mind-blowing space tracking Effects are his speciality! Check out his works and get inspired.
My name is Luke Pilkington aka @lukepilky on Instagram and I'm a Content Marketer and Designer based in Melbourne, Australia.
In the early wake of Pokemon Go, I was first introduced to Augmented Reality and felt that this innovation had the potential to provide many creative experiences. It felt like a good time to take up a fresh skill and stand out from the crowd which is where AR development came in.
Being able to communicate my ideas through this innovative medium has led me to become deeply inspired by AR. While I have been working my way through many late night coffees and tutorials, I am still discovering the full potential of what AR and filters can achieve.
I try to present unique, design-led experiences in a way that's accessible and provides a sense of wonder. As for the future, I am looking forward to continuing to build my knowledge on the various AR applications, and creating many more unforgettable AR experiences!

– Luke Pilkington
Elias Stevenson

elias.avatar
Elias Stevenson is a computer engineer and AR, VR & Web3 enthusiast based in the United States. Fascinated by the evolving perception of digital worlds, he helps convert visions and ideas into meaningful and useful products.
Hello! I am an entrepreneur who firmly believes in the blockchain, metaverse adoption, and superstring theory (the multiverse). My technological capabilities are matched by an aptitude and joy for collaborative work. My AR/VR journey began in 2014 making basic scenes on an Oculus Rift DK2. It is incredible how far the technology has progressed since then.
My focus is mainly on making 3D object filters. I am consistently trying to blur the lines between this reality and the "metaverse." AR filters are a powerful and FUN tool for bringing my creations to life. Some of my favorite projects involve working towards hyperrealism. I plan to continually push boundaries for what is possible in AR, and hope to inspire the next generation of Creators.

– Elias Stevenson
Jourdan Johnson

xojourdanlouise
Jourdan Johnson is a California based Creative with multiple interests. Nothing makes her more excited than creating something beautiful for people to enjoy. Check out her works to discover some trendy & aesthetically pleasing designs that introduce new technologies in creative forms.
Hey! I'm Jourdan, a multidisciplinary creative born, raised and based in Southern California. I have a passion for generating conceptual creative ideas across different mediums to create impactful works. I created my very first AR effect about a year and a half ago, and immediately fell in love with the creative possibilities. Since then, I have developed AR effects for Rare Beauty, Amazon Prime Video, and others. Augmented reality opens up a whole new, immersive way to create, share, and connect. I love how AR allows me to bring imaginative experiences to life and merge the physical world with digital's (almost) limitless potential. Nothing makes me more excited than creating something beautiful for people to enjoy.

– Jourdan Johnson
Elsa FZ

urbanpeppermint
Elsa is an AR Creator who firmly believes that taking a step toward a digital world will let our Planet breathe again. As a sustainable virtual fashion designer, she never fails to amaze us with outstanding, captivating, and detailed projects, of both full body and mask Effects.
AR to me is a bridge between fantasy and reality!
I believe that pandemic was the kickstart of the AR journey for many of us but it mostly invoked me to take a step towards sustainability as a Fashion Designer.
I'm into sci-fi and retro-futuristic styles and enjoy creating AR Effects when it pushes me beyond my limits or the platform's capabilities 🙂
Physics has always fascinated me and recently I'm focused on cloth simulations to get the best fabric flow and vibrancy for my garments.
Learning and sharing almost every day is the most beautiful thing AR and the community gifted me. I couldn't be anymore thankful for that.

– Elsa FZ
Kamala Atakishiyeva

kamalaatak
Kamala Atakishiyeva perceives digital fashion as a way of expressing herself without the boundaries of the physical world, and without using precious resources on something that could be worn only a few times. As a trained 3D artist, with a background in character creation, she proposes a variety of spectacular face mask jewelry-oriented Effects.
As a 3D artist with a great passion for fashion, I realized I could integrate digital fashion items into our reality with AR. It has been just 1 month since I started creating Instagram filters. During this time I have created 10 filters on Instagram, all 3D fashion accessories. I keep publishing 2 such filters every week and plan to expand to clothing in the near future. I am building my fashion brand, Kamala Atak, with the goal of making digital fashion a mainstream form of expression for everyone around the world.

– Kamala Atakishiyeva
Amy Bell

daughterofbell
Amy Bell is a Snap Lens Network Member and TikTok Effect Maker who proposes a variety of captivating, colorful, and trendy filters to her audience! What distinguishes her style is an original and inspiring approach which combines both creativity and technical skills. Check out her projects!
I started playing around with AR back in 2019 by making a filter for a cosmetics company I was working for at the time. I got hooked and haven't been able to stop since! I am always exploring the next upcoming thing, asking what's next? Transforming people into characters and conveying moods has become second nature to me. The emotive power of AR is something really motivating for me. I want people to feel things when they use my Effects, whether that's feeling beautiful, powerful, or even just light-hearted and silly.
My main focus is characters and makeup Effects, although I'd like to get more into World AR and location-specific Effects too. I get my main inspiration from my friends, fictional books, movies, and lyrics from songs as well as pop culture trends.
I'd love to be able to work with more brands in the future as well, finding ways to tap into their audience for engagement & connection.

– Amy Bell
What a dose of inspiration! Thank you for being here with us – we are extremely grateful for having such an amazing, supportive, and unique Community! Stay tuned for more! 🚀