10 AR Filters' Creators You Should Follow | August 2022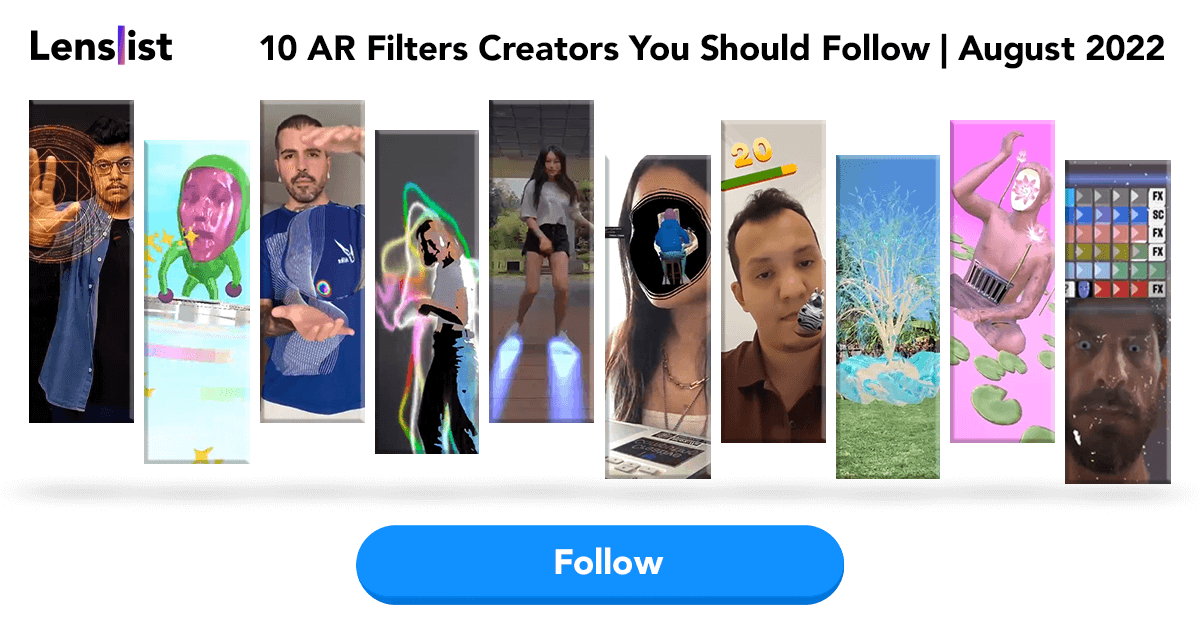 Being an artist is not simple, and creating in the AR world does not make the task any easier. And yet, every day our talented Creatives 💜 try to surpass themselves with ideas on how to create something outstanding, innovative and stunning, so that we can explore their works. That is why today we would like to introduce you to another 10 AR Filters' Creators ✨ who deserve special recognition. 🤩 Indulge yourself, discover their amazing stories and be inspired for the rest of the day!
Aakash Mansukhani

extraakash
Aakash Mansukhani is an AR Creator based in India, designing visionary filters for festivals, events and companies. After discovering the possibilities of AR and being amazed by how it can be used to channel his ideas, Aakash started working with many brands and has since then, filled his portfolio with tons of unique Effects.
I've been creating AR Effects for almost 2 years now. Prior to being an AR Creator, I indulged in graphic designing, VFX and motion graphics. Upon fiddling around with AR creation softwares I was left very amused to see real-time tracking done on a mobile device. The simple fact that I was able to render things in frames per second rather than seconds per frame on regular video editing softwares really got me going.

I've been using AR to express myself and channel my creativity since then. The community has also been really helpful to me and the sheer amount of positive vibes users send my way by messaging me daily is worth all the effort.

I am 21 years old and have been studying mass media as my graduation field, daily I'm bombarded with ideas from my surroundings and I filter out the crazies of them trying to bring them to life. I end up starting 3-4 new projects every week and keep working on them until I feel like they are something no one has seen before.

My Effects are mostly unique, weird and complex. I try to learn and implement something new in every Effect I publish. Basically trying to stand out from the crowd by not creating mainstream content. Having created over 70 unique experiences and gathering 700,000,000+ impressions I'd say the strategy works pretty well.

Currently, I've been focused on making AR creation a reliable source of income for me while continuing to create weird and amusing Effects for the lovely community!

– Aakash Mansukhani
Emir Mustaffa

e.noodle
Emir Mustaffa is an AR Creator and Creative Technologist based in Singapore. His style is mostly derived from sci-fi and fantasy universes, through which he expresses both dystopian and utopian visions. With the possibilities of AR, he takes his creations to a whole new level.
Hi there! I am Emir Mustaffa aka @e.noodle on Instagram. I am an AR Creator & Creative Technologist based in Singapore.
My journey into AR began in 2018 when I started exploring XR as a way to showcase my student architectural projects. I fell in love with the medium after realizing its enormous potential to communicate my ideas. I continued exploring AR & VR beyond just architectural work but into other creative fields as well such as digital and concept art. The 3D skills I picked up in school made it easy for me to learn other AR software such as Spark AR & even Unity.
I would say that my style has evolved many times over the years. Even now I am still in the process of self discovery in the realm of 3D & AR. An area I would like to explore is the idea of digital placemaking through AR.
Most importantly, I tell myself to enjoy the process and learn as much as possible. What's certain is that this journey has just only begun and I am so excited for the experiences that I am going to create!

– Emir Mustaffa
Pablo Gomez

pablo.computer
Pablo Gomez is a creative technologist based in Argentina, with experience in Game Design and 3D art. His super unique, realistic, yet other-worldly and futuristic Effects let users experience a whole range of emotions and adventures.
I'm Pablo and I'm a creative technologist with a background in game design.
My AR journey started during lockdown, driven by learning how to make filters, my first one was inspired by Supercede by @autonommy.
Since then I've never stopped reshaping reality through AR, creating lots of different experiences mainly inspired by nostalgic, fantastic and futuristic themes.

– Pablo Gomez
Yusuke Kassy

yusuke_kassy
Based in Japan, Yasuke Kassy is an AR Creator, Founder of Hack It Inc. and the Creative Director at Kokusai Soushoku Company. His filters radiate a very unique aesthetic, from colorful cartoon-like designs to 3D avatars, which guarantee a fun experience for everyone.
The name of the filter, Posteminance, is a combination of the words posterize and luminance.

We expressed a fun and cool filter that makes you want to dance all the time. You can change the brightness of the background with the slider.

– Yusuke Kassy
Sway Ho

canysway
Sway Ho is a graphic engineer and a Digital Creator, who uses AR to express unique, futuristic, colorful and fun visions for everyone to enjoy. If you're looking for an augmented neon dance party or trippy visuals – Sway's filters will definitely take you on an amazing AR adventure!
Hi, nice to meet you all. I'm Sway Ho, a graphic engineer but I want to be an artist. I love passion, challenge and creativity. My brain is always generating a lot of ideas even when I don't want it. SparkAR is a nice tool for me sketching ideas and making them real. I always feel that it is really amazing to visualize my ideas in the real world! I think AR is no longer Augmented Reality. Amazing reality. And I always try to prove it.

– Sway Ho
Maria Than

blurbnation
Maria Than is a designer, illustrator, creative technologist, educator and activist. She smoothly blends what's creative and visionary with what's powerful and important – which can be seen through her unique AR Effects and projects. Travel to digital worlds and explore the future with Maria!
After I taught myself AR back in 2017, I have developed my skills since then, specifically using Artivive and Spark AR, and have been teaching it to underrepresented folks around the globe. As a designer, I believe that we can harness the power of AR for social good through activism and storytelling, and I always thrive to include new technologies within the process, from AI to digital avatars, to enhance emotional narratives. I'm currently creating a series of AR x AI filters to visualize my symbiotic love-hate relationship with my personal devices and highlight the dangers of lack of boundaries in the ever growing digital world.

– Maria Than
Rustam Mirzakhmedov

rustamate
Rustam Mirzakhmedov is an innovative manager and director inspired by immersive technologies. He firmly believes that they will be the future of media communication and advertisement. As an AR Creator he wants to provide outstanding, captivating and conceptual projects that get noticed and, more importantly, get results.
I was always fascinated by virtual reality and started my way there with game design. Then, I tried to find my way in AR and the road led me to Spark AR. I learned how to use it for marketing in the local market in 2018, and this was when it all started.
I'm a tech nerd, so it's hard to describe my style. I like to look for new ways to tell the story through AR or better technical decisions for multi-component effects. But, I can say that I certainly concentrate on world effects rather than people effects.
I am inspired by life itself – people, places, nature, cultures, and visual art.
For now, I want to provide brands with the best technical background in AR to help them create a new immersive visual communication channel to engage customers.

– Rustam Mirzakhmedov
Asieieva Alla

aseevvaa
Based in Ukraine, Asieieva Alla is a Creative Developer who appreciates AR for its possibilities. Not afraid of challenges, she is always looking for new ways to progress. She perceives technology as her ally, which allows Creatives to self-express and users to interact with this very real but augmented world.
My name is Alla. I've been developing in Spark AR for half a year now. I like to create filters that complement the real world, create the opportunity for users and brands to interact with Augmented Reality. For me AR is the perfect mix of design and technology and I am very glad that I found this way and now I can improve my skills in this direction. Spark AR gives me a lot of opportunities to grow and I'm open to many new ones.

– Asieieva Alla
Ivan Tride

ivan.tride
Ivan trade is an accomplished and ambitious Creative who excels at providing outstanding AR works. His background in the music and video industry helped him better understand the needs of users and present them an authentic experience. He is fascinated by the possibilities of extending real-life objects into Augmented Reality.
I am Ivan Tride, an Extended Reality specialist from Bulgaria.

My career journey started with 3D VFX for music videos and advertisements. AR filters came natural when Spark AR was launched so I started messing with that right away. As I already had a lot of clients in the entertainment industry, I introduced them to the possibilities to engage their audience with filters and face masks.

I am constantly trying to implement innovations and create unique experiences. Some of my filters went viral worldwide, like this one.

About a year ago I put a lot of time and effort into reimagining a futuristic presentation of a music album. So that's when I developed my first AR music player concept.

Since then I've found a passion in creating this sort of gadgets with target tracking. I love the idea of having a physical object extended with digital functionalities. Exploring exclusive content through floating animated buttons and menus real-time in your hands. It's so magical that some people can't even comprehend when they see a story uploaded with this kind of functioning phygital item in your hands. I have found that users' reactions on this kind of filters are one of the most amazing, so that's why this is my main thing I do for clients lately – AR players and artwork extensions for music albums, flyers, posters, etc.

In the future I will definitely continue working towards bringing together the real with digital and find ways to put that to good use.

– Ivan Tride
Yarin Lidor

yarinlidor
Yarin Lidor is a Creative Technologist, AR Creator, a Music Producer, and a DJ.
In the previous phase of his life, he worked in the music industry as a creative marketer.
In the last decade, he was a founder of the nightclub, Diplo dropped his remix in his radio show, and he DJed around the world, yet he ended up as the "The Spark AR sound god" (quote by @enuriru).
My AR Journey as a creator began in 2019 when I was accepted to the Spark AR beta on Instagram. I made a few simple AR effects like randomizers and face masks. Yet, my mission was to build the first music sequencer on Instagram, so I did it, and it boosted my presence, more important – it motivated me to keep going until I got on the radar of the people I wanted to work with.

Since then, I have made AR effects for artists like Amelie Lens, Bastille, DJ Khaled, BLXST, Robert Glasper, and others. One of my effects was selected as one of the Top 10 Spark AR Effects of 2021. Since then, I have released several musical AR effects that let users launch audio instruments in and out to make tracks in their stories and reels.
So exploring AR, music, and how users interact with it has been an ongoing journey, and this is what fascinates me in AR until this day.

– Yarin Lidor
With this astonishing touch, we conclude today's selection of 10 AR Filters' Creators You Should Follow. We would like to thank them for their creativity, perseverance and authenticity. We love to see them grow and be a part of their journey! 🚀 We hope you enjoy it as much as we do. Thank you for being here with us. Stay inspired! 💫