Vogue x Snapchat: Redefining the Body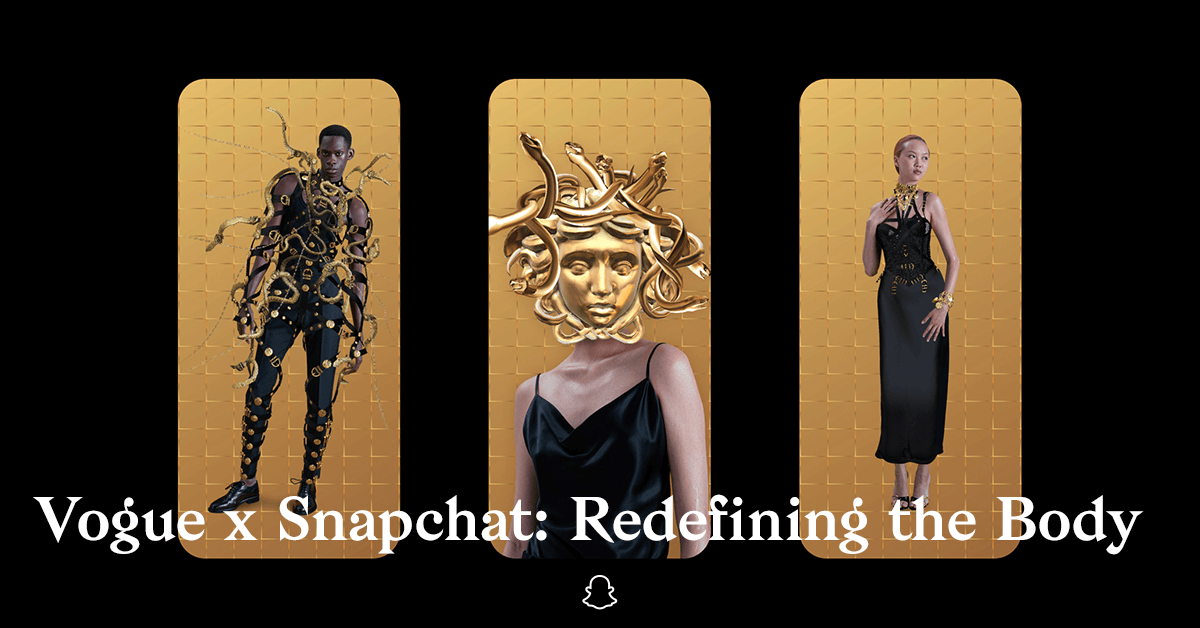 On Monday, June 20, Snapchat and Vogue partnered to launch the most fashionable AR exhibition ever. Even though it was physically located in the Centre d'art La Malmaison, the place became an augmented fashion paradise – featuring 7 fashion houses and designers, along with 6 AR rooms and experiences for Snapchatters worldwide. Adding a digital coating to high fashion, in the form of Augmented Reality experiences, took the event to a whole other level.
With physical clothing designs from brands such as Balenciaga, Dior, Gucci, Kenneth Ize, Richard Quinn, Stella McCartney and Versace, the exhibition let visitors wander around tailor-made rooms full of designers' creative visions. Enriched with AR try-on and in-room experiences, the event in Cannes came to life in a fashionable, innovative and accessible way.
We are thrilled to partner with Vogue to empower hundreds of millions of Snapchatters around the world to digitally experience fashion from top designers and brands. Through this exhibition, and augmented reality more broadly, we hope to introduce new levels of accessibility, creativity, and expression to the fashion and design world.
– Evan Spiegel, Co-Founder & CEO, Snap Inc.
It has always been important to me to make fashion accessible for all. Using augmented reality, Vogue x Snapchat: Redefining the Body is an exhibition that invites everyone – regardless of race, gender, sexuality and size – to experience and enjoy fashion from some of the world's very best designers and luxury brands. It doesn't get better than that.
– Edward Enninful OBE, Editor in Chief, British Vogue and European Editorial Director, Vogue
Moreover, everyone will be able to enjoy the try-on and in-room experiences through Snapchat Lenses – found in Snapchat's Lens carousel or in the Dress Up tab in Lens Explorer. Snapchatters will also be given a chance to see a custom La Malmaison landmarker awaken on their phones.
Dress up with these try-on Lenses (both front and back camera!) from the featured seven iconic designers! Scan the snapcodes and travel through historical, ultra-modern and exquisite looks.
Dior
Complete your digital outfit with a skirt suit in the theme of Dior New Look of 1947. The needlecraft of this look is stunning!
Balenciaga
Who doesn't love long, big, puffy coats? Make a statement with this Balenciaga's piece – it's in the color of shocking pink!
Gucci
The front camera look is black and classy – fall in love with this sunglasses-hat combo!The back camera will dress you up in either a suit or a golden fur.
Kenneth Ize
Watch how this beautiful dress slowly unfolds and match it with a front camera hat! You can truly feel the fabric and its Nigerian roots!
Richard Quinn
You've never worn such an original balaclava before! Using the back camera you'll see that patterns are obviously back in the game – choose your favorite pattern coat.
Stella McCartney
Feel the power of nature wearing a stunning fungi-themed gown and see how mushrooms grow on your head!
Versace
Turn into the iconic Versace's mythological Medusa and wear a living snake gown.
Fashion and high tech make a really good pair together. What draws them towards each other is the desire and the ability to address and show people how much more can be added to a physical clothing piece, or an exhibition and how much more fascinating the experience can become. It's all about stepping outside the physical box – and everyone can take that step.
style="display:inline; margin-left: 5px;">source: Vogue UK
What more is awaiting you? Stay tuned for the Vogue x Snapchat x DressX collaboration which will include a capsule collection for the exhibition with a limited edition Vogue x Snapchat merch – soon available on the DressX site.
It was a truly remarkable event full of AR – which we love! The AR experiences were made by the creative minds at Arcadia, Atomic Digital Design and Snap's newly established Paris AR Studio.
Our teams worked very hard to make sure the final result looked as good on-site as expected by the client. It is one thing to develop, create and test an AR concept in our offices in Paris, and another to make it work under totally different conditions (props, lighting, room size …). What was great about this project was to see people have a different interaction with the show, they could immerse themselves in the universes of each designer
– Nicolas Gauvin, Lead AR Developer, Atomic Digital Design
Using augmented reality in a show is a way for event organisers to add an element of magic to the overall experience. For the Snap x Vogue 'Redefining the body' exhibition, we adopted a design approach that brings digital elements and the real world together. Our goal was not to bring the viewer to a new dimension but rather, to enhance and amplify the existing show elements. This groundbreaking show illustrates how augmented reality is a wonderful tool to transform and evolve the user experience. – Antoine Vu, Co-Founder/CEO of Atomic Digital Design.

Thanks to these amazing AR designs, Cannes was truly dressed in the most fashionable way!