8 Snapchat Lens Creators You Should Know | September 2021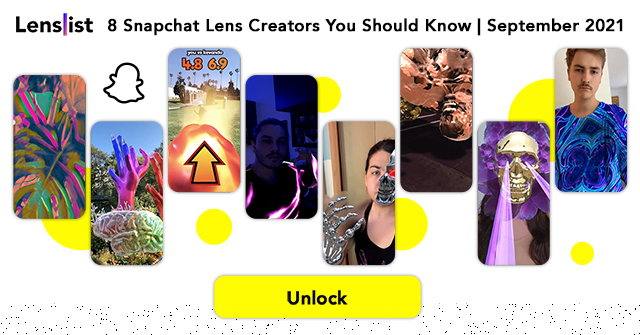 With another month passing by, we come to you with the next edition of 8 Snapchat Lens Creators You Should Know. This time we'll present to you a few well-known, established Creators and also a couple we have just recently discovered. The AR Creator's Community grows each day and we can't be happier about it! Find out more about their stories, discover their coolest Lenses, let us know about your favorites and spread the love! 💛
Hårun
Harun is a Turkish Multidisciplinary Designer based in Berlin who graduated from DEU, Faculty of Fine Arts in 2015, Turkey. He is intertwined with the AR world since he got accepted to the Instagram BETA at the beginning of 2019. He focuses on creating Augmented Reality experiences while experimenting in various fields of art and design to discover new universes of the digital realm.
Augmented reality is a way for me to express and depict my inner world. A means to bring my ideas into the real world and share them with others. I'm obsessed with anything that is reflective, colorful, and transparent. As if the blood in my body is iridescent.

Although I started with AR almost 3 years ago, I'm still at the beginning of this long journey. The more I create effects the more I discover myself. I feel like every effect I create has a part of my soul and if you could make them all come together, they would form my essence.

I am inspired by so many different things, people, and events. Inspiration can come at any moment. Experimenting is also another way to get further inspired for me. I love experimenting with as many tools as I can. While experimenting on one effect, that effect gives birth to many others that are awaiting their time to come alive.

I want to continue to create more and hope to be a source of creativity to inspire others.

– Hårun
More Filters Snapchat Portfolio
Visualize Mee
Olga has been feeling like an artist for over 15 years. In the beginning, she created art offline using traditional techniques such as painting and graphics. But, she started to realize that she couldn't capture a fast-paced course of time with the help of these techniques. So, she chose Augmented Reality as the main tool for expressing my ideas.
My AR journey started a few years ago when I created my first AR application. Even now I still keep practising. I am so excited to see how this AR field is extending now on different platforms, how various creators and artists use it in their own ways.

I am totally in love with Lens Studio as a special and very fast developing tool for creation with a lot of beautiful features, tutorials and native user interface.

In near future, I am going to create a series of digital dresses in floral style with highly detailed 3d models. Also, I will continue my long playing art projects about post-humanity, sustainability and ecology. Furthermore, we are ready to start a huge architectural AR project about contemporary culture in collaboration with an architect.

In addition, I have been constantly improving on sculpting and animation of small creatures such as animals, insects and flowers. Therefore there will be simple but cute filters for people.

– Visualize Mee
Aidan Wolf
Aidan is an experienced AR Lens Creator. Together with Kevin Habich, he launched Kevain studio creating AR games on Snapchat, AR-enabled merch and more.
My name is Aidan Wolf, I've been an independent AR creator since 2015 creating apps like DoodleLens and more recently Snapchat Lens games like RPG and PONK. I'm passionate about AR because it's a medium that can enable us to connect deeper to the people and places around us. I'm inspired by my rural upbringing spending lots of time exploring the woods, backroads, and streams of my hometown, as well as the Nintendo games that defined my childhood like Mario and Zelda. I really want to combine the two and make everyday life more magical, like a video game. My plan right now is to start a new AR studio that focuses on making games for Snap Spectacles that get people outside and playing together in real life.

– Aidan Wolf
Domenico Amalfitano
Domenico graduated in artistic disciplines and migrated into the world of digital art. He works as a graphic and Augmented Reality designer for brands and artists.
Now when we hear about augmented reality we don't think much about the future, but about the present. More and more people voluntarily or indirectly approached this technology. Brands now find it necessary to develop augmented reality experiences on Instagram or Snapchat in their advertising campaigns.

All this excites me and makes me understand that we are ever closer to what we imagined as the 'hyper-technological future' until a few years ago.

But what excites me more and more about augmented reality is the role it plays in the world of the arts. Fashion, dance, visual arts: more and more artistic disciplines invest in AR and its potential to expand people's cultural experience.

Imagine being able to attend a fashion show in your home. Imagine being able to visit an art gallery from your living room. Imagine being able to view a product directly on your body before buying it.

Being part of a community of extremely talented creators encourages me day after day to invest time and effort in this world. Snapchat's Lens Studio is an extremely powerful and intuitive software that spurs you to be creative and develop experiences like the ones I mentioned earlier.

When I develop a new lens, I mainly draw inspiration from the reality that surrounds me, the next step is to completely overturn it. Whether it's a simple mask or an entire 3D model applied to the body, I always tend to an abstract style with strong colors and interesting animations that entertain and capture the attention of those who use the lens.

– Domenico Amalfitano
Brielle Garcia
Brielle is an experienced digital designer and software developer from Seattle, US, currently creating AR and VR at Denali Advanced Integration
JP Pirie
JP Pirie is an AR creator and Official Lens Creator living in London. JP works professionally in the field of digital design and is likely the most prolific producer of Snap Lenses on the planet averaging 2-3 lenses a day!
My AR Journey
– started in 2008 I played with some early software called Metio
– it restarted in 2018 when I met @kugalimedia in London totally by chance
– he was using lens studio (June 2018)
– I'm told I'm possibly the most prolific creator around, I make at least 10 lenses a week, maybe more.

My Plans

I'm lucky enough to have received a pair of the latest spectacles from Snap, they are mind-blowing so I'm making a lot of new spectacle lenses and changing some of my thinking as this AR glass tech is a game-changer. Experiencing lenses through specs is insane; times the regular phone experience by x 100 at least.

I'm seeking to achieve views that equal the population of our planet (7bn I have 2.5 Bn to go)

I'm enjoying all the latest ML FEATURES, they are mind-blowing.

My style

I'm known for a lot of horror filters but I create every type of filter, I'm known for making really gruesome lenses that shock and provoke. I'm heavily influenced by science and tech.

Inspiration comes from everywhere, sometimes I start with no idea what I'll create and the ideas flow unrelentingly (luckily) and form a lens sometimes with unique results

– JP Pirie
More Filters Snapchat Linkedin
Haval ⚡️🔦
Haval is a digital 3D and AR Creator from Erdil, Iraq, currently working at Erdil Lifestyle.
Hello, I'm Haval, I live in Erbil, the capital of the Kurdistan region of Iraq. I love digital art, and because of my love for digital visual art in general, and 3D visual arts in particular, I entered the field of "AR" through the wonderful program LensStudio. I created some AR lenses, some of them are inspired by famous movies and anime, I don't want to mention their names, discover them for yourself. Others are based on science fiction and futurism

Lightning or laser lights or futuristic hologram screens and science fiction is my favorite style. I am trying hard to develop myself in the field of 3D modelling and augmented reality. I have more ideas than I am implementing at the moment. I also plan to expand my lenses and make them on platforms other than Snapchat

And I hope that in the future we will see our lenses on the NFT Platform.

– Haval ⚡️🔦
More Filters Snapchat Portfolio
Danny Marree
Danny creates new media experiences using social Augmented Reality on Snapchat, Instagram and Facebook at creative agency Verticar.
Hey everyone, my name is Danny and I'm from The Netherlands. I've been an official lens creator for almost 3 years now and I have been creating AR experiences on IG for a while too. I love creating lenses with the newest features Snap is releasing. It's hard to find time as I'm working full time on experiences for brands with my company Verticar, but when I find that time, I love to lose a few days exploring the newest possibilities. AR on social media opens up so much new space to share with each other. We haven't seen the tip of the iceberg yet. My inspiration mainly comes from combining the latest features with concepts that weren't possible before. For example, my latest Predator lens combines the newest Inpainting feature from Snap with an idea that existed for ages, the movie Predator. The alien became invisible, which for that time, was incredible to see on television with my dad. Now 15 years later, we can finally be invisible in real-time through Snapchat. That's incredible to me and my past self would blow his mind even thinking about that. Harry Potter, you are next.

– Danny Marree