8 Snapchat Lens Creators You Should Know | August 2021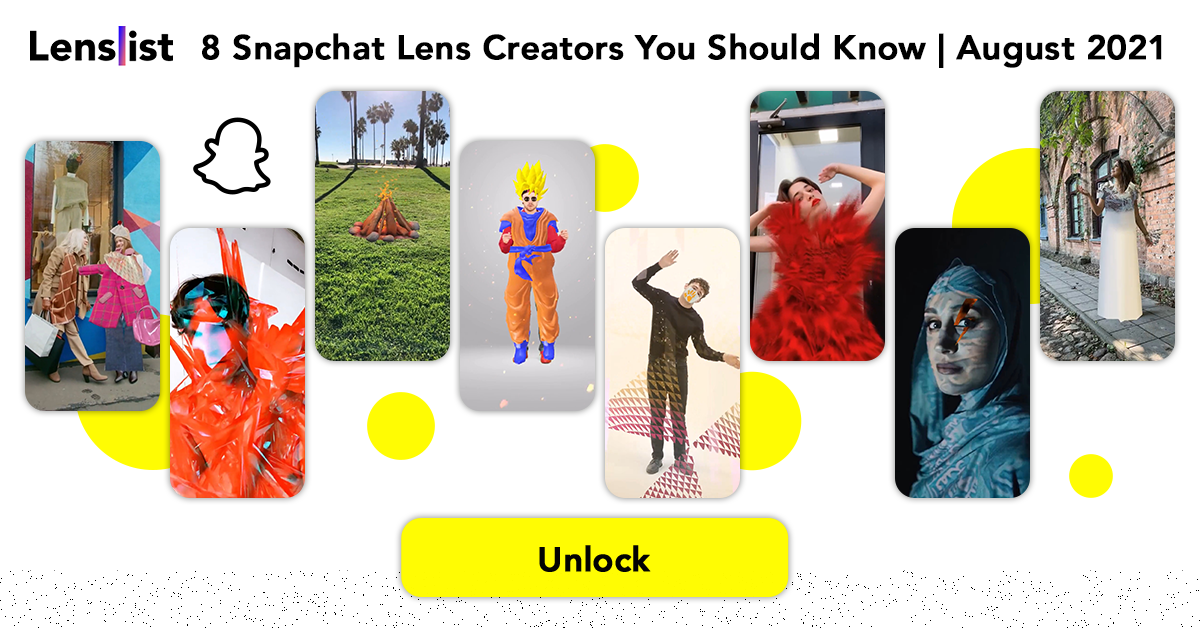 Another month, another 8 of the talented and inspiring Lens Studio Creators, true artists of Augmented Reality. Try their Lenses and get to know them from their own quotes in which they describe their AR journey as well as their style and sources of inspiration 🔥🤳👻
Rosanna Li
As a founder at Screenwear.com.au, Rosanna is a trailblazer in digital fashion, using Augmented Reality to bring her collections to anyone and help them enhance their social media presence without the need to buy material clothes.
What happens if you take a piece of clothing from the physical world into the digital world and back out again…? In a world crying out for fresh solutions to environmental degradation fuelled by the fast fashion, I feel the simultaneous need to make absolutely NOTHING (physical) but as a fashion designer, EVERYTHING. AR makes it possible to blend analog/digital textures and methods making the work of designing SUPERFUN and SUPERCLEAN. I dream of the day when we will all wear Screenwear as the New Normal Dresscode for online communication. I make full-body looks that reference garment archetypes with an element of surreal that only digital has. Work it, Girlfriend!

– Rosanna Li
Gijs Wahl
Gijs is an experienced AR artist with a unique style that embodies his love for change.
An image can suggest a whole one can identify with, but it can also make us feel estranged. I strive to use AR as a means to assault this wholeness. All my creations tend to be iconoclastic rather than idealistic, not because I possess a lust for destruction, but because of my love for change. Through my works, I hope to inspire a similar love in the user.

Most of my creations are time-based, and I feel especially passionate about techniques that do not simply produce a new image, but those that can form a changing pattern, a formation or a destruction of shapes, with which the user can establish a unique relation. This is reminiscent of the way that photography needs a changing scene so the idea of a right moment can emerge in the photographer. I seek to create a similar moving and changing world that surrounds the user and talks back to it.

My main inspirations are Noland Chaliha and Josh Beckwith. Not only have they provided the community with a wealth of information on digital techniques, but in their creations, I also recognize love for the materiality, for the voices of these techniques themselves, by giving them an active place in their creations, instead of just using a technique to simply turn a concept into another image. Another creator I want to mention is Panta X Rhei, whose experimental, energetic and daring attitude is refreshing. We have had many inspiring conversations on the nature of imperfection and creation, that have flowed right back into my work.

Whether it be between humans, between mind and matter or between physical and digital, I love the chaotic and unpredictable outcome of an interaction between different patterns. I believe it is only from such an imperfectly unpredictable clash that the experience of reality, as well as a lust for it, can emerge.

– Gijs Wahl
Mahek Vasoya
Mahek is a talented, multiplatform AR Creator from India, currently working at Avataar.me.
"AR is the key to replace 2D visuals with life-size and hyper-realistic 3D AR/XR experiences." Hi, I'm Mahek Vasoya, I'm an Augmented Reality creator. Back in 2020, I got graduated from Facebook School of Innovation India under the augmented reality track where I learned and specialized in Spark AR Studio. After getting to know the platforms like Spark AR Studio & Lens Studio. I was amazed by the technical capabilities offered by both these platforms. From then I started exploring more about Augmented Reality and the platforms that provide this capability to express creativity to a wider range of audiences. I create social AR lenses using Lens studio, Spark AR Studio and have over 7.5 Million views on my Lenses.

In the year 2021, I participated in the Facebook Refresh 8 Hackathon under the AR track where I created a portal-based effect "Astroboys SpaceX" and got featured in "2021 F8 Hackathon Wrap-Up & Lenslist Selection".

I'm passionate about blending Creative storytelling, engaging & interactive programming to create interactive & immersive AR experiences that leverage Augmented Reality as a creative medium to launch products, storytelling. I'm trying to use AR as a tool to help people to tell stories and at the same time helping brands to tell their stories via AR and help them boost their campaigns by building gamified, tracking-based, entertaining, and engaging AR experiences.

Currently, I'm working as an AR creator at Avatar.Me. I've created Augmented Reality experiences for big brands including Royal Enfield, Johnson & Johnson, ITC Savlon India etc.

– Mahek Vasoya
Kavin Kumar
Kavin is an AR developer and a 3D artist who likes to create interactive AR Experiences that engage users and let them have fun.
"Xr is a tool to reshape the reality to our own way." I am Kavin Kumar, I go by the name RBKavin. I am an XR Creator where I create web XR and social Ar content and do freelance work. I am also an Official Lens Creator. I use Xr as a tool to modify the reality which we live in, as I feel it gives us the power to shape our reality in our own way.

I use social AR as a platform to explore the Xr capability and Share it with billions of users around the world. I love to experiment with the new tools that are available and give reality a new look. I find inspiration around nature and things happening around us and try to bring that into AR so I can enhance the experience. As I feel XR is a canvas that lets us create our own art on top of the reality that we live in.

I often make games and fun content with XR as I feel adding fun XR can do things that we can't imagine in the real world. We live in a world that is bound with physics laws that can't be modified but in XR our creativity is the only restriction. I love to always bring something that's not possible in the real world into the social Ar so people can have fun with it.

Recently I made a Custom Jacket Lens that lets users customise the digital dress before they try it on. Also, I made a Lens that lets people transform into Goku, a dragon ball Z Anime character. Every Anime fan loves to become like their fav character but when it comes to getting a dress or things to create the look people can just open this filter and they can transform into the character with zero time waste and effect.

– Kavin Kumar
Gayathri Mohan
Gayathri is an experienced AR Creator from India, working at Fanisko. She was featured in Facebook's F8 2021 conference.
Hi, I'm Gayathri Mohan. I'm an Augmented Reality creator and creative technologist. I recently got recognized in FB's official developer conference – F8 2021 for my voice-controlled Augmented reality experience (experiment). Five years back, I started my career as an Augmented Reality Engineer. During that time, I have developed Augmented Reality applications for multiple brands like Safron, Jamaica Tallawahs and Revature.

A year ago, I found Lens studio and was impressed with the AR tracking technologies offered by Lensstudio. It was at least 10x further ahead than the ARCore/ARKit. From then I started creating immersive AR experiences using Advanced Lens studio capabilities.

"Every successful experience is a mix of novelty and familiarity"

So I love creating Lens that leverages Lens studio's advanced capability and at the same time that is unique and familiar in the physical world

For instance, My AR scavenger hunt game Lens (Scavenger hunt is familiar in the physical world) leverages Lens Studio's advanced capability – the "Scan" feature to use objects from the world as game elements. So users won't get bound to image targets, they can scan any objects to solve the puzzle (which is a novel game mechanic in AR scavenger hunt games).

I'm specialized in creating Fashion Lens, ML-based Lens, Most importantly I love interactive game Lens. Since I'm coming from an AR engineering background, I have strong interactive programming and ML skill sets.

– Gayathri Mohan
Barbara Barliani
Barbara is a talented AR Creator, an artist and a philosopher from Georgia. She develops filters on both Spark AR and Lens Studio.
Hello, I'm Barbara, from Georgia. I'm a philosophy researcher and an AR Artist. I remember how my AR journey has started … I had a horrible motorbike accident 3 years ago and couldn't walk for a long time … I just started using Instagram AR effects, I met so many talented creators on the internet…

Then later I started creating my own filters… for me, it was a really big deal because I've never had any kind of experience or predicted knowledge about any kinda digital art, didn't even know what a "PNG" was… AR became a place where you could run, jump or fly… love that it is a language which almost any kind of people can get and speak… I love the fact that you can use 3D-body tracking and wear the dream or the branded dresses which are free and absolutely eco-friendly …

One of the most interesting parts about AR is that people from various countries have the ability to be seen and have visibility on the creator's pages and not only there… from the world's perspective… I saw a lot of women who mostly were at home, started studying AR programs and have a kinda independent space where they already are satisfied, representing themselves and some of them also have income for living…

The best part of AR is that you are spreading the info over the world, reflecting on the past, present and future… I doubt soon there won't be any kind of popular symbol, event ( art, politics, books, business, brands) which would not be easily searchable as an AR-effect …

My inspiration comes from Life, Poetry, Philosophy, Politics, fashion, just from the shaders and the beautiful textures I see in nature and on the digital screens. I call it Neo-Renaissance, it's exploding every day and there are countless digital artists with their original and different representations…

Viva Augmented Reality…

– Barbara Barliani
Maxime Cabrol
Maxime is not only a 19 years old AR Creator, but also a drummer and a navigator studying economics in order to become a rich and misunderstood artist.
I've been able to start creating Lenses officially for 1 year and I love seeing how from nothing you can come up with Augmented Reality. My inspiration often comes from other creators who are always there to share our ideas, collaborate and help. Sometimes the inspiration comes from existing art. What I try to build in my creation of Lenses is a mix of art, fun and zaniness.

I started Lens design to challenge myself and mostly for my own personal pleasure and I am eager to start collaborating with other creators and to offer my services to others. The world of Lenses is an infinite world that has multitudes of messages to convey and usefulness and I like to think that I am part of it and that everyone is welcome.

– Maxime Cabrol
Vin Esha
Vin Esha is a Lens Studio Creator that recently took advantage of body tracking capabilities to develop an impressive collection of digital fashion.