8 Snapchat Lens Creators You Should Know | July 2021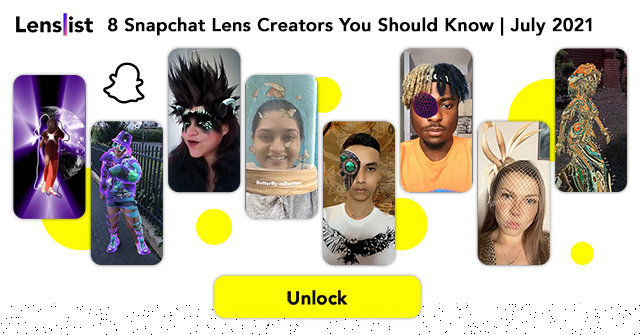 Another month, another 8 of the talented and inspiring Lens Studio Creators, true artists of Augmented Reality. Try their Lenses and get to know them from their own quotes in which they describe their AR journey as well as their style and sources of inspiration 🔥🤳👻
Kazz Hyuga
Kazz is a former athlete and a professional cheerleading coach who as an AR Creator specializes in beauty Lenses based on her own hand-drawn illustrations.
"Art is and will forever be my get away to HAPPINESS"

I'm a young Professional Cheerleading Coach & Former Athlete who loves Art & Anything Artsy!

I discovered Lens Studio two months ago and ever since that day I've been complete. Normaly I just do some illustration on my Ipad or edit some photos for me or even my friends. Art has always been a huge part of my life so I spend alot of time on making sure it looks ready for the world. When I started Using Lens Studio It was super difficult, I didn't really understand the software so it limited my ability to produce the quality in the community. Then I discovered Mike's youtube channel and it changed my life! I started to understand the basics and slow play around developing my own style of Lenses. I experiement with as much different styles of Lenses as possible. However, I MAINLY create Beauty Lenses as it gives me the oppurtunity to use the illustrations (Contour, Lashes, Highlights, etc.) that I draw on my Ipad into the software, UI Lenses that allows user to interact and show their creative side & Aesthetic of Lenses that captures and highlight something about your photo or video. I'm weird so my inspirations comes from things I encounter in my everyday life haha. The journey as a Lens Creator as been so amazing! I discovered the Forum where people helped with questions I had, seeing everyone's work and sharing mine there as well. I had my first collab with the man admire the most in the community. He's also an Official Lens Creator so you know I was screaming! I also gained a couple more friends too who are also Lens Creators. Not mentioned other well known Official Lens Creators added me on snapchat and I'm "There's Nooo Wayyyy". The exposure my Lenses have gained is PRICELESS! I even make Spark AR Lenses too however I'm more on snapchat that's my main base. I Aspire to well rounded enough in this software to be an amazing asset to the Lens community to everyone. I get told and have seen people seeing "Beauty Lenses Can't Get You Into The Official Lens Creator Program" however with my style of beauty Lenses I hope they see something different. My goal is to become an Official Lens Creator someday so I will continue to bring my creative ideas to life and have Snapchatters Enjoy them! Definitely will cherish this memory forever!

– Kazz Hyuga
Ibrahim Boona
Ibrahim is a fullstack developer, AR and VR Creator from Madina, KSA. One of his goals is to use AR for medical diagnostics. Recently, he managed to use Snap's Machine Learning to create Lens that detects skin cancer, melanoma.
It was a unique and enjoyable journey with many challenges. The journey started from Unity 3D and extended to WebAR until it reached the Lens Studio. I have always dreamed of meeting cartoon characters on the ground, and this has now been achieved using Augmented Reality technologies.

My future goal in this field is to create a real medical AR experience that helps the patient and the doctor in diagnosing diseases by integrating AR and ML.

– Ibrahim Boona
Şeytan Tüyüx
Şeytan is a professional designer, animator and 3D AR/VR developer from Mexico City. After trying out her Lenses, check out her other assets.
Thanks to the forum that Lenslist provides, it's a great way to discover and connect with incredible creators and new artists with huge talent around the world, it's impressive, motivating and highly rewarding for me. I'm a designer by profession, an animator by all my heart and a 3D modeller by fun. I have been in the audiovisual industry for several years and I fell in love with immersive experiences when I had my first projects in BTL marketing some years ago.

When I develop my professional projects, I focus on communicating the needs of my clients, in order to strengthen the bond with their audience. On the other hand in my personal creations, I'm inspired by my daily experiences, no matter how small or subtle they might be, I also find inspiration in characters of science-fiction, whether from movies, series or video games.

With each project, I set a new learning challenge to myself. In that way, I'm constantly exploring, learning and looking for ways to merge animation with solutions that are beyond reality. I'm amazed by the power and reach that AR creations have. This medium gives me the chance to express my imagination through the body of other people and for me this is only the beginning of many more creative projects to come. Best is yet to come!

– Şeytan Tüyüx
Pradeepa Anandhi
Pradeepa Anandhi is an experienced AR Creator from India, currently working on compelling digital stories at Fanisko.
Hi I'm Pradeepa Anandhi, I'm an Augmented Reality creator and creative technologist. Back in 2020 I found the Lens studio and was amazed by the technical capabilities offered by Snap. From then I started creating social AR lenses using Lens studio.

And recently in May 2021 I and my lens got featured on Lens Studio's official news page.

I'm specialized in creating compelling stories, Experience design (by plotting interest curves and sequencing Experience moments to keep users engaged throughout the experience), and interactive programming.

I'm always passionate about blending Creative storytelling and Interactive programming to create interactive AR experiences that leverage Augmented Reality as a creative storytelling medium.

I'm trying to use AR as a tool to help people to tell stories about themself and at the same time helping brands to tell their stories via AR.

Right now I'm working as an AR creator at Fanisko. I've worked in creating Augmented Reality experiences for big sports brands including

KXIP (Cricket franchise)
Cruzeiro (Brazilian football team)
Malaysian cricket association etc…

I would like to thank Bharath Nagarajan, Gayathri Mohan, And Adhil Suresh for their guidance.

– Pradeepa Anandhi
Tariq FXK
Tariq is a young, talented Lens Creator from Saudi Arabia, already experienced in using 3D models and Snap ML in his work.
My name is Tariq, I am a student, born and raised in Jeddah, Saudi Arabia.

I will tell you my story about how I get into Lens Studio. At first I used to see the wonderful Snapchat filters and I was wondering how they are made and such, and I found that there is a program for making Lenses, and I started it in 2018, and I was making ordinary things. I found it difficult to make things that were difficult for me to do, such as 3D Lenses, animation and Snap ML, and then I gave up and stopped cause I saw things difficult. In the year 2021 I become confident in myself and I was telling myself I will do it and achieve what I want here and then I made Lenses that I did not expect to make like before.And here I am, also working and learning on AR which gave me the experience and helped me understand a lot about Lens Studio and for all the achievement I've accomplished. I don't praise myself, but I wait for people to talk about the work I've done.

– Tariq FXK
Faith Adewale
Faith is a Lens Studio and Spark AR Creator interested in combining AR with his medical practice as well as other forms of art, eg. by turning his painting into AR effects.
I started making effects around February 2020, I had this painting I was working on and I got really curious because it was a lockdown and I wanted to know if there was a way I could make people from far or near connect with my work. In the process of digging and tunnelling through the internet I stumbled into social AR (face masks). This gave me a brilliant idea. I could make an effect that allowed people to cover their faces with that of the characters in my painting. It was a huge success with my friends and followers. They all loved it.

Eventually, I decided to dig deeper into the rabbit hole of Lens Studio and Spark AR. Watching hundreds of tutorials and making numerous effects. I ended up making Augmented Reality art pieces to exhibit at the biggest AR art exhibition (Cadaf Art). I also started getting requests from some influencers and companies to make effects for them. This was beautiful because at the time we were in lockdown and I was able to make a reasonable amount of money from something I was thoroughly fascinated by and what I loved. Haha, good times.

I also realized there was a lot you could achieve with AR asides face effects, from Augmented Reality fashion to virtual galleries and portals for my friends to exhibit their art to thousands of people without having to leave their homes. It has been a very beautiful journey so far.

At the moment, I'm constantly trying to improve my skills, there's always something new to learn and get fascinated by. Especially with Lens Studio, the Snap team always pushes the bar with every new update. I am also working on launching an Augmented Reality studio to fulfil the AR needs in the Nigerian sector and worldwide.

Asides from this, I have also been enjoying Snap's machine learning capabilities, from Lenses that can detect cataracts to Lenses that can spot deformation on the skin which I have been training with Google Collab and Fritz AI. I think the future is going to be interesting because I will continue to mix social AR with my medical practice and art practice to make things I believe people will find useful or entertaining.

I do not have a particular art style now, I literally just make whatever silly, crazy or interesting idea comes to my mind. Although I have recently been trying to make filters that solve problems for the users, I think the effects that do really well solve problems for a large number of people (e.g., beauty effects solving the problem of people who do not know how to do a professional makeup).

When it comes to inspiration, I am inspired by nature, the media that I consume and random conversations that I have with my friends or classmates. Some of my effects are also inspired by my painting where I try to make effects that turn people into some of the characters in my paintings.

Nonetheless, I am excited to see what the future holds and what I will be able to add to the Lens community in the near future.

– Faith Adewale
Anastassiya Marchenko
Anastassiya is a professional 3D designer from Kazakhstan with over 4 years of experience. She's interested in art, especially aquarelle, which has impact on her AR filters.
My name is Anastassiya Marchenko, I live in the southern capital of Kazakhstan – Almaty. I started doing augmented reality in early 2020, with an art academy and 3D design background. At that time I was creating filters for Instagram and my hobby turned into a professional activity, I really liked creating unusual effects and showing what else augmented reality can do.

At the beginning of 2021 I was lucky enough to participate in Call for Content for Snapchat and try my hand as an AR creator on the new Snapchat platform. And now I'm working on two platforms, Lens Studio and Spark AR.

A distinctive feature of my work are Lenses with 3D objects, more related to the fashion direction. I get excited about the fact that I can create Lenses with all sorts of accessories and clothing.

Talking about the future of AR, I think that AR on social media will have even more popularity and importance and work as a form of expression of one's individuality.

Moreover, AR has proven to be a great aid when choosing real products. Now, people have more and more confidence when buying products, trying on a 3D model beforehand.

The pluses of Augmented Reality can be argued endlessly, since it affects all areas of human activity. One thing we already know for sure, AR in social networks is developing exponentially, and I am glad that I found myself as a creator in this completely new and technological sphere.

– Anastassiya Marchenko
Ger Killeen
Ger is an AR Creator and digital poet from Oregon, USA with an experience in teaching literature and new media on university.
I'm Ger Killeen, an AR artist and digital poet from Oregon, USA. After a long university career teaching literature and new media, I'm now working with AR and combining my passion for poetry and art with AR's immense creative potential.

I love making world Lenses, including Snap Spectacles Lenses, because they let me put surreal, compelling objects and texts into the user's physical environment, creating mysterious and challenging visual stories for people to engage with.

Right now, I'm working on using machine learning to generate part of the narratives which Lens users can follow through the world, where each object they're instructed to find unfolds the next piece of the story.

My main influences are surrealist art and writing, such as the work of de Chirico and Breton, as well as the amazing AR creations of artists like jp pirie and Clara Bacou.

– Ger Killeen