AR Talks l Anastassiya Marchenko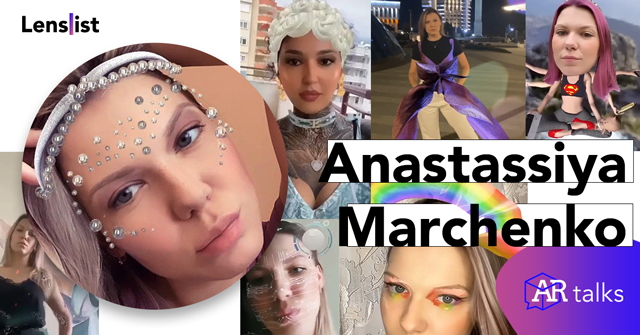 Once again we are presenting to you another amazing AR Creator – Anastassiya Marchenko. She's an experienced developer on both Snapchat and Instagram. Read the interview below to learn how to find inspiration, work with brands and pick some essential tips for yourself!
Can you tell us more about your beginnings – what inspired you to start creating filters both for Instagram and Snapchat?
My fascination with augmented reality began long before the filters in social networks, when Sony's main camera had the function of creating augmented reality around itself like Jurassic Park, you could also try on funny hats. Another augmented reality feature was trying on characters on Skype, you could try yourself on as an alien, a robot. I was fascinated by such features.
At the beginning of 2020 I began to notice that the filters on Instagram got much better, and in addition to the standard filters there were author's filters. And quite by chance I came across a video on Tik-Tok that such filters can be created by myself by downloading a special program. From that moment my serious interest in Instagram filters began. And now I'm working on two platforms, Lens Studio and Spark AR.
You've created a wide variety of filters – what is the main source of inspiration for you? How would you describe your style?
When I started working with filters, I was interested in trying everything, random games, character filters, beauty filters, filters with moving 3d models. I wanted to implement everything that came to mind.
At the moment my main direction is filters with 3D models, mostly related to the fashion and beauty industry.

I have a crazy amount of ideas and I want to implement them all.
We've noticed you enjoy sharing the processes of filters' and Lenses' creation that for sure are a huge help for new creators. What is the main advice for someone at the beginning of their path?
Yes, I primarily enjoy showing what is behind the beautiful picture of the finished filter, because it is not always clear that a seemingly simple work is the effect of a painstaking process. And for Creators I am interested to show that all models are built from simple basic elements, and you should not be afraid to start doing something difficult at first sight, the solution will come in the process of work.
For those who are at the beginning of the path I can say the following, never stop at what you have already achieved, hone your skills to the smallest detail.

Continue to create even when there is no inspiration, bringing to life what you liked.
Since you are an experienced AR Creator when it comes to both Instagram and Snapchat – what are the main differences you notice between them when it comes to creative processes, and later – the engagement of the community?
The processes for creating work on both platforms are quite similar, but there are pitfalls. And they are different on both platforms. Some things are easier to do on Instagram, others for Snapchat. I like both platforms, but my personal feeling is that people on Instagram share more beauty filters or something laconic and clear, whereas on Snapchat the community is attracted to interesting images with 3D objects and willingly shares them.
Please tell us about your background – what's your story as an artist? In which media did you specialize before exploring the word of AR filters and Lenses?
I've been good at drawing since childhood. I went to art school. My main focus was watercolor painting. In 2017 I switched to a digital model of art, I drew pictures in Photoshop and worked as a 3D interior designer. So I had a background in the world of digital art before I started working with AR filters and Lenses.
Anastassiya, thank your for taking your time to talk with us, good luck!
More Anastassiya Marchenko's Filters