10 AR Filters' Creators You Should Follow | August 2021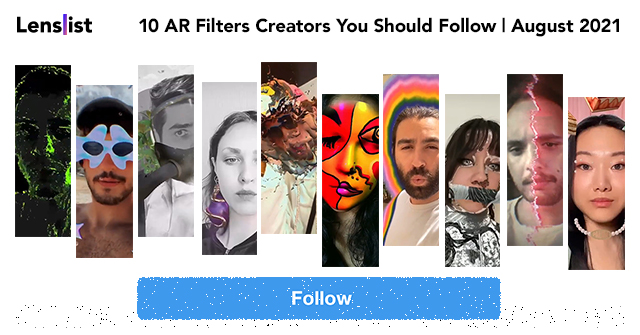 Every month, we ask AR Creators to share about their AR journey, their artistic style as well as from where they gain inspiration. Get to know these 10 incredible Creators and try out their filters 🤳✨
Jorik Rosa

@jorik.rosa
Jorik is a self-educated, freelance AR Creator based in Ukraine, with experience in 2D and 3D graphic and motion design as well as photography and videography.
Hi! I am Jorik Rosa – a creator of Augmented Reality effects from Ukraine. A few years ago I discovered the world of AR and it turned my life upside down. Facebook and Snapchat opened for me the doors to the huge world of social Augmented Reality which is developing very fast. It's exciting to me to see how the industry is evolving and what you can do now in it, whether it's a 3D character or a cool shader or trying on clothes.

I'm currently focused on a couple of big projects that I'm not allowed to talk about, unfortunately. Along with this, I am also working on developing my website and expanding my skills. I also continue to lead my Instagram page, where I share my works as well as Tips and Tricks on how to build effects. I also participate in the Facebook AR Video Calling Beta program, where we develop and test effects for video calls on Messenger and Instagram.

In the future, I plan to develop in different directions. I am interested in solving the problems of the client, but to be able to solve them, I need to evolve not only in the development of filters but also in other areas – affecting the growth and development of the industry. I'll also try to develop myself as a social brand and develop a network with different studios and developers. And maybe someday I become an Official Lens Creator on Snapchat or a partner of Facebook.

Thank you very much, Lenslist, for the continued support of the creators.

– Jorik Rosa
More Filters Instagram Website
Mariana Falcão

@hawkthemary
Mariana is an AR Creator based in Rio de Janeiro, Brasil, who is currently experimenting with virtual fashion and NFTs.
I started studying AR through Spark AR, trying to find intersections between technology, fashion and culture. I recently started creating with Lens Studio, mainly for the cloth simulation and 3D body tracking features. I'm absolutely in love with the possibilities, the fast evolution and how accessible this technology has become. My creations are strongly inspired by two strong attractions: my playful and childish side and the sea; among them, I explore worlds, and myself, and even create digital wearables through AR. I'm very interested in Augmented Reality as an instrument of self-expression, and I strongly believe in its potential, especially in fashion and culture.

– Mariana Falcão
More Filters Instagram Twitter
Lucas Souza

@reidosgifs
Lucas is a software engineer and experienced AR Creator from Brazil with over 900 filters made, developing a variety of products for brands and celebrities.
Hi, my name is Lucas, I'm from Brazil. I'm a software engineer and designer, and I saw the possibility of combining programming with design and doing what I love.

I've always been an enthusiast of Augmented Reality, and I could see with filters the possibility of seeing a lot of people using my art. I signed up for the Spark AR beta 2 years ago and since then I have had a company that has increased production enrichment for big brands and celebrities. In all, +900 filters have been developed.

For my personal profile, I like to explore content that is on the rise, whether these are memes/funny, cultural colors, or even filters that will contribute to creating content for Instagram.

I like to take ideas from paper and turn them into reality… an augmented one!

I love challenges, and Augmented Reality has given me that. I'm anxious to know what the next few years will be like and everything is evolving so quickly, it will be fantastic.

AR will change the world.

– Lucas Souza
More Filters Instagram Website
Rosa Hirn

@rosahirn
Rosa is an AR Creator based in Berlin with a background in jewellery design. Currently, she works as an AR dev at GoSpooky.
Hi, I'm Rosa and I work and live in Berlin. My background is in jewellery design and I'm a creative craftsperson by nature. But I also have a strong passion for games and digital. Before the pandemic hit in I had plans to work in a theatre as a prop designer but at the moment everything shut down I had to rethink my career plans. So I started to make AR filters. My first vision was to translate my bold jewellery and headpieces into digital models to make them accessible to everyone using AR technology. I wanted to be able to share my jewellery, which often was not really wearable in everyday life anyway, in a fun and easy way.

Shortly after I started I got the first requests for commercial filter projects. I built up a portfolio and worked on my 3D modelling, texturing and coding skills to get the toolkit I needed for creating professional experiences for clients. Meanwhile, I also worked on personal passion projects that recently got featured in CADAF digital art fair and MMMAD festival.

Now I'm working as a full-time AR developer at GoSpooky, an ambitious social media agency that is really pushing AR. I'm really fascinated about AR technology and super happy and proud that I can take part in that rapid journey.

– Rosa Hirn
More Filters Instagram Website
ZZZ ZZZ

@sleepxtite
ZZZ is a contemporary digital artist who applies a unique style found in his other works to AR filters.
SLEEPxTITE is an underground director, creator of worlds, pixel painter, and color scientist. He strives to make this world a more colorful place. Please enter this reality at your own risk, you might get horny. Let it flow! Zzzzzzzz

– ZZZ ZZZ
More Filters Instagram Website
Rima Bhattacharjee

@laugheatcreate
Based in Calcutta, India, Rima is an AR Creator who takes inspiration from her city, abstract ideas and the AR community.
"Finding myself through everything I create" – this is how I think I can define myself now. Born and brought up in Kolkata "The City of Joy".

Capturing my city through my Lens brought me into the World of creativity and since then I have wanted to create something unique but I just didn't know about AR yet! Merging the concept of photography with AR and illustration is what I'm working on right now. Learning new things is really challenging when everyone tells you to follow a single niche but if there's a will, there's a way!

Kolkata is synonymous with Durga Puja, it's not just a festival but a celebration of togetherness and this whole emotion made me ideate a concept for Durga Puja this year! I'm also working on creating an AR activated T-shirt for my birthday and surprising my friends who are my biggest supporters and meme buddies, taking ample help from Eddy Adams' tutorials!

My creations are based on abstract ideas as I draw inspiration from nature, children, colours, emotion, cats, cute stuff, and even food! When I am not creating a filter I try to learn from the amazing community on Facebook. Awesome creators like Eddy Adams, Josh Beckwith, Noland Chaliha make AR look really fun and interesting!

Lenslist has been a great resource since the beginning and an amazing source of inspiration whenever I need motivation or want to get inspired!

There's so much to learn in AR, so many things to think about, and just so many things to create! Getting into AR has been the best thing so far and I love how the World is united through creativity, absolutely love the time I'm living in! I can't just stop thinking!

– Rima Bhattacharjee
More Filters Instagram Website
Marcus Benisty

@_cusmar_
Marcus is an experienced AR developer based in Paris, France. He is a co-founder of The Sun Project and an official partner of Facebook.
Hi, I'm Marcus Benisty an AR experiences creator based in Paris, France. My background was mostly around interactive design, social media strategy and creative concepts.

Addicted to all new emerging media and technologies, I'm always on top to find new ways to create immersion and expand my creativity. Fallen in love with all new AR content platforms, I am amazed by how AR opened new creative possibilities!

A few years ago, I co-founded The Sun Project, a creative studio specialized in Immersive Experiences. We chose to specialize in AR content for good by using new technologies.

Usually, our works take their inspirations in few different sectors like retro-gaming, science fiction and neo-fashion. Also, one of the most inspiring sources for me is based on the creator's content, taken directly from Instagram and Reddit.

Now I really want to go further the lines about AR and keep exploring new ways of creativity using this amazing tool as education, brand teaching and much more!

Basically, we work with different great brands like Paco Rabanne, Universal Music, Snapchat, Galeries Lafayette, Facebook, Marine Serre or even ARTE… 🔥

– Marcus Benisty
More Filters Instagram Website
Shanelle Athlan

@la.shnel
Shanelle is a production designer and an AR Creator whose work has been exhibited in Paris as part of the CADAF digital art month.
Hi, I'm Shanelle! My first experience with Augmented Reality was through my Nintendo 3DS as a kid, and my mind was blown. I've been amazed by it ever since. My AR design journey started after I had spent a couple of months learning 3D modelling, taking a couple of graphic design and UX courses, and finally felt ready to jump into Spark AR.

I get my inspiration from everywhere: movies and shows, art, fashion, graphic design, amazing makeup artists on Instagram, TikTok trends, memes, etc. 
I come from a background in filmmaking and I've always had an interest in game design. So when designing an AR effect, I focus on making it interactive in a way that anyone trying it can personalize their experience, and making these interactions look and feel natural. AR is a great tool for storytelling so I try to design effects that are just as fun to watch as they are to use. I love creating effects that let the user transform into characters or allow them to express themselves.

The Augmented Reality space is a very exciting one to be in at the moment. The community is so creative and supportive. I constantly see new ways this technology is being used that I can't wait to try as well.

It was very exciting to have my work exhibited in Paris as part of the CADAF digital art month. I also participated in the Spark AR "Get Superpowered!" Competition for which I was selected as a Panel's Choice Winner. I really love participating in community events and seeing everyone's incredible work.

It's just the beginning for AR and I'm very eager to see what's to come.

– Shanelle Athlan
More Filters Instagram Website
Kewin Lima

@kewinlima
Kewin is a young AR Creator from Brazil who regularly publishes Spark AR tutorials on his You Tube channel.
I create creative filters, based on characters and things from the pop universe that I like a lot, my life as a creator is divided between this creative part and also the educational part with my Youtube channel, I'm in love with the world of augmented reality and I always propose to leave the "numbers" a little aside and focus on community building and creativity!

I'm Brazilian, I'm 24 years old and would love to receive creative filters from you!

– Kewin Lima
More Filters Instagram Website
Kyo Park

@kyo_p
Kyo is an experienced freelance multidisciplinary designer based in London, a graduate of the University of the Arts London.
My AR journey has been a long journey. I honestly had no idea what even AR is about 5years ago as I was in a graphic design course, fine art course, and fashion design course. I was confident in my skills related to Adobe software and had a bit of Cinema4D knowledge but never noticed how to combine my skills. I also never really had a chance to learn anything related to AR. I used to avoid anything related to VR or AR because I used to think that it's just a "virtual" thing built in an artificial space, not even in the real world.

Honestly, I was lost right after graduation as I had no dream or goals, and I was not that desperate to get stable jobs. I worked for a design studio in London for a bit, but I realised my boss paid less than 30% of the project fee when I was the one who built the entire 3D structure. He never gave me proper credit as well, so I quit the studio. I've applied to design studios in Berlin afterwards, and they told me they are looking for German speakers and turned me down. One of these studios contacted me recently and asked me to join their studio, but I turned them down as they sounded like opportunists.

My life has changed after I found Spark AR about 2-3 years ago. I played with it to try weird and funny 3D accessories on my face, as it was easy to learn it by just tweaking patches. However, people seem to like my eccentric work at that time which gave me a lot of opportunities to work with beauty startups and magazines. These opportunities became a good springboard for me to work with more fashion and beauty brands.

I don't set a specific plan or goal in my life. It might sound ridiculous, but I know that if I set up the goal, I will get more stressed when it doesn't go exactly like what I expected it to be. Therefore, I try to go with the flow and do my best for given tasks. I'm probably still trying to find the ideal middle ground between something that helps me to pay off my rent and something that makes me happy. Probably there might be something that satisfies both factors…I'm still searching.

I got inspired by so many different things, so I can't specify my "style". I simply look around, observe, and analyse random objects a lot. I know that it might probably make me look weird from other people's point of view, as I spend a lot of time staring at people or objects. However, this is just an analysing process in terms of visuals and potentials if it can be used for my AR design.

Additionally, I try to make something gender-neutral and inclusive. I do a lot of testing on POCs as I found there are so many filters just for people with brighter skin tones. Probably this is where I also collect inspiration from as I do a lot of research on cultural topics to avoid making tasteless and ignorant effects. It's also great for collecting what people from a specific cultural background like… or hate.

– Kyo Park
More Filters Instagram Linkedin
Huge thanks to all of the Creators, who collaborated with us on this piece, we appreciate and support all of you.
If you're a Spark AR Creator and are still not in touch with our team – hit us up, say hi and show us your Lenses – we're here for you! 💪✨