10 AR Filters' Creators You Should Follow | July 2021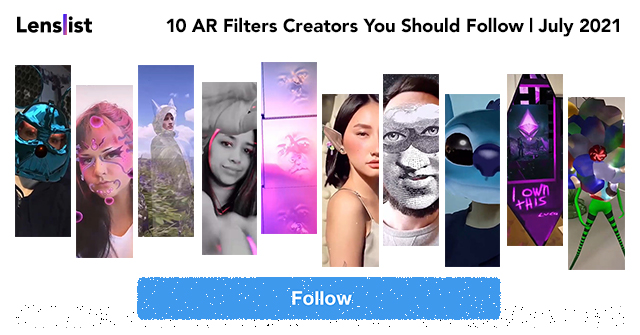 Every month, we ask AR Creators to share about their AR journey, their artistic style as well as from where they gain inspiration. Get to know these 10 incredible Creators and try out their filters 🤳✨
Daniel Murcia

@daniel.murciar
Daniel is an experienced AR Creator who works together with Naza Carrero at MDALatam Studio DYN Fotografía on branded AR effects as well as on bringing worthy tutorials to the community.
My name is Daniel Murcia, I am 30 years old, I live in Bogotá, Colombia. I have been designing with spark AR since the beta came out, from that moment I loved the program and all its possibilities, although at first it was a bit limited.

Before venturing into Augmented Reality, I liked to draw, model 3D objects and animate them, for this I like to use programs such as Cinema 4D, Blender, Photoshop and After effects. These programs have helped me a lot in the creation of my AR effects. Today, I have the opportunity to make a living from creating Augmented Reality effects for Facebook, Instagram and Snapchat.

I have worked with several companies around the world, who contact me for the effects that I show through my networks. I love teaching and for this we have our YouTube channel: Augmented Naza Carrero in which we teach with Naza Carrero how to handle Augmented Reality programs.

I am very inspired by games, movies and programs that I know, because in them you can see many types of outfits, makeup, dynamics, and objects.

In addition, I like to see everything that surrounds me to complement my designs and the most important thing with Augmented Reality is that Everything is Possible.

– Daniel Murcia
More Filters Instagram Website
Nora Fatehi

@____erreur_404
Nora is a talented Spark AR and Lens Studio Creator who studied Media Design and Interaction Design, with an experience in 3D gaming software.
Studying Media Design and Interaction Design, my AR journey began a few years ago with Unity, a software that I think is very powerful but pretty complex and heavy. More recent softwares such as Spark AR and Lens Studio really brought freshness to the world of Augmented Reality, making it way more accessible and easier. I first tried creating face filters out of curiosity, but seeing strangers posting stories wearing my design felt really exciting and encouraged me to keep practicing.

In my work, I like to keep it colorful and fun, finding inspiration in the Internet culture and its symbols. I began by working mostly in two dimensions (with face stickers, makeup and tattoos) but I've recently been really interested in exploring the possibilities of 3D.

As this technology is in constant evolution and updates and new features are becoming available, I want to keep experimenting new things and techniques in my practice, so stay tuned 😉

– Nora Fatehi
w.vv.vv

@w.vv.vv
w.vv.vv is an anonymous artist, a photographer and an AR Creator. Dive deep into w.vv.vv's magical world of pastel photography and anime face filters.
I am an anonymous artist who goes with the name of w.vv.vv, mostly known for the pastel surreal photography and the anime face Instagram filters. I overlay my imaginations with the real world, visualize my dreams, and transcend ordinary reality into fantasy.

I started making AR filters in late 2019, since then I have been experimenting with a variety of digital arts, not limited to 3D, digital drawing, coding, etc. The most enjoyable part of creating an AR filter is when you have ideas in mind but your skillset is limited, you will be very eager to learn and figure out how to achieve the ideal outcome.

My work covers a range of different themes, Japanese anime, supernatural, creepy/horror, prank/funny, cyberpunk aesthetic, etc. I create whatever is in my mind at the moment, I don't limit myself to a certain genre, as I am still exploring "my style", it is an endless journey.

AR allows me to see beyond the comprehension of naked eyes and walk into the universe of surrealism. My inspiration mostly came from daily life and media, eg. movies, anime, artwork. One of my viral filters, "Ghibli Face" was inspired by Hayao Miyazaki. As a huge fan of Ghibli movies, I tried to hand-drawn in their style and make it AR. I feel so satisfied seeing hundreds of millions of people putting on my Ghibli Face and feeling cute.

My goal is not only to plunge audiences into fascination but to make them re-evaluate intangible reality. Welcome to my world, there is no exit.

– w.vv.vv
More Filters Instagram Website
Carlita V. Serrano

@carlulita.ar
Carlita is an AR Creator from Argentina, a community manager and a Customer Service Agent at Delta Air Lines with the experience in graphic design.
I've always been a huge fan of the Internet and creativity. I started my journey when I was at high school, learning by myself and later studying graphic design, and working as a graphic designer for 5 years. But then, as fate would have it, I got a job at Buenos Aires International Airport, and I have worked there for 10 years, but always having my creative personal projects in parallel.

When the pandemic hit the aeronautical industry so hard, I had to be at home without working for a lot of months, so I started to search what I could learn – I'm that kind of person that simply can't stand to be doing nothing. One day, I discovered that a girl was creating effects for Instagram, and I thought, "How is it possible that I never knew about this? This is so innovative, I HAVE TO DO IT!". Since then, I have never stopped creating. A couple of months later, I got my first clients, and today I spend 100% of my time with Spark AR. Currently, I'm learning 3D and Javascript, to make effects more and more complex.

What I like the most about AR is that it offers an endless number of possibilities to let your creativity flow, you will never get bored with this. There are always new challenges ahead and I believe that, in fact, AR is the future, and we are privileged to be able to join this growing trend from this early stage. Also, thanks to this I made a lot of new friends from different countries around the world and, with 3 of them, we obtained an honorable mention in our first F8 hackathon this year, something we are very proud of.

This path is about constancy, patience and hard work, but the result is worth it a lot.

– Carlita V. Serrano
More Filters Instagram Website
Liam O'Neill

@liamo.studio
Liam is a digital creator and freelance designer from UK who studied Textile Design, worked as a fashion designer and is interested in art & tech.
Hey, I'm Liam. I'm a digital creator from the UK, I have a background in fashion design, graphic design and trend prediction. That has somehow lead me to my current work in augmented reality, digital sculpture and emerging technologies.

My work takes a lot of inspiration from science fiction, early digital technologies and retro-futurism as well as the new capabilities of the platforms themselves. I'm also hugely inspired by seeing people creating ideas and effects that not so long ago would have only appeared on paper or in short video clips as 3D interactive experiences. The energy in the community feels incredibly exciting!

I've been lucky enough to create effects for Adidas, Nike, Amazon, TikTok, Maybelline, XL Records, New Balance, Ugg, Urban Outfitters and plenty more.

– Liam O'Neill
More Filters Instagram Website
Zoey Hwang

@zoey.hw
Zoey is a Korean an AR Creator and a graphic designer with a various artistic and production experience. She got into AR in 2020, and during the current year she has been working in WE-AR studio.
Hello, This is Zoey from Korea. I am a graphic artist and designer from Visual Jocky (VJ) who plans videos that fit the place, theme, and concept and creates visuals for shows and stages.

From the beginning of 2020, I have studied the skills and knowledge of filter making through YouTube and the community. In addition to having people enjoy using the filters I made, I was very interested in communicating with creators around the world through the community itself.

For a few months in the beginning of this year, I created branded content with 3D designers and developers at Korea's top AR creative studio 'WE-AR'. Also, I Managed the project from planning to production throughout production, and it was an amazing experience.

Currently, I spend more time creating filters with various inspirations, like makeup, fashion, memes, and fantasy things. And I would like to do a filter project for the series someday.

– Zoey Hwang
More Filters Instagram Website
Jacky Vignon

@jackyvignon
Jacky is an AR Creator and a motion designer based in Rennes, France. His bringing to life walls of the city enabled his freelance carrer and a variety of collaborations.
My name is Jacky, I live in Rennes, France. Two years ago, I signed up to Spark AR Beta and started to develop augmented reality projects for the association of scientific and technical culture for which I have been working as an audiovisual production manager for many years. This allowed us to propose innovative experiences to our public.

At the same time, I started to create filters for my personal account. I love graphic design, animation and the world of street art, which is why my personal creations bring life to the walls of the city.

For me, Augmented Reality in the art world allows to bridge the gap between tangible and digital works. These personal creations have allowed me to start freelancing and to collaborate on even more varied projects.

– Jacky Vignon
More Filters Instagram Website
Kamila Dyussengaliyeva

@i_glue
Kamila is a talented AR Creator, a motion designer and a gif maker. Check out what she shares with other Creators on her Gumroad!
My path to AR began with the beta-version of Spark AR and with the same enthusiasts, gathered in one chat, when there was not even a single video-tutorial on the Internet 😂

Even now, we are still at the beginning of the magnificent world of AR and all the fun is yet to come! It is important not to be afraid of learning new things and to prove yourself, using all AR-opportunities. Therefore, my plan for the nearest future is to develop in 3D-modeling to create different characters and develop my skills in AR 💞

After all, Imagination is limitless ✨

– Kamila Dyussengaliyeva
More Filters Instagram Website
Lucas Guzman

@lucasguzman3d
Lucas is a vveteran 3D artist based in Armsterdam, currently working on AR and VR at Capitola Digital. He has experience in 3D printing for fashion companies, producing 3D assets for video games etc.
I'm Lucas Guzman and I am an Argentinian/Dutch 3D artist specialized in real-time engines. I have been working creating 3D assets for lots of different engines for almost a decade now. When I was hired by Capitola Digital some 6 years ago, I dived deep into what was possible to be created in the new generation of VR headsets. From portable to fully tethered, we experimented with the boundaries of these new virtual realities.

It was to be expected that after that we would begin to experiment with AR! I brought in all the knowledge I gathered from VR's low poly and texture limitations, and I felt right at home creating experiences that would augment the world around the user. I have been working a lot in Unity-based AR mobile apps, WebAR, and also in Spark AR and Lens Studio.

From face masks with face rigging to full body-tracking and fashion clothing: I have tried it all! And it has been so much fun to see what people do with my filters! I'm particularly proud of the NFT showrooms I have created where people can see my NFTs and also flex the ones they own.

In the future I would like to experiment more with interactive content. Yes, a cute or artsy filter is great, but allowing the user to engage with rooms, buttons, characters, etc. Now… THAT is the key to keep your audience hooked!

– Lucas Guzman
More Filters Instagram Website
Laura Shepherd

@ls528
Laura Shepherd is a multidisciplinary artist, designer and creative director based in London. Her work presents a distinctive perspective on modern life that draws from anthropology, philosophy and esoteric ideas. Aesthetics presented there take from Art Nouveau, 60s psychedelia and contemporary design.
My AR journey began in 2018 when I started playing around with a French app called Augment. The first thing I did was bring my avatar Faye Wong into my Augmented Reality. I remember taking her to Hyde park to skate with me, and then to the Frieze sculpture show in Regents Park, and then to Paris and Florida. Basically Faye and all my other AR besties and effects are on my phone, in my pocket, and travel everywhere I go.

Despite looking through a phone screen there is something hyper real about augmented reality. The power to change set and setting, to augment your space in real time is powerful.

I've been involved in several public shows where my art is brought to life with AR. Most recently I made works for @CADAF_art digital art month in New York, Miami and Paris and my recurring themes are Flower Power and Virtual Psychedelics. My flowerhead avatars are dancing all over the world right now, and spreading flower power good vibes wherever they go. My AR releases have also included eyewear.

Whilst my main focus is creating experiential art, I used to be the fashion world's favourite glover – Gaga, Kylie, Madonna, Rihanna were all clients. I'm super inspired to create digital fashion, as it feels ethical and sustainable in that no material resources are used and one design can be shared and worn infinitely, and that feels very earth friendly.

Lots of projects in the pipeline running across digital arts, from metaverse wearables, to cryptoart, and more AR public art. Opening soon is a show in Italy curated by @virginiabianchigallery @dumbo.space that will feature my latest hypnotic AR flower power sculpture.

– Laura Shepherd
More Filters Instagram Website
Huge thanks to all of the Creators, who collaborated with us on this piece, we appreciate and support all of you.
If you're a Lens Studio Creator and are still not in touch with our team – hit us up, say hi and show us your Lenses – we're here for you! 💪✨