2021 F8 Hackathon Wrap-Up & Lenslist Selection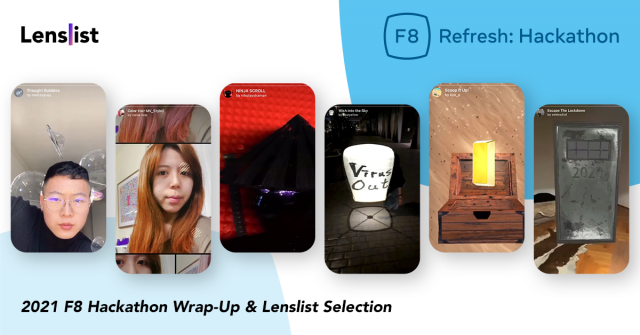 As one of the official partners of this year's edition of F8 Hackathon, we are very exicted to share with you our wrap-up of the contest. Discover winning projects, browse through the selection of submissions made by our team and hear from the winner of a Track 1 challenge: Matthew Chen.
As the amounts of creativity released by the hackathon turned out to be amazingly huge, we are sure that jurors had a tough time choosing the winners. Still, 6 winning projects and 5 honourable mentions from the two tracks certainly deserved the praise they received 👑
In the hackathon, there were seperate 2 Spark AR challenges. Let's dive into their specifics and meet the winners! 🏆 Below, you'll find our selections of the projects submitted to each track 👇
Track 1: Spark AR in the present
Track 1 was the challenge in which the jurors were looking for AR effects that:
used the selfie camera 🤳
allowed someone to display a personal passion or an interest ❤
used at least one segmentation feature 💇‍♀️
Official brief for Track 1:
For this challenge, we're looking for you to create an AR effect with the selfie camera that allows someone to display a personal passion or an interest. This could be sports, games, causes, characters, or any other topic you can imagine. To do this, we'll want you to use Spark AR Studio to build an effect using at least one segmentation feature, like hair or background segmentation, to capture and express a person's personality and interests.
Track 1 Winners
1st place: 'Thought Bubbles' by mattespray
"An attempt to give users who have varying interests one effect that allows them to express their excitement on any topic. Creating a filter that is able to adapt to the user's need on any given day, in whatever way they see fit. Thought bubbles emerge from the head to reveal what's on your mind." (source)
2nd place: 'Color Hair MV_Style' by rumu.inno
"Tap and hold to start recording your personal Music Video. While the music on, the hair color and the layout will dynamic changing. We work hard to designing the frame's layout and check it matches the music's rhythms. Hope you enjoy it and feel like a superstar!" (source)
3rd place: 'NINJA SCROLL' by nikolayshaman
"I was inspired to create this effect: Mortal Kombat, 2021, and the Ninja Scroll anime. Thank you to Btrenta Classic-Taiko Drums, For the inspiring sound design. The sound of Japanese winter, accompanied by the primal rhythms of the taiko drums of the Japanese island. This is an experimental style. A little mysterious with light action elements." (source)
Track 1 Honourable Mentions
'Rock Tribute' by thebinarycurse
"How does one show a passion/interest for rock music? The easiest way is just to tell ofcourse. I thought the best way is to show it by letting you take part in an interactive rock music video! After more than a year of lockdowns and no events to go to, this one is one you can go to! I hope I put a smile on faces with this filter! I gave myself 1 objective: Create this effect by using shaders!" (source)
'Be a hero' by saint.abyss, carlulita.ar, antonellastone, nad.diro
"Earth caring is an important interest to all of us, so we seek to contribute to a global cause, creating an augmented reality experience for those who will change the future and who are also those closest to technology: CHILDREN. We not only want to educate, but also to leave a deep message, teaching that with what appear to be small actions, great changes can be generated." (source)
'Call of nature' by tsarenkova_anastasiya
"Many of us are busy with daily routine and troubles. We are forgetting to see how beautiful is the world around us. My filter is about to show 2 ideas: 1. The beauty of spring and nature 2. The creative abilities that Spark AR Studio provides to creators." (source)
Matthew Chen (@mattespray), the winner of Track 1, accepted our invite to share his thoughts about a hackathon:
I'm an industrial designer who graduated during these crazy pandemic times. While on my job search journey, I've been using Spark AR as a creative outlet as well as a way to relieve stress from the uncertainties in my life.

All that to say, designers know the importance of an iterative process: fail fast but learn quickly. I think that's what draws me to hackathons. Having a short time limit forces you to push through your ideas without having the burden of second guessing yourself. There's no expectation of perfection, allowing you to try new things which often results in more interesting outcomes. Once you get in that creative zone you're able to come up with more innovative ideas.

This was my first hackathon, so I didn't know what to expect. Although being online, it was still very exciting for a newcomer. Hopefully I can participate in a hackathon in the future that is in-person so I can meet/collaborate with more amazing creators. Thank you to everyone involved in this year's hackathon, I am so grateful to have had this opportunity to present my work!

– Matthew Chen
Track 2: Spark AR in the future
Track 2 was the challenge in which the jurors were looking for AR effects that:
were a World AR experience 🌄
captured a shared interest or addressed a community issue 🤝
used either plane tracking or target tracking feature 🗿
Official brief for Track 2:
For this challenge, we're looking for you to create a World AR experience. AR is no longer for just our selfie facing camera, but AR can live in the world around you. What AR experience can you make with your back camera? Maybe something that captures a shared interest, in a shared place in the world? Or maybe something in your community that is important to you? To do this, we'll want you to use Spark AR Studio to build an effect using the plane tracker or the single target tracking features.
Track 2 Winners
1st place: 'Wish into the Sky' by newyellow, Ying Jun Li
"This is a world AR effect which you can write a wish on a sky lantern, and watching it flying to the sky. Sky lantern releasing is a famous blessing activity in Taiwan. People will write their wishes on the lantern, then releasing it to the sky. We are living in a difficult time right now. So we want to build this project to gain some positive energy." (source)
2nd place: 'Scoop it Up' by tomaspietravallo, bittermesh, kyo_p
"The accumulation of plastic waste in the marine environment such as deltas, coastlines, and the ocean surface is drastically increasing. Plastic pollution poses threats on aquatic life, ecosystems, and human health. We decided to shine a light on this issue through our first AR eco-friendly game, Scoop It Up!, where users are challenged to clean up an island's plastic in a short span of time." (source)
3rd place: 'Escape the Lockdown' by seelosdvd
"My idea was to create an "escape the room"-game, reflecting the current situation of lockdown driven social disdancing due to covid-19. The motivation was to make the game as interactive as possible as well as fun and educational at the same time. In the best case I want to communicate the importance of getting vaccinated in a playful way. Have fun & stay healthy!" (source)
Track 2 Honourable Mentions
'Thank you for your support' by 2nd.llayer, morefilterspls
As many people, especially businesses, are going through a tough time during Covid-19, we want to make a filter that helps them express gratitude towards their supporters. The effect will be triggered once a specific target is detected. The target image can be put on products, packages, letters together with the effect QR code before the delivery. * We use the target image from freepik.com. (source)
'Puggy' by bagdellenok, shivekxr
Pugs are the breed with genetic disorders. The effect eternalizes the adorable behaviour of our smaller friends while no real dog is hurt. In the future virtual dogs will help people learn how to interact with, or take care of real pets. An AR dog might be a safe and allergy free substitute for a real dog and there are no real consequences for being bored with digital adoptee. (source)
Congratulations from our team to the winners and to all of the participants! 👏
And now, check out 63 of the submitted AR effects, selected by our team 👇 Have your favourites? Share them with us here.
Track 1: 'Spark AR in the present' Selection
Track 2: 'Spark AR in the future' Selection