AR Talks | Phil Walton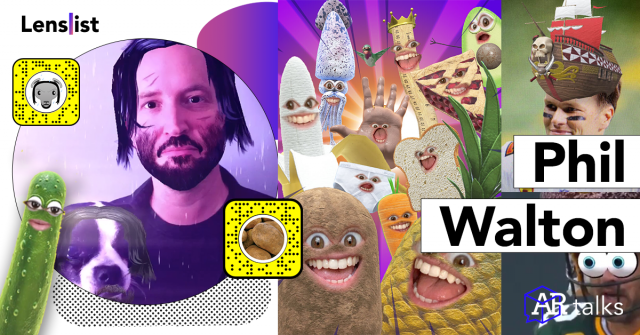 Our today's guest is Phil Walton, who you must have heard about already – his viral characters like Potato, Pickle and Squid all turned into Lenses have been used by Snapchatters literally billions of times. He's one of the Creators, who stuck to his style and proved that originality combined with persistence and ingenuity is the best recipe for success in the social AR space. Find out more about his journey, inspiration and look for some high-quality advice he spread all around this interview. Let's hear it from Phil! 👏👇
First, please tell us more about yourself – where are you from and what is your background?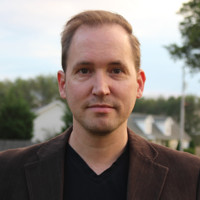 I was born and raised in rural Minnesota. I grew up watching the best (and probably worst) entertainment the 80s had to offer a kid. Bugs Bunny and The Muppet Show at the high end and awful Saturday morning cartoons that I would just watch because I loved everything and had no concept that a show could be bad– Super Mario Brothers Super Show, MC Hammer's Hammerman and I could go on. But I think all that shaped my artistic and comedic sensibilities. I like weird stuff – the kinds of things people would be making memes about today. Also, I drew a lot growing up and even though my parents were pretty encouraging, I don't think I ever really considered art as an option. The impression I probably had of that career path was that of the "starving artist": talented and broke.
I didn't really have a solid plan for my life after high school, so I followed in my dad's footsteps and joined the Air Force. I did six years in the military as an aircraft avionics technician before leaving to go to art school in Portland, OR. I studied animation, 3D and video editing. My first job out of college was at a small animation studio back in Minneapolis where I worked as an animator on a kid's series called Auto-B-Good. Over time, I learned nearly every aspect of the production pipeline. It really gave me a strong foundation for working in 3D programs, character design, and storytelling. I even got to write and illustrate nine children's books for the Auto-B-Good series. So that was how I began my career in 3D art.
Now please explain your AR journey – when and how did it start and what made you continue to make Lenses over the years?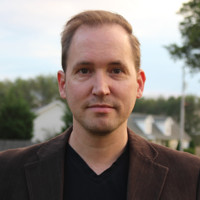 I actually started off working in VR first. A friend had convinced me to move to Nashville, TN where I picked up a freelance job as an art director on a VR experience for a science museum. Best of all, the experience was about dinosaurs. You know when you're a kid and you say things like "I want to play with a T-Rex when I grow up"? I was actually doing that, and it was amazing.
After that job had finished, another developer and I decided to strike out on our own and find more work in the VR/AR space. We picked up an agency job doing a Snapchat/Instagram filter for a country music star's song release. Just working with Lens Studio for the first time was eye-opening for me. I could build awesome AR experiences myself without knowing a lot about programming. I also noticed that Snap had this program called Official Lens Creators (OLCs). Without a lot of expectations, I applied for it thinking the certification would be good to have to bring in more business, and to my surprise, I was accepted. And it was in the OLCs that my real education began.
I was like the cocky high schooler that graduates valedictorian and then goes to some elite university and quickly realizes they're average. The OLCs are this amazing group of AR creators from around the globe and everyone is talented in different ways. Getting to meet and hang out with them in person was hugely inspirational for me. It made me want to push myself to be the best creator I could be.
As you mention on your website, your work has been enjoyed around the world, over 3.6 billion times (not too shabby indeed 😁) – what do you think about this fact? It's a huge accomplishment, but as we know with success and power comes responsibility. Do you ever think about how your projects (and social AR in general) can influence the end-users?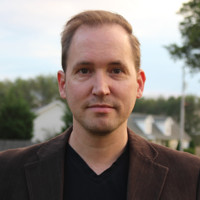 I'm really proud to have made something that has resonated with so many people. But yeah, that number doesn't even seem real to me and that's not even counting the 651 years of time people have spent in my Lenses on Snap Camera. I mean, the point of doing any public creative work is that you want people to engage with it, so it's super flattering to have that kind of reach and influence. People are pretty savvy about what they think is worth their time and there's no shortage of entertainment possibilities, but for some reason a lot of folks really enjoy being a potato and that makes me happy.
I do think about what that kind of reach means and what my own responsibilities are. There's been a loss of confidence in leadership in so many areas of our lives. So, as someone who has a bit of the public trust, I feel like that does come with the expectation that my work reflects the weight of that. I also believe that what you put into the world is what you want the world to be. So, I try to make the things I create reflect a positive, maybe more hopeful worldview. Bob Ross made a difference in the world by painting happy little trees. I think there's a good lesson in that.
Your Lenses, even though made mostly for the selfie camera, don't really focus on the user's face, usually exchanging it with a funny character. Why did you decide to make it your style?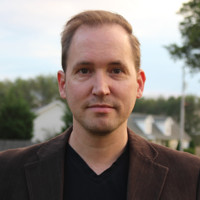 Since my background is in 3D animation, it made sense for me to create Lenses that played to that strength. And I'm sure my love of muppets and weird animation also played a part.
I think people respond to my Lenses because it's fun to sometimes slip into a different character and be someone (or something) else for a while. There's just some intangible quality about seeing yourself as a pickle, pineapple, or a floppy squid that people respond to. It's like improv in a way– you almost instinctively know how to perform when you're using this Lens. I try to design my characters to be appealing in a way that makes people want to move and smile and have fun. It encourages the user to create their own story, and the more wiggly, hairy or floppy the character is, the better.
We loved to see your famous Potato Lens used by Taco Bell's CEO to announce potatoes coming back to their menu. I think it was the first time social AR was used in this way, so please tell us how did it all come about?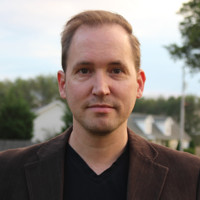 A bit of a silver lining for me during the pandemic was that a lot more people were using Snap Camera, which allows you to use Snapchat Lenses on your video calls. My Potato Lens became an early favorite and even went viral with the 'Potato Boss' twitter story. There were a few others as well that helped elevate the Potato to it's 'world famous' status. Needless to say, the potato had become a cultural phenomenon.
In December, I was contacted by the agency that handles Taco Bell's advertising with the idea of putting CEO Mark King in the Potato Lens to announce that potatoes were coming back to Taco Bell. In terms of brand partnerships, it was an ideal match. Taco Bell has a great track record for innovative ad campaigns, and this was right in their wheelhouse. I didn't take much convincing to get on board. And yeah, the response was great.
Not long after the Taco Bell activation, which went viral all over social media, you hit another strike during the Superbowl, creating multiple Lenses in collaboration with Nickelodeon. Please tell us more about this experience and Lenses made for this event.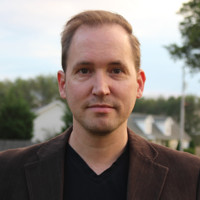 I started working on staff as an AR creator for Nickelodeon's Unfiltered show in the midst of the pandemic. Television production had to overcome a lot of new challenges because of Covid, but Unfiltered found a unique way to deal with it – by doing the filming over video calls. They used Snapchat Lenses to disguise their mystery celebrity, and their panelist of kid contestants had to guess who the celebrity was. My job was to create some of the cool AR characters that were used to disguise the guests on the show. We were really happy to see the show take off in popularity and if you haven't seen it, definitely check it out.
It was well into the 2nd Season that I was brought in to a meeting with Nickelodeon's Special Events team that was doing a first-of-its-kind simulcast of the NFL Wild Card game for kids broadcast on Nickelodeon. It would feature all the Nick favorites like Spongebob and the green slime and they were also looking to use some real-time Augmented Reality effects. I was tasked with building some fun Snapchat Lenses that would show up on the players during the game. The broadcast ended up being a huge success for CBS and when the Super Bowl came around they were eager to jump in again with a set of custom Lenses for the Buccs and the Chiefs. It was definitely a career highlight for me.
What's cool about your projects is that even though they're usually what we call meme or prank Lenses, designed to then create funny content with them, the quality of your 3D models is always on point. Can you tell us more about your process of making the models?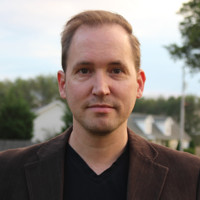 Thank you for saying that. There's actually a lot more work than you'd think that goes into making a good AR experience. I try to always start with an appealing character design. Good Lenses are fun to use and the best are ones you want to use over and over again. Plan out what you want the user to see, hear, and do while they're using the Lens. There's lots of great resources currently out there for building good models with great textures, so use those. And keep in mind your technical limitations for polygon count and file size as you build. Practice your craft. Don't worry if you're not very good at first. Keep working and learning from the experts, and you'll get better. And my final bit of advice is to really test your work before you publish. Add those finishing touches to make your work better than what's currently out there. And make sure everything works – there's nothing worse than a broken experience.
You seem to be one of the most successful AR Creators in this space – what advice would you give to Creators, who are at the beginning of their AR journey?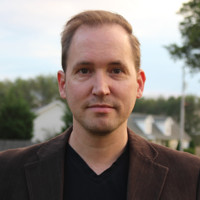 I notice a lot of new creators are interested in how to get more views and exposure for their work. When I started, I had been making Snapchat Lenses for over a year and a half and not really getting much attention for the stuff I built. I felt like the quality of my work was improving, and I was learning new skills. But, my views and usage were really inconsistent. In fact, there seemed to be an inverse relationship between the amount of effort I put into a Lens and the views/uses it would get. I was frustrated but not clear on how to get better results. And artistically, my Lenses were all over the map.
I believe that it was shortly after seeing a Frida Kahlo exhibit at my local art museum that it really struck me. Frida had this iconic, unmistakable style that was all her own. She embraced what was uniquely herself and that defined what it meant to be Frida Kahlo. I had to ask myself: what defined me and my work? Was there anything to define what a "Phil Walton" Lens was? Could someone, at a glance, know my work? Making a conscious choice about what my art style was, ended up being a big turning point. Now, I get people coming to me specifically because they like my work and want my kind of Lens.
So all that to say, my advice to other Lens creators is to be more conscientious about the visuals and Lens that you are creating. AR is a visual medium and I don't think it's wrong to consider ourselves artists – we should think like artists. Try putting out Lenses that share a common visual language and theme. Create a style that's all your own. I think you'll find an audience that resonates with your work.
There is a huge discussion right now about NFTs and selling digital art, including AR projects, using blockchain – what do you think about that? I saw you were tweeting about it jokingly, but are you planning to take your chance with NFTs?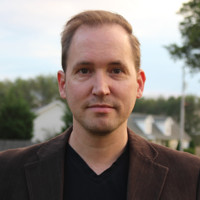 NFTs are definitely a hot topic at the moment, and they're not without their own controversy. Criticisms range from the big carbon footprint created by the Ethereum blockchain, to the fact that you're not even buying digital art, but just a part of the chain that says you own the art. And with some recent high profile, high dollar sales of some NFTs, there's getting to be a sort of gold-rush mentality with people charging into the marketplace. And there's still a ton of stuff about NFTs that I'm largely uneducated about.
Ultimately, I'm supportive of new paths for creators to get paid for what they do. Ironically, social AR creators are kind of the new 'digital starving artists' right now. We get paid when a client commissions a custom Lens, but that market is still developing as brands are starting to think more about social AR. The rest of the Lenses we create, we do just because we love it. The monetization side still needs to catch up. NFTs might become part of that solution.
More Phil Walton's Lenses
I'm extremely gratified that my work is so popular. People have even started entire channels featuring one of my Lenses. But, as someone who makes largely unmonetized Lenses that have gone viral and have all these views, it's hard not to look at the successful NFT sales from Beeple, Pak, or Grimes and wonder, "Would someone pay a million dollars for a Potato NFT?" I'm sure it depends on a few factors, but how can I know unless I make one? Ultimately, I'm still open to the idea, I don't think I'd want to do it without a solid plan and the right support.
Huge thank you to Phil for taking the time to give us such interesting, introspective answers! We hope that his advice will prove to be valuable and more and more AR Creators will be able to achieve as much as he did, staying true to his own style 😊 🙌