10 AR Filters' Creators You Should Follow | March 2021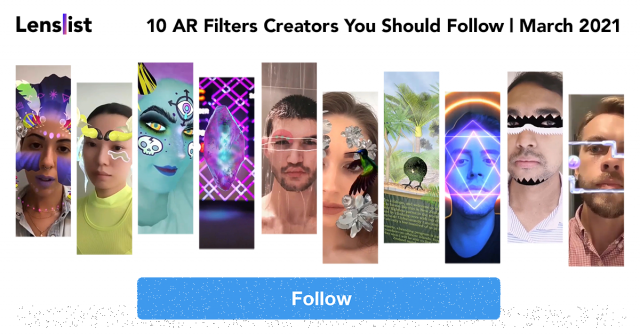 AR community has many amazing Creators, and every month, we present to you those who are especially worth your attention. In March, we've asked 10 of them to tell us more about their AR journey, their plans for the future, the style of theirs filters and about what inspires them. So get to know them and try out their filters!
Sedef Ertem | sedef.ertem
Sedef is a visual artist originally from Istanbul, Turkey. She creates 3D animations, illustrations and AR art for Instagram and Snapchat. She works as a freelance designer for individuals and small brands.
I have been working in the 3D animation field for the last two years and I started experimenting with AR towards the end of 2019. I love the real world but it is incredible to be able to make it more colorful, bold and playful. And AR is the perfect space for that.

I created my first social media AR filter in collaboration with an illustrator for IG in the beginning of 2020. I had so much fun while creating it and I really enjoyed the reactions I got from people, so I continued creating more. I am very happy that new opportunities have begun to appear in terms of business as well, thanks to AR. Other than commercial works I try focusing on creating personal projects. My source of inspiration is my own life experiences. I try to show what I'm going through or what I'm thinking at that point in time in a subtle way.

Visual style vise, I always liked simple soft forms and bright colors so I try incorporating those a lot into my filters.

My next plans would be creating more AR experiences regarding social and environmental issues. I would love to dive into VR space as well. And of course I will continue working on my short animation projects.

– Sedef on her AR journey
Chakky Kato | chakky.kato
With early beginnings in fashion, Chakky wanted to learn more of the human figure with undergraduate & graduate degrees from the Royal Academy of Fine Arts in Antwerp, Belgium. Most recently, Chakky is immersed in the developing AR field & searching for new interactive art and ways of communication.
My journey started when friends asked me about what kind of AR filters I would make. This triggered my curiosity and I started learning more about AR, Spark AR and Lens Studio. I like to use both platforms because they each have different strengths.

I feel like I still have a lot to explore and learn and I'm really excited about it. I think I have a basic understanding of AR filters, so for the next step, I want to combine other artistic interests like music and sculpture with AR.

Most of the times my filters are connected in some way with my art or music. I use materials, objects and words to refract and highlight specific contrasts and contradictions in Japanese culture, habits, etc. I enjoy finding aesthetic forms and ideas in that space that makes up the between/border/difference.

– Chakky on her AR journey
Florencia Raffa | florenciaraffa1980
Florencia is a graphic designer living in Buenos Aires, Argentina. She started with AR filters during pandemic and fell in love with changing the perspective of reality.
I started doing Augmented Reality as a game since last year's February. I was operated on for cancer and as I was undergoing chemotherapy I wanted being bald not to be a bad memory for me, so I began to learn this new universe. I got caught up in creativity and all that one can achieve and improve. Day by day I was learning more, setting a style, letting myself design characters, and today, thanks to this, I am working remotely on something extremely exciting!! So I will continue since this does not have rubs for me!

– Florencia on her AR journey
Pavlo Tkachenko | masketing.design
Pavlo is an AR Creator from Ukraine working at AREYES Studio. Besides having 1 year experience in AR and more than 10 years in 3d graphic design, he is a seasoned sailor with a full Nautical education.
Ten years ago I started to study 3D design and Blender. At this time I graduated from university and became a sailor, so design has become only a hobby.

Few years ago I decided to quit with the sea and turn my hobby into favorite job. I began as a freelancer, took part in different projects and worked with different people and companies.

Previous year I felt necessity to grow and develop in a particular field. I've looked around and chose what I liked the most — AR. During the year I was upgrading my skills, reaching goal after goal and so I'm here where I am — a part of a cute company.

I don't plan to stop and will continue studying and raising the level of my knowledge and skills. Remember, even if you are self-taught specialist, anything is possible. The only things you need to reach purpose are persistence, self-confidence and thirsty for new knowledge.

– Pavlo on his AR journey
Philipp Basler | basphi
Philipp is a visual artist working on animated drawings and AR pieces based in Offenburg, Germany, with an experience in creating interactive experiences for brands and artists.
I'm always trying to bring the spontaneity and nostalgia of the analog drawing process into my digital artworks and AR filters. The filter creation process always starts with drawing and when I got something that I like I start animating it and bringing it into AR 🙂

– Philipp on his AR journey
Valerie Disorder | valeriedisorder
Valerie is a freelancer 3D artist from Russia, based in Moscow. She graduated from HSE ART & DESIGN SCHOOL as a graphic designer and CGI artist.
I started my AR journey by creating filters with 3D objects that decorate the face. It has always been important for me that 3D objects (animals and other elements) look unexpected and aesthetically beautiful, magical and even strange, and also come together in a composition. This trend has continued, I like the concept of filters as fashion accessories. And yes, I love crystals! My first LiDAR Lens on Snapchat is crystals.

I am currently creating a collection of Instagram filters and Snapchat lenses. There will be more emphasis on animation of objects, the style will remain the same.

I would define my style like digital makeup consisting of 3D objects (mythical creatures, animals and plant elements). Fashionable accessories. Compositions of 3D objects, united by one subject. Sometimes also AR effects with animated creatures in the environment.

I am mostly inspired by high fashion and anime.

– Valerie on her AR journey
Phil Cohn | philcohnartist
Phil is a British-born artist living in Amsterdam who loves making intricate/surreal artworks. He works as a freelancer creating AR filters, 2D and 3D designs. Get to know him better from his website.
I have always loved making art, and have been drawing and painting for years. With AR, I find that it enables a whole new form of expression, there are really no limits! I have been able to create a forest that people can walk around, a virtual interactive ship in a bottle or a floating space station above a wormhole. I also like sharing my knowledge with others, as this is such a fast-moving industry and there is always more to learn! I've written several tutorials on Medium, and plan to write more soon.

A lot of my inspiration comes from the environment, both built and natural. It can vary a lot though, sometimes I'll be listening to a song and suddenly get an idea for something based on how it makes me feel, but sometimes it might be more goal-orientated (the museum one is an example of this – I wanted to bring a virtual museum experience to people's phones). With everything that I make, I always want it to have a positive impact on the world – even if it's just making someone's day a bit better!"

– Phil on his AR journey
Nelson Rebolo | nelzster01
Nelson is a 3D designer with more than 15 years of experience and a co-founder of Pixel Chefs, a South African group of designers and friends realizing mixed reality and motion graphics projects.
When I started my AR journey with my partners, I had an idea of where it would take me but I never guessed where it would take us and what we would create which I think is a beautiful thing and am super excited to keep pushing it to the next level. Especially with AR eyewear and world effects. Most of my inspiration comes from the AR community, life in general and the amazing art shared on the web.

– Nelson on his AR journey
Prakash Perumal Haridas | prakashph
Prakash is a visual artist from Singapure who describes himself as 'a blogger, animator and geek'.
The idea of how now anyone can quickly get started in creating an AR effect is just wonderful. More so than creating, I find it more exciting to discover what the community and those who are really new to this medium come up with. I had the chance to join a meetup with some of the local creators here in Singapore through this and that was pretty cool!

Currently I'm looking forward to new ways of play and expression in AR. Interested to see where the next wave of technological improvements will take the AR scene to! As I am also working in the education industry, I am curious to see how the evolution of this medium might also be beneficial for teachers and learners to adopt (if needed and where necessary).

I love all things experimental, geometric, patterns, procedural elements and abstraction. I also work on animation and motion graphics as part of my day job. I see AR as a fun way to combine these things together in a form of virtual assemblage. For inspiration, I don't have a fixed point of reference. It can come from a conversation, a book or a movie. Sometimes inspiration also comes from past personal doodles I had done or from loops or GIFs that I had dabbled with making.

– Prakash on his AR journey
Denis Korobov | korobov_denis
Denis is an official Spark AR partner with big experience in AR industry including 2d design, motion design, 3d design and more.