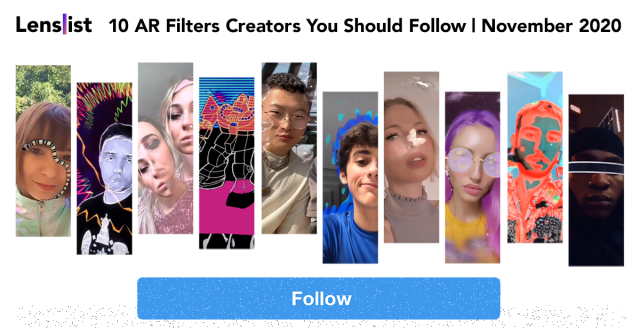 For 5 months now we've been recommending you Spark AR Creators to follow – and we continue this tradition in November. Check out what inspires them, what do they like about Spark AR and which of their effects are their favourite ones. And, of course, start following them!
Mona Birkas | @mona_birkas
Mona Birkas is a media artist from Budapest, a graduate from the Hungarian University of Fine Arts. In her work, as she says herself, she reflects on the contemporary social issues, especially those concerning media.
'The forest dancer' is the latest effect I made. This work was inspired by my childhood experiences. In the fall, I always made different figures from the fruits and imagined how good it would be if they came to life and could play with them and walk in the woods. Thanks to the augmented reality technique, this dream of mine has finally come true. – Mona Birkas on her 'The forest dancer filter'
Yegor Ryabtsov | @yegor_ryabtsov
Yegor is an Official Spark AR Partner with 2 years experience in Spark AR, fascinated by 'technical challenges'. Not long ago he created an amazing filter for an art company Ecstase. Watch and try it out here.
For me it's the fascination with technical challenges, but also how solving those can translate into something visually appealing, that keeps me motivated to create. In some sense that's the overarching theme for all my filters, they may be different in style, but there's always this point of connection between something quite logical / abstract and aesthetic / immediate. – Yegor Ryabtsov on the style of his filters and on what inspires him
atonieja | @atonieja
atonieja is a 3D artist, a painter and an architect. Although she has a full time job as a 3D artist, for a year now she's been creating in Spark AR and engaging in the creator's community.
Close observation is a powerful inspirational tool. Colors, light and shadow, physical world is full of things that can be inspiration for me. Message-driven art is magical when it is clear, but risk being obvious so I emphasize the good parts, alter the weak parts and over many changes an image will emerge as I wanted. Spending time in your own head is important. Just start making. The first draft is never your last draft. – atonieja on finding an inspiration for AR filters
Kevin Kripper | @vsynth74
Kevin Kripper is a visual artist and indie software developer based in Buenos Aires. As an artist, he exhibited in several festivals winning in 2016 the First Prize at the Itaú Award for Visual Arts. As a developer, he builds software that extends the creativity of both musicians and visual artists around the globe. His last development is Vsynth, a well known modular virtual video synthesizer.
Vsynth's filters are inspired by analogue video tools and techniques pioneers of the electronic media art from the mid 1960s onwards. Taking ideas from different video-synthesizers and processors I created a shader patch library that in relation with patches like shader render pass and delay frame, allow me to explore this wild field. Creating from more classical video-synth patterns like the ones you will find in Square Wave Knight, to complex video-feedback systems like the ones from Gummy Worms or Suspended Drops…or even simulating old CRT tech like in the Chromaclear filter! – Kevin Kripper on the style of his filters and on what inspires him
Matthew Chen | @mattespray
Matthew Chen is an Industrial Design Grad from Canada. He got into 3D art and motion design as a hobby, but now he does it as a freelance job. He started creating filters during pandemic. He claims that filters need to be simple and effective, because people want to see their faces in the stories.
Coming from an industrial design background, my filters are always more 3D. I like to make cute heart themed filters, but I do have some more edgy ones here and there. I'm inspired by fashion and music. – Matthew Chen on the style of his filters and on what inspires him
Harun Köktürk | @hrnktrk
Harun is a Turkish Multidisciplinary Designer based in Berlin who graduated from DEU, Faculty of Fine Arts in 2015, Turkey. He is intertwined with the AR world since he got accepted to the Instagram BETA at the beginning of 2019. He focuses on creating Augmented Reality experiences while experimenting in various fields of art and design to discover new universes of the digital realm.
My favorite filter is 'ethereal'. It took me almost 4 months to get the final look. I was revisiting it again and again and trying to get as close as the most realistic otherworldly fabric look between plastic and silk. Still it doesn't look as I imagined but at some point I needed to stop and publish it. Otherwise maybe I'd be still working on it haha. Oftentimes I must burn my perfectionist side in order to make progress, but with every new project it reborn from its ashes… – Harun Köktürk on his filter 'ethereal'
Tomás Pietravallo | @tomaspietravallo
Tomás Pietravallo has been a creator for a year now. He's a freelancer from LATAM focused on experimenting on innovative Instagram AR filters. He shared with us that for him the favourite thing about Spark AR is a community of creators. He also likes 'having access to scripts and being able to build on top of the "standard modules", allowing him to create more complex effects which can't be done in the patch editor'. His main inspiration is the content he finds on Instagram every day.
The process of creating a filter is always changing for me, I like creating novel things which haven't been created before, and this usually means creating technically complex effects, even if they seem simple on the surface.

Creating a 'Butterfly Swarm' took about three weeks, modelling and animating the butterfly model took the least, most of the time was spent on the movement algorithm; the butterflies are programmed with scripts to behave as close as possible to real butterflies, so they don't move following a simple predefined pattern. Their colours are also slightly randomised so that they aren't exactly the same, reducing on the size of the effect without adding more textures.
The effect is tailored to work nicely with both the front and back camera.

The capabilities used are plane tracking (back camera), face tracking (front camera), 3D models, animations, segmentation, and JS Scripts.

– Tomás Pietravallo on his Butterfly Swarm filter
Sununguro | @sununguro
Sununguro is 'a digital designer exploring ways to convey ideas in culture through technology'. Check out his website to learn about his AR collaboration with Virgil Abloh and Louis Vuitton. He gains inspiration from 'everything and everywhere', exploring things he finds interesting.
I've been exploring some interesting applications of the target tracker. I also really like the ability to detect expressions like a smile. I think there are some interesting ways to apply this to an experience. – Sunguro on his favourite aspects of Spark AR
Julia Roga | @juliaroga
Julia Roga is a software developer and an AR artist based in Los Angeles with over 60 filters made. Her fresh-looking website is a testament to her design skills. Her clients list consists of Dermatologica, Nars, Glow Recipe and Banilla Co.
KATRIN | @why.not.say
Katrin is a Spark AR creator with more than 80 filters, from witty face tattoos to imaginative, beautiful masks exploring many different themes.
We hope that this article let you discover some new amazing filters to have fun with, as well as creators that may develop an AR filter for your brand. Feel free to contact them! Also, if you have any AR-related questions or would like to suggest a creator for the next month's decad of creators everyone should follow, write to us.