AR talks | Ksenya Lozytska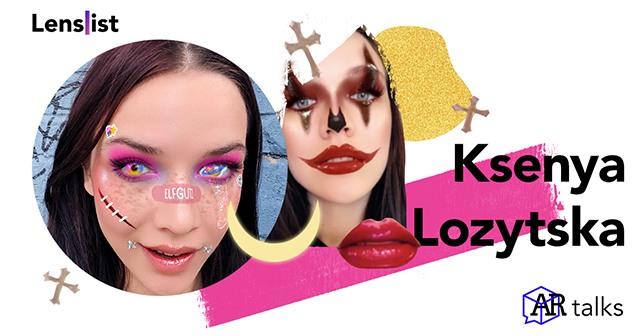 Ksenya (@wondermilk.me) is known as a specialist in creating makeup filters. She shared her view with us on how to become a recognized AR creator, why beauty brands must use AR and how the community inspired and encouraged her to continue developing effects.
Hi, Ksenya! First, please tell us your story. How did you become an AR creator?
Hello! I started learning Spark AR a year ago. Before that I've been involved in many kinds of graphics and art like illustration, beauty photography, makeup, retouching and was constantly looking for something new. I remember the day my boyfriend told me "check out this app, you can make filters with makeup and other effects here". This sounded very promising and soon I realized that AR can combine everything I did before in one, brand new image.
Your bio says that you're a "make up filter artist". And indeed, you are known in the community as a specialist when it comes to makeup AR filters. What is so special about these kinds of effects that you've decided to focus on them so much?
As I know, the community consists of creators who mostly were somehow connected to any kind of graphics, design or programming. Now each of them chose the genre in AR which is the closest to their previous experience. So did I. There were no questions like "what filter would I do". I knew it should be glitter! And I still keep my very first filter in my gallery.
Crybaby, Glitter Eyeliner
Before AR I loved to enhance beauty photography with retouching and collages, it always felt like my face is a canvas and Photoshop was the right tool to bring all ideas to life. But now it blows my mind how much wider the creator's opportunities become with AR, it is a completely new level of ART.
You have a unique business model that is an online store with filters. Did it prove itself to be right for you and useful for other creators and brands?
In the beginning of my career, so to say, I was not ready to run a public Instagram page, promote my filters, or shoot videos or pictures with it. Especially when there were so many successful creators, I was not sure the world needed another one. So I preferred to stay in the shadows and just run a shop on gumroad. Soon it became very popular, I had a lot of sales although I still had around 300 subscribers on Instagram.
stargazing, Precious
Few months later I had to take it down and even stop creating and to my surprise I had lots of messages from other creators asking what's wrong with my shop. They told me they loved my work and wanted to see more. This was like an inspirational bomb for me. So my shop is not just a business, it's like the beginning of everything. Filters are my main job now. As the main source of income, my shop gives me an opportunity to spend more time on creative projects and literally do whatever I want without worrying that filters like that are not popular among clients.
What tips would you give to beginners in Spark AR that would like to make the name for themselves? Is specializing in one type of filters the key to success?
I think it is important to find your own niche. Find what kind of art you are best at and develop it.
Personal brands are very popular in business now, people love to see that a product was made by a real person who puts his own soul in their work.
Don't stick to the statistics! This does not determine the quality of your work. Any other creators on instagram like make up artists or photographers don't have any statistics page and I am sure they have less reasons to be distracted from their real creative desires. Treat filters like a kind of art.
What do you think is the future of beauty filters on Instagram? Will they ever become a must-have component of online retail stores with make-ups?
I'm sure it is a must have for every makeup store online. It's obvious that people may need to see which color suits them most, but also people can see which kind of makeup is good for them even if they were never interested in it. I have my own example. I began to add nose and cheekbone contouring to my filters although I've never used this kind of makeup in life. The AR effect was so good that it persuaded me to purchase makeup products to try it in real life.
Golden Powder, Sculpting
So, makeup filters are perfect for marketing and better shopping experience. AR is still very fresh and not so well known feature for brands, but some of the most brave pioneer makeup brands are already working with me! So stay in touch to see a new release soon 🙂
Ksenya, thank you for sharing your thoughts with our readers. We can't wait for this new release of yours! Keep up the good work!