Successful Halloween AR Campaigns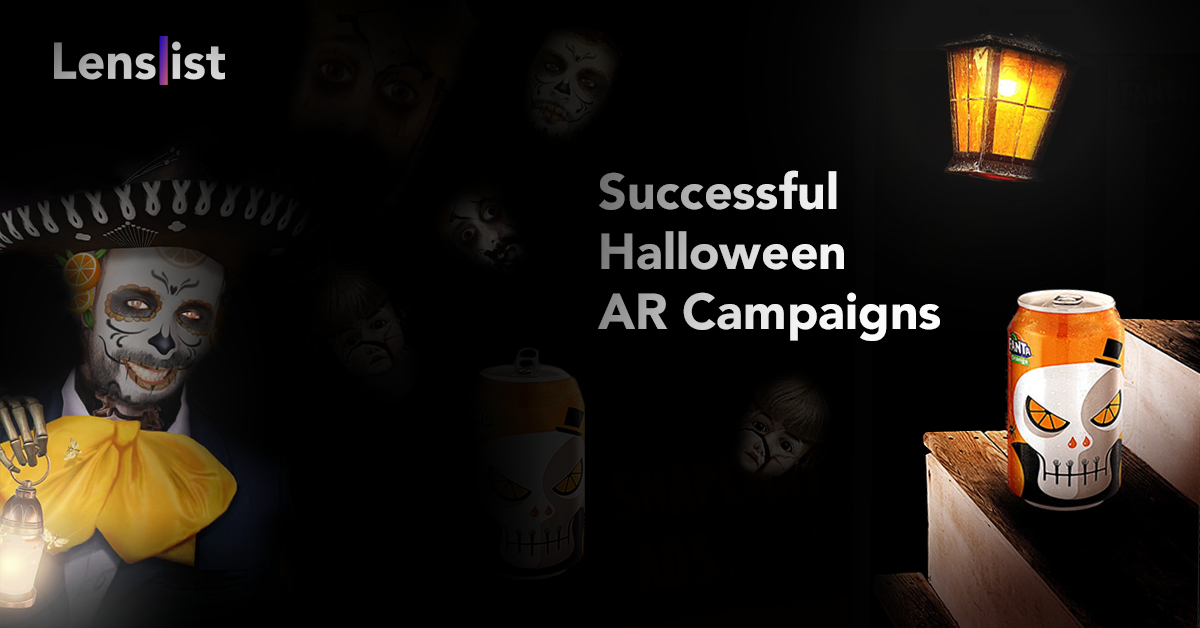 AR effects can be perceived as a digital equivalent of costume rentals, so naturally, their significance rises with Halloween coming to our doorsteps. It was proved to be true two years ago when Facebook, Instagram and Snapchat treated their audiences with lots of spooky filters and the response was both positive and genuine.
That is why last year, Facebook introduced its users to the special Halloween Story at the top of our News Feeds to let friends and family "come together through Stories when celebrating holidays". Needless to say, many new thematic effects were created, too – check out our 2018 Halloween favourites. This year, Halloween has a chance to be even more special, though. Instagram AR beta has been there for over a year, and now it is available for brands, too. The collection of spooky AR effects perfect for Halloween has grown significantly – soon, we will share it with you through our social media channels.
For now, as there is still time to create something remarkable before Halloween, let us inspire you by presenting how some brands managed to implement AR for their Halloween campaign in previous years.
The creative agency from LA, Avatar Labs, created Snapchat Lens for Fox Studios that resonated perfectly with the young Snapchat audience. The process of coming up with the right idea was well described by marketingland.com. The Lens promoting Peanuts Movie has been available only for 24 hours. It played off Snapchat's most popular Lenses, puking rainbows, but this time candy corn was flowing inside one's mouth instead.
Here is how Jason Steinberg, Avatar Labs' vice president of client services commented on their achievement:
"One of the things that are great about these Lenses is the element of serendipity. Snapchat is always introducing new things to be discovered and this was another one of these Easter-egg treats that people enjoy. And then when they found out they could interact with Snoopy and have him dance with you and have Woodstock on your head, that was just a real treat that resonated across the board. There were young audiences learning about the brand for the first time and old audiences who got to interact with beloved characters in a new way." (source: marketingland.com)
In 2017, the year of Fanta's rebranding using a "new visual identity" directed at teenagers, the impressive, award-winning Halloween campaign has also been undertaken. A comprehensive case study by shortyawards.com shows it as an example of a well-planned and creative integration of Snapchat Lenses into the bigger activation. The key idea was to lead up to October 31st by using increasingly creepy AR distortions and thus to cause the effect of suspense and mystery. Overall, Fanta "created five Snapchat lenses and five filters with the content changing daily to encourage repeat transactions through variable rewards". Spooky characters found inside were made by London-based Artist Noma Bar and each corresponded with Fanta's different flavour. The Snapcodes that unlocked exclusive lenses were put on the back of the products, but it was just one of many means of distributing them.
The numbers were impressive: 25 million unique users, 137 million impressions, average engagement rate from swipe to use was 37%, and more than 1.14 million on-pack Snapcodes were unlocked! According to Snapchat, an average of 37 seconds spent with lenses was one of the highest results they have ever seen. In our opinion, that last metric represents the true value of AR effects – when time spent with the content is high, it means that it is not just a shareable gimmick, but truly engaging and meaningful experience.
Caroline Kraft, Senior Brand Manager, Fanta Western Europe named Halloween 2017 one of their most successful Fanta campaigns in Europe up to date. In her words, it "set the foundation for associating the occasion (Halloween) with the brand".
Manning Gottlieb OMD was nominated for Social Buzz Award in Best Use of Snapchat category for 'Who's Your Pumpkin Head' lens made for Starbucks. Beloved Pumpkin Space Latte was the main theme of this AR filter, which combined the timing with the use of the famous seasonal product and high-quality execution. Not exactly a Halloween campaign, but we couldn't help ourselves when we saw this pumpkin head. The lesson is the same: AR works well when its content corresponds with what people love and what they're passionate about IRL at the time being, like around holidays.
Tourisme Bromont

Chapeau bas for the way the city in Canada is caring for its tourists on social media! For their autumn contest, Les Épouvantables Bromont (The Dreadful Bremont), Artbox agency created Facebook AR effect that turns the user into a scarecrow. Regional tourism clerks and brand managers should follow Bromont and Artbox in the way they bring innovative and engaging digital content to their audience.
We cannot wait for this year's Halloween AR activations, wondering if Instagram effects, recently opened for brands, will steal the show. If your brand or your client is interested in bringing AR effect to their audience, feel free to choose one of our Creators or ask Lenslist Team for help.