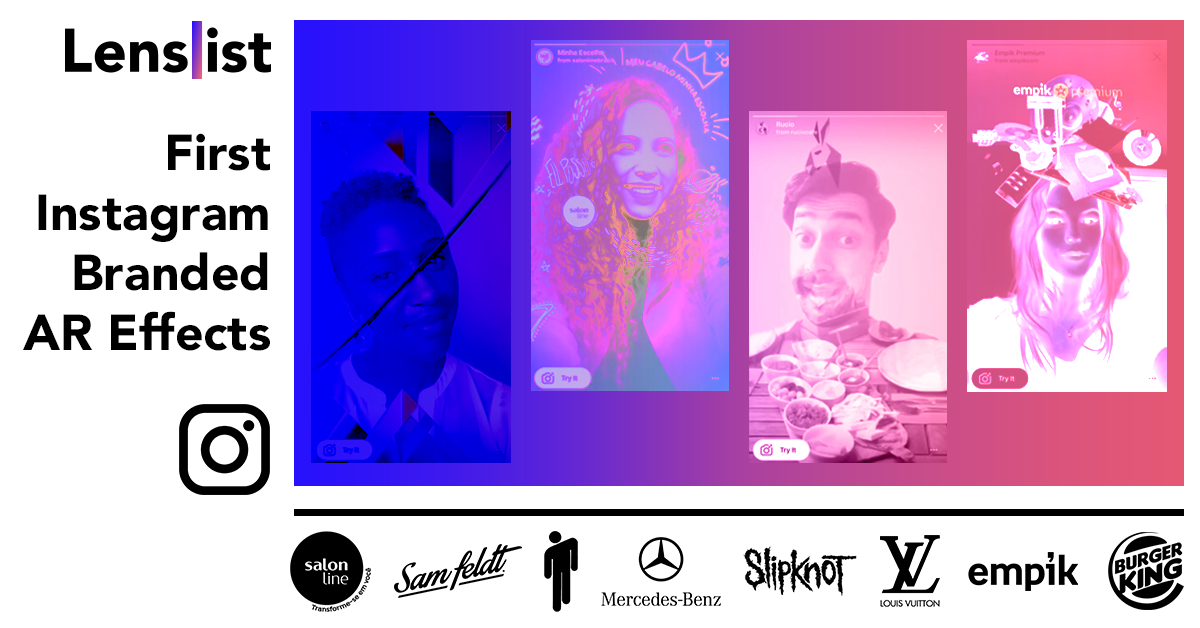 Boom! The world of social media AR will never be the same after what happened three weeks ago. Opening Instagram AR to the public means bringing AR effects to the whole world. It is crucial mainly for brands as they were finally allowed to publish their own promotional effects (see our Marketer's AR Pocket Guide entry about Instagram).
We were very curious about what would happen during these first few weeks when it comes to branded AR effects made for Instagram. That's why we share with you those we found most interesting. You can try them yourself by clicking on the links to Instagram profiles we've collected.
For starters, Brazilian Burger King published a Pac-Man-like AR game to interact with their Instagram fanbase. Move your head and collect burgers to become a Burger King!
Polish biggest chain of bookstores made the effect promoting their premium membership subscription. Tap to change the type of multimedia materials appearing on your head.
AR brings many possibilities to artists who'd like to engage their fanbase in a new way. The prime example here being Sam Feldt who created an effect full of music to accompany the release of his song "Post Malone".
No other b(r)and embraced Instagram AR like Slipknot. They've already made 10 amazing effects inspired by the newest collection of masks that have become a fundamental part of their identity.
The beautiful, hand-drawn effect has been created for Salon Line Brasil. It aims at visualizing the universe of Salon Line and their apparent motto: "My hair – my decision".
Bury a Friend by @johwska & @billieeilish
This one gives users' skin a plastic glean and pitch-black eyes, while a strobe-light flashes in the background. This is a look that Eilish has sported in several music videos.
Mercedes Caracciola, Fangio, Hamilton by @mercedesbenz
Mercedes-Benz created three effects which let you feel like you're inside the bolide of Rudolf Caracciola, Juan Manuel Fangio, and Lewis Hamilton, alluding to different eras of F1 racing. The first effect by Mercedes, though, was published a few months before opening public Instagram AR beta. "Play by your Rules" was a part of the millennial campaign and it exercised specific, glittery style of playing-with-light Instagram effects made viral by Johanna Jaskowska.
Damier, X-Ray, Technicolor by @louisvuitton
All three effects available on Louis Vuitton Instagram profile use segmentation to create colorful and artistic compositions. They don't promote the brand directly but give their followers well-crafted effects that can be wildly shareable.
One Love Festival effect takes from the spirit of the Istanbul summer festival and emanates fun that you can share with your friends.
Rucio Cafe from Istanbul proves that AR effects aren't meant only for big brands. All it takes to give your followers something special is an idea and a willing creator.
Hueman x Lyft by @lyft
Lyft's effect managed to combine great aesthetics and beautiful play with lights while corresponding subtly with a brand's mission. There's no need for a brand's logo when an effect says it all.
AR effect by Yves Saint Laurent puts makeup on user's face and relocates them to the "Neon Party", a space of stylish darkness cut by the stream of neon lights.
Promoting brands, engaging followers and organizing contests with the use of AR are becoming more and more popular. Don't hesitate to try it yourself as there are many ways to publish your very own AR effect on Instagram. If you don't know how to start, visit Lenslist Creators or ask Lenslist Team – we'll be glad to help you.