A Taste of Spark AR – AR Talks | Casie Lane Millhouse-Singh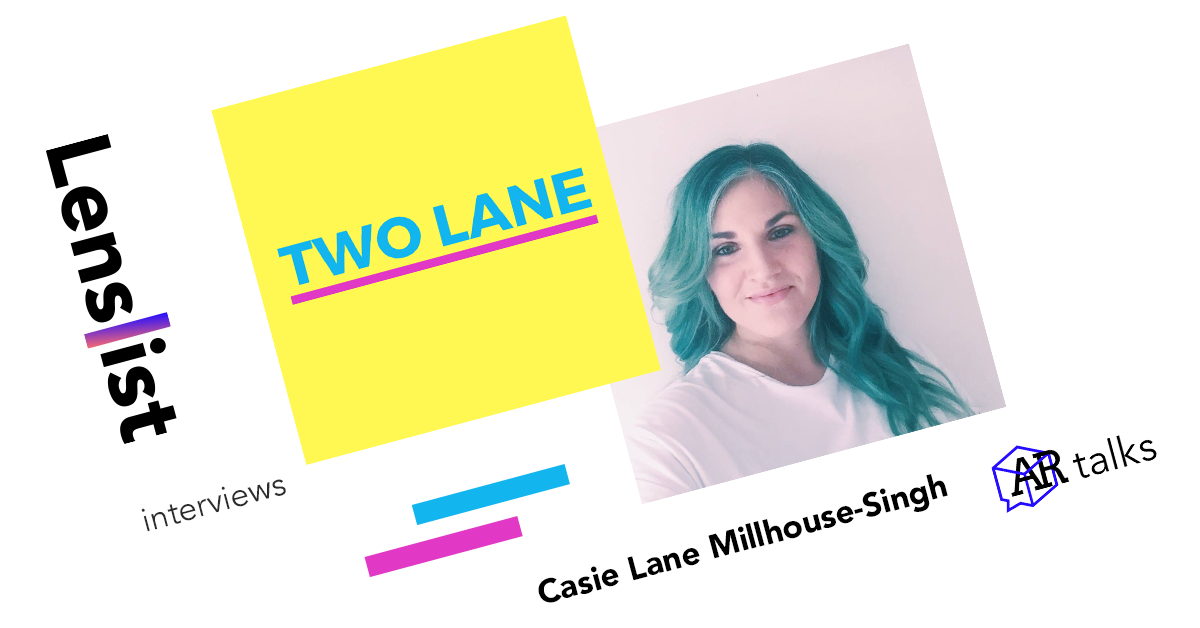 AR creator, a core member of the Spark AR Community and head of an ad agency – our next guest has it all. This week we give to you an AR Talk with Casie Lane Millhouse-Singh!
Hi Casie, let's introduce you to our audience. Please, tell us something about yourself and your social media agency Two Lane.
I'm Casie. I'm a bot & a human who runs an agency specializing in innovative advertising solutions like Augmented Reality for Facebook, GIFs, mobile stickers and anything under the sun to stay relevant in this ever-changing digital landscape. We match the tech with marketing know how to drive true business results.
Casie, you are known among the Spark Community for doing amazing stuff for the AR Society. Please tell us, where does this initiative for doing live streams and recording video tutorials stem from? What are the goals that you pursue?
It all started about a year ago when I set up a chatbot to build a database of creators who I could reach out to whenever we had a project come through. As time went on and the number of creators grew, it was hard for me to keep up with all of the talent out there. There are so many amazing individuals out there in this community launching effects every day!
I started seeing a trend where more and more creators only wanted to get access to Instagram, myself included. This, I believe, is a huge problem. If everyone opts to create on Instagram, there would be less growth on Facebook. From what I can see in the data we collect from campaigns with brands, many people on Facebook are lost when it comes to how the effects work. Some people have never had an experience like it before. It is our duty as creators, agency owners, product builders and part of the community to help educate, entertain and inspire on Facebook.
So, I decided to do something about it. I created the show to feature effects on Facebook & on Instagram with a balanced number on effects that I feature in the show and share my quest to keep creators making Facebook effects. My secondary objective is for talent scouting, I would love to hire everyone if I could.
I'm also using this content to test with GIF marketing from the videos. I want to see how these would translate into content marketing and search so we create GIFs of all the effects, post them on the video, in private messaging, in articles on our own domain and on Buzzfeed.
Apart from being a social media expert and an AR entrepreneur, you are also creating your own effects! Which one of your works is your favorite and why?
I am particularly proud of the effect I made with my 5 year old. It was a fun experience and now she's got the bug to learn more on computers. I think Spark AR would be great inside and outside of the classroom.
Who wants to start teaching kids how to use Spark AR? Hit me up.
In one of his posts, Marc Wakefield mentioned your name and admitted, that you played a big part in the development of his Like Hunter effect. In another post on the Spark AR Community Facebook page, you mention what seems to be close cooperation with the Spark AR team. Would you like to share with our readers the story of how you made these connections?
I asked. That's about it.
As a business-side expert of the Augmented Reality, what are your predictions, demand-wise, for the following years?
I wouldn't call myself an expert, in fact, I am really just a huge fan that knows how to translate it into sales for a business. Being in Singapore, I'm exposed to quite a few leaders in research in Augmented Reality. I've befriended a woman who has pioneered Virtual Reality in the 1980s which is not only totally awesome, but humbling at the same time.
What we can expect is what we'll be using in a few years will be the result of the research that is coming out of this small country and I'm so proud and grateful to be a small part of the community as a whole.
Thank you, Casie, for sharing your story with us. We invite all of our readers to see and take part in "A Taste of Spark AR" live show that will take place today at 9 A.M. GMT-4 time on Two Lane Facebook page!