AR talks | Caroline Rocha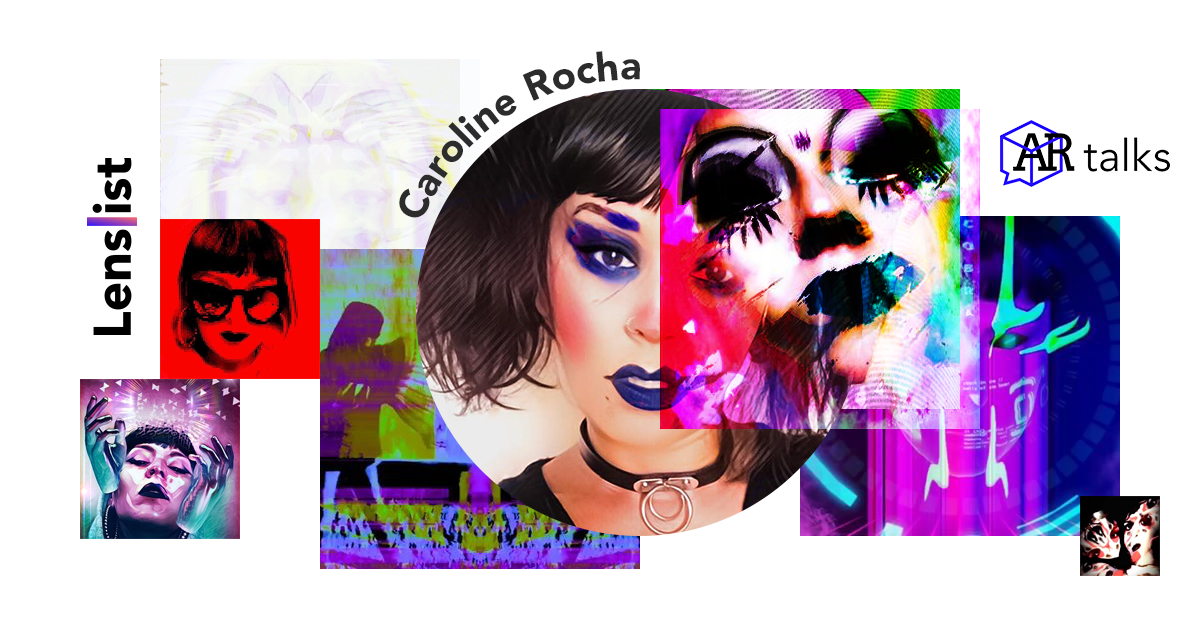 Usually, AR talks is all about developers. This time we are happy to welcome somebody who does a much different, but equally important work: Caroline Rocha. Her Instagram profile @frenchsinger is the place where she changes Camera Effects into real art. Much appreciated by Spark AR creators and Camera Effects' users, her collection and reviews serve the community as a vivid, beautiful and convenient space of AR creativity.
Hi Caroline, thank you for accepting our invitation! Firstly, please tell us how did it all begin? What gave you an idea for creating a profile collecting other people's filters and thus becoming a "Filter Queen"?
Well, I had a stroke a few years ago and my right hand and leg got paralyzed. I had to abandon my makeup artist career. So, I got very depressed. It's not easy to be very active and lose everything. So, I started to spend a lot of time at home looking at my phone and discovered Snapchat. I thought filters were super fun but not enough to really have fun with it.
And I created my Instagram profile based on photographies I took to begin with. Later I discovered my first Instagram filter because I was following Rihanna. I became very curious about it and started searching for others. I searched with hashtags and I found @face.effects Instagram page. And the bug started to bite… I started using filters just to edit pictures. But I started to receive messages asking for filters. So I decided to help – both followers and creators. Followers getting them the filters they wanted, and creators to get their work exposed.
The "filter queen" thing is funny… my followers started to call me names like "Filter Momy" and "Filter Alien"… even "Filter Dealer" ahahahaha. I met Ana (@bloganap) and Sabrina (@sabrinamendes___) who are filter reviewers also and we decided to form a group, the Filters Queens! We help each other to find new ideas and new kinds of filters.
We are very happy that your fundraiser for the AR event in Prague was successful! The fact that so many Spark AR creators contributed shows just how important your work is for the community. How would you describe your relationship with the creators and the fans of AR filters?
My relationship with the creators is great! I try to do my best for all of them and I receive a lot of love from them. I have more affinity with some of them of course but I love them all. It's thanks to them and an anonymous donor that I am going to Prague. It's incredible, they don't know me and they gave me money to make this dream come true. They are awesome!
It is clear that the work you do is your passion. How do you manage to keep your profile so vivid and noteworthy? Do you have any day-to-day rhythm or is it all more spontaneous?
You know, I think the secret is to be funny and a bit crazy 😜 that's my french particularity 😂 The "french touch" as we say… but most important is to be humble and truthful. The number of followers doesn't make who you are…and unfortunately, it's not the case with everybody. People chase for fame and money nowadays. They don't care about the human side.
I receive hundreds of messages every day asking for help for a filter or just to talk about abuses they suffer and I don't mind to spend my time helping. If my page serves as an escape for people, my purpose is served. All that I do is spontaneous 😂 mostly my stories! I think spontaneity shows who you really are 😉
You've tested over 2000 filters – it's really impressive! Do you have any favourite ones? Would you be able to make a list of the five best Instagram Effects?
I will say that I have a favourite filter for each creator. So it's gonna be impossible to make a top five. Every creator has their own style and esthetic. Every filter has its own purpose and particularity…sorry guys! 😂
That's no problem at all! Is there anything – a funcionality in Spark AR or a particular filter – which is something that you'd really want to see?
Actually, I'd love to see a lot more filters about bullying, LGBTQ and filters about prevention. Internet is so powerful that it's a way to pass the message easily. I would love to make filters too so I'm very happy that the Windows version is here now!
Actually, just today your first Facebook face filter has been approved and is ready to share – congratulations! Here is a link to try it and a video of me using it:
We've come to the last question: What does a creator have to do to have his filter tested by you?
To begin with, creators have to like me and like my reviews, I think. And then, they just have to send me the links of their filters (Facebook or Instagram) with their Instagram username and the instructions to activate the filter. Because sometimes it's really tricky 😜
Thank you for your time and for everything that you do for the AR community! We're looking forward to your future stories and posts!