5 XR Creators You Should Follow | June 2023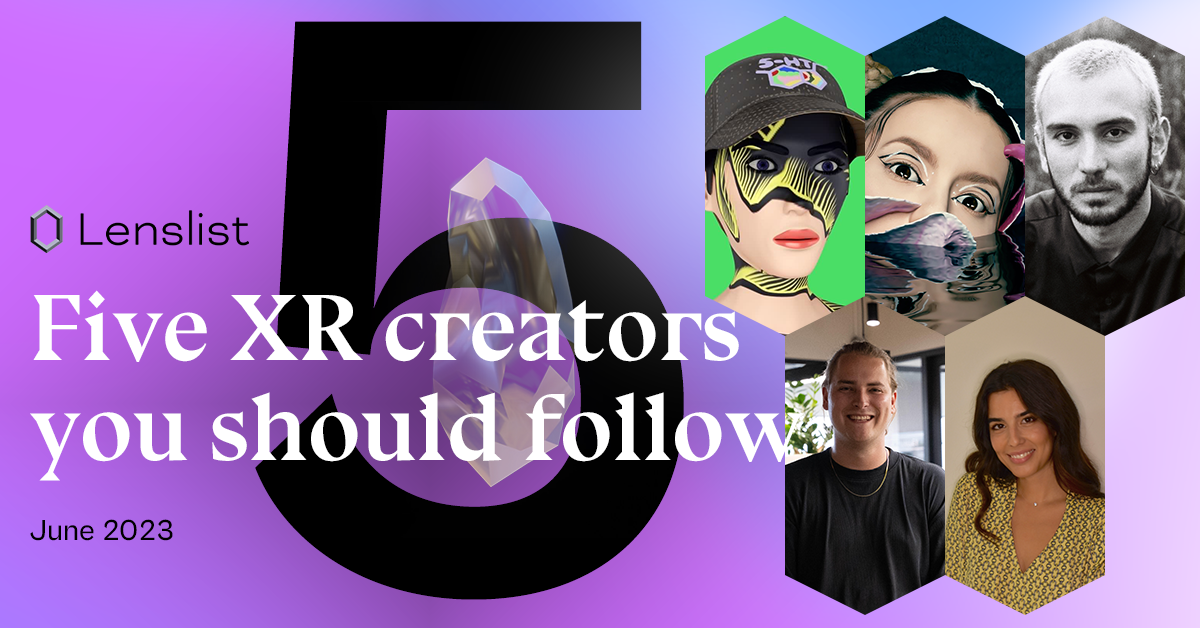 Once again, Creators open the doors to their mysterious and wondrous world of Extended Reality, inviting us to dive into their fantastical universes! ✨🌸 Let us welcome these latest luminARies – 5 XR Creators You Should Follow, encouraging you to explore the depths of their imagination! 😍
Here, the digital artists have provided detailed answers to the most pressing questions, while also sharing their most remarkable projects! 🙌🏻 From immersive portals and mesmerizing face masks to surrealistic designs…💚 You will undoubtedly be eager to follow their forthcoming projects! Don't wait, scroll down and truly admire their ARtistry! 🚀
⭐️⭐️⭐️
Why did you decide to start creating in AR / VR? Tell us about the beginning of your digital creation journey.
@ls528
I've been using digital creative tools since the 90s and moved into 3D about 10 years ago. I started experimenting with AR in 2017 using various apps available at the time and got hooked immediately as it gave me a new way to present my 3D artwork. AR is a super efficient way to distribute and share experience – I love that one file can be viewed and shared by people all around the world, and each user is able to generate their own unique content. Right now, I'm mostly using Meta Spark which is published on Instagram and Facebook but always open to new platforms and tech.
@map_space_
I honestly feel like AR/XR gives us Creators superpowers! It's incredible how we can design mind-blowing 3D experiences and manipulate materials and physics just like we would in the real world. The best part is that we can share these fully immersive experiences with people all over the globe.
@dannymarree
I started working as a digital marketer when I was done with my entrepreneurial bachelor's degree as reaching and influencing people over the internet always interested me. After seeing Lenses pop up on Snapchat which weren't made by Snap itself, I went looking for software to design one myself. Lens Studio was just out of beta during that time so I went and created some basic Lenses. Some of my earlier Lenses went viral on Snap and I got invited to the Official Lens Creator program, now called Snap Network, which turned into me flying to Los Angeles and meeting fellow Creators during Lens Fest. It really encouraged me to drop what I was doing and focus full-time on creating Augmented Reality. I freelanced on every project I could and now almost 3 years later I run an agency with a talented global team of freelancers myself, mostly creating Lenses on Snap but also the occasional effects on the Meta/TikTok platforms.
@sianfan
I first started making VR works because I want to create a digital experience that moved away from the flatness of the screen and instead considered the body and space. My background is in movement and performance, so the body is always really key in my works. At the time I was trying to use Blender to create a 360 animation, but wanted there to be an element of depth, and for the viewer to be able to move through the space. At the time 'immersive' wasn't the big buzzword that it is now, but it was essentially that quality of immersion and the manifestation of physicality in digital space that I was after.
A little bit later I started working with AR, using image-based markers to overlay digital elements. I was fascinated by the magical quality of suspending virtual objects in the liminal AR space. I'm really interested in blending the spiritual, metaphysical, or magical with the technological or machinic and AR felt like a way to bring these ideas together.
@hrnktrk
I started creating AR/VR because the idea of extending and bending reality is irresistible to me. As a Graphic Designer, I started feeling that 2D is not enough anymore, I wanted to find ways to extend my creative capabilities; then AR was a perfect medium for me to explore.
I'm a person who lives a significant percentage of his life in an imaginary world. 🙂 AR gives me the opportunity to merge my two worlds into one. So that I can express my imaginary world and share it with other people. When people use my effects it's such an excitement to me to see them be a part of my world.
I began exploring and creating AR in 2018/2019 when I got accepted to MetaSpark (formerly SparkAR) Instagram Beta. I can not forget how amazed I was when I saw Johwska's Beauty3000 for the first time. I immediately started researching how to create "things" like that and found myself deep diving into the AR world. AR/VR is a boundless tool that feels like anything is possible. The curiosity that comes with the thought of those endless possibilities that are fueling my creativity is such a joy to have.
What are the best AR / VR works you created? Could you show them to us and describe the workflow behind those creations?
@ls528
This is tricky because many of my effects have a special place in my heart – you can see them on my Instagram Filters Page.
5-HT Daytrip
I was invited to create an AR artwork for Art in the Age of Now, a group show featuring sculpture, street art, and installation by 100 artists at Fulham Town Hall in 2021. I selected the One Small Step installation that presented a series of space travel-inspired works. My AR effect featured two of my flowerhead avatars floating around a translucent earth in a gravity-free universe of high-velocity spinning planets. I made a soundtrack that features a clip from Timothy Leary reading from his book Psychedelic Renaissance The Goal of this Trip is Ecstasy which speaks to my digital art practice I call Virtual Psychedelics.
FLOWERPOP
Virginia Bianchi Gallery invited me to create an AR piece for their Warped Passages show, an AR exhibition in Bologna, Italy in 2021. Flowerpop was a development of a series of hypnotic kinetic flower sculptures previously shown by CADAF, this time I used multiple time-sequenced instances to add depth and volume in this highly constrained form of 3D visualization and experience. This effect was later selected and showcased by Instagram in their top ten effects of 2021.
TUNNEL NYC
Before I ever went to NYC, I read about the Tunnel nightclub in American Psycho and Disco Bloodbath. In an old riverside warehouse in Chelsea, I went there one New Year's Eve before it closed, and danced all night long. My AR effect brings those Tunnel nightclubbing vibes to the streets. I put my dancing flowerhead avatars in cages, just like the club with smoke billowing below but then swapped the cages for spiraling plinths, and made a heavy bass line to boost the mood.
@map_space_
Let me tell you about my favorite project so far: AR portals! It's like having superpowers. These portals can teleport you to a whole new location, and inside, which I like to call the inner world, you can discover anything from videos and images to interactive 360 websites and even NeRF. The limit is just your imagination and creativity. I'm really proud of this project because it showcases the full potential of AR portals. As an example, I recreated the wormhole from the movie Interstellar, so now you don't just watch the movie, you're actually in it!
And there's another exciting link coming out this week, so stay tuned:
@dannymarree
During the global Snapchat hackathon this year I created a very interesting Lens with Max van Leeuwen, a fellow Dutchman, in which we combined Lens Studio's latest features to create a farming simulator game. We won 5th place and you can find more details here.
As an agency we just finished two big Snapchat shopping Lenses for Lancôme, combining Snaps new shopping carousel with a fully immersive 3D shopping experience. People can check out products in the selfie cam, but also look around a virtual store, guided by the shopping menu itself.
@sianfan
My first VR work, Garden 2 was the very beginning of my work with XR and with subverting the expectations and energies of digital space. This piece is a sublime virtual environment, that immerses the viewer in a hyper-feminine oasis. Using photogrammetry to generate 3D scans of the artist's body, as well as of plants and flowers, the work meshes them together to create hybrid forms.
The fragmented bodies hide behind and burst through the floral elements referencing images of mystical females, such as goddesses, nymphs, and 'mother nature', all empowered by the female gaze. The work immerses the viewer in a virtual environment that defies the masculine image of technology. In opposition to the violent experiences of typical video games, the work instead invites the viewer to meditate, observe and exist. The work was made using Unity and experienced via an HTC Vive headset.
A cool AR work I created is called Orbit. Orbit is an Augmented Reality performance exploring the interdependencies between humanity and technology. The work is a duet and integrates a live webcam feed with AR technology using the game design program Unity to overlay digital elements over a performer's body. By mounting the webcam on the performer's chest, the work integrates the human body with technology, forcing the virtual perspective and manipulating the performer's movement. QR code like images cover the other performer, creating a conduit for the virtual manifestations. Featuring satellites, spaceships, celestial bodies, and bodies of water the virtual elements reference the effects of bodies in orbit, both artificial and natural. The work highlights the power and presence of unseen technology, by transposing it onto the human body.
@hrnktrk
Oh, it will be so difficult to choose. 🥵
I could start with Shadowduel, as one of the filters I'm really proud of. I love the anime Yu-Gi-Oh! so much and wanted to create something for it. It ended up being one of the most successful filters I created. It got shared in many places and youtube reviews, one of them was PewDiePie.
I love the Breathing filter. It has a special place amongst all my filters. The inspiration behind it was the music video of Oscar and the Wolf – Breathing. It was kind of a therapy for me to create this filter back then. The song was playing nonstop in the background while I was creating the diamonds on the face one by one in Photoshop. I was in a meditative state, fully focused and isolated from the environment that I was in.
Fun fact – later breathing spawned the Mahluk filter I created for the Lenslist Halloween contest in 2021. 😀
Another one would be my glass-made neon filters. One of the first ones was MONplay. It was a collaboration with Master of Neon Studio which was a neon art studio that my friend owns. And NeonFörever, a collaboration with one of my fave neon artists Josefin Eklund. It has elements of one of her neon works placed around the head.
There is this interactive one called Uright and Uknowit which I really enjoyed and challenged myself with. It's a collaboration with Berlin-based unique Dj AinTheMachine. The idea behind this is to create your own version of his new song U right and U Know It by using head movements and face gestures that activate some samples of the song. That was such a fun filter to create.
I also have to mention this filter, my first ever digital fashion piece – Lucid.
I think I should stop here. I told you it will be so difficult to choose!
What is your plan for the future? What do you want to work on or what kind of skills would you like to develop?

@ls528
Right now I'm preparing a Virtual Psychedelic Experience for a mini summer festival and will be presenting my work as prints, video projections, AR interviews, and VR visits to my metaverse galleries – so bringing together all the different facets of my digital portfolio and Virtual Psychedelics.
I'm also developing new AR work for a long-term client. This will be the fifth time we've incorporated AR into their events and marketing, and this time I'm designing printed menus with AR color-popping animations and effects to bring them to life.
Over the last year, I've been using AI to ideate and experiment. The ever-growing set of AI-driven creative tools is mind-blowing and I expect to collaborate with AI more and more in the future.
@map_space_
Since I have a background in XR development, game development, and product design, I'm passionate about creating a project for other creators to learn this technology. I've created challenges like the "50 Days Challenge for Video Games" for anyone to learn while having a good time. It's perfect for anyone who wants to dive into the XR and gaming world or enhance their expertise in this field. Keep an eye out for more challenges coming your way! 💖 Who is up for a challenge? Meanwhile, I'll be continuing to develop my tech skills in webAR, games, and tools like Unity + C#, etc – there is so much I wanna learn! 😂
@dannymarree
My current goal is to build a local team here in the Netherlands to get more work and expertise going inside of Verticar. Personally, I would love to do an Augmented Reality experience for the new Apple Vision headset next year. We are also looking to expand more into TikTok AR effects lately.
@sianfan
At the moment I'm really interested in researching techno-orientalism, and the entangled relationship between Asian identity and technology. I'm reflecting on my own mixed heritage (being half Chinese and half British), considering how having grown up in a Westernised culture my ideals of my Eastern identity are warped and mediated by the Western gaze and by Western media. In particular, I want to explore the uneasy synchronicities between Asian and cyborgian bodies; in popularised depictions of Asiatic bodies in anime and video games; and in the thresholds of human identity where one exists as both and neither at the same time. I'm doing this through a variety of mediums and software, including video games via Unity, generative AI, 3D printing, sculpture with fabric and plastics, and performance. In terms of skills, I want to improve my work with Blender so that I can cleanly 3D print digital models.
@hrnktrk
My plan for the near future is to get into creating more VR and AI works while mastering Augmented Reality. I want to explore ways to combine these 3 with my design skills and create brilliant, incredible, amazing, show-stopping, spectacular, never the same, totally unique, completely not ever done before, if you know what I mean. 😁
What is your dream project or collaboration?
@ls528
My creative career spans 20+ years and I've worked with many famous stars and brands like Rihanna, Lady Gaga, Madonna, Maison Margiela, Burberry, Puma, Selfridges, and Rolls Royce. Many dreams have already been fulfilled. What I value now are bold projects that innovate, and have requisite budgets to deliver the very best possible outcomes.
@map_space_
Okay, this one's a toughie, haha! I don't have a specific brand or field I'd love to collaborate with. What would truly make me feel accomplished is seeing people actually using, playing, and having a blast with the XR experiences I create. Just observing them and seeing what they enjoy and how they use the experiences would bring me so much happiness.
@dannymarree
I would love to build more AR retail experiences for more high-level brands like LV, Versace, Off-white but would also love to collaborate with more fellow artists from the AR community. Creating something with the extensive list of high-quality assets from Disney or Studio Ghibli would also be amazing!
@sianfan
I think my dream project would be something using the really high-spec optical motion tracking and those really big LED video walls – I've wanted to use both of these.
@hrnktrk
Oh, definitely collaborating and working with my fave musicians and artists! I love working with musicians and artists. Adding another layer of their creativity and being a part of their creation process. That is really satisfying. I would love to work on a big project that has a good team to work with and create something big altogether. I love working with a team as much as I enjoy working alone.
⭐️⭐️⭐️
Our today's guests contribute significantly to the multifaceted world of XR, excel in the digital sphere with remarkable success, and ultimately inspire! 💥 Talent, an irresistible drive to create, and never settling for what has been achieved – aren't these the three pillars that make them true stARs and role models? 🤩