Best Branded XR Experiences | May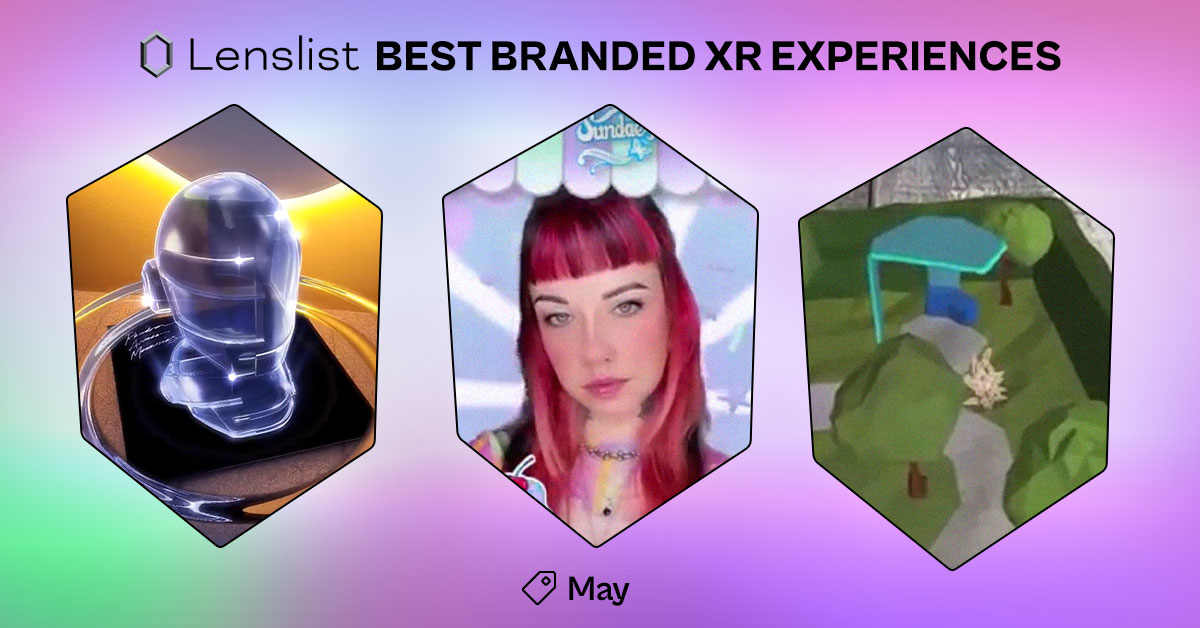 May was definitely keeping our calendars full, and there were a ton of exciting events happening in the realms of fashion, anime, sport, art, and education! 👾👩‍🏫 Brands are stepping up their marketing strategies, and you won't want to miss out on the fun – trust us. 💛
Drumroll… 🥳 Let's welcome our freshest picks for the Best Branded XR Experiences from May! Just below you will find some of the most entertaining campaigns, collaborations, and activations that will hook you up in a matter of seconds. After all, who doesn't love a basketball challenge or a natural history lesson? 🐛 Let's dive right into it!
Uniqlo UT x Dragon Ball
If you've ever shopped at Uniqlo, you know that this Japanese brand is a must when it comes to amazing quality and classy basics, and a true passionate for catchy themed graphic tees. 👔 They've already released a wide range of graphic print collections for anime, movies, and pop culture lovers, but in May, Uniqlo did something for both anime and AR enthusiasts… We're sure that the Dragon Ball anime series rings a bell. 👀 Try out 4 interactive filters created by @y__kassy and see how this legendary series comes to life once again with Augmented Reality!
ARt in Museums: Barbican Centre, Mañana Bold, LWL Museen
AR experiences with social and educational value? We love these combos! 🤝
Barbican Centre: Superorganism
The Barbican Centre, an art centre located in London, is known for its outstanding design concepts delivered by famous architects and contemporary art installations. Inspired by superorganisms and fighting for environmental causes, try out their filter made by @xt_projects, and admire floating bio-like shapes! 🦋
Mañana Bold: Democracy
Mañana Bold is an art platform, linking regional, national networks, and artistic associations of young people. For their latest initiative, @nadinekolodziey created a filter called Democracy Everywhere, which once you open it, will create a public space for debate! 🗣️ So, should we join the convo?
Industrial Insects
LWL Museums of Industrial Heritage are eight compound industrial buildings in Germany, giving second life to art through different events and exhibitions, including a recent one called Industrial Insects. 🪲 Celebrating the tiny creatures living in huge facilities, @nadinekolodziey created an interactive filter for you to meet them firsthand! Read more about the installation here, and in the meantime, let's make some cute friends. 💚
Smart Shootboard
SMART, a Philippines' Mobile Network company, will get you all ready for the upcoming FIBA Basketball World Cup with two addictive AR mini-games! 🏀 Whether you're a basketball fan or not, there's always room for practicing your skills, right?
Check out the rest of the best branded XR experiences from last month! 👇
Instagram
Snapchat
TikTok
⭐️⭐️⭐️
We're thrilled to dive into the stories that drive digital campaigns! 🚀 Seeing brands and Creators push the limits to capture ideas with Augmented Reality is why we do what we do. We hope you loved our May edition, but get ready because our June picks are just around the corner! 🏳️‍🌈