10 AR Filters' Creators You Should Follow | December 2022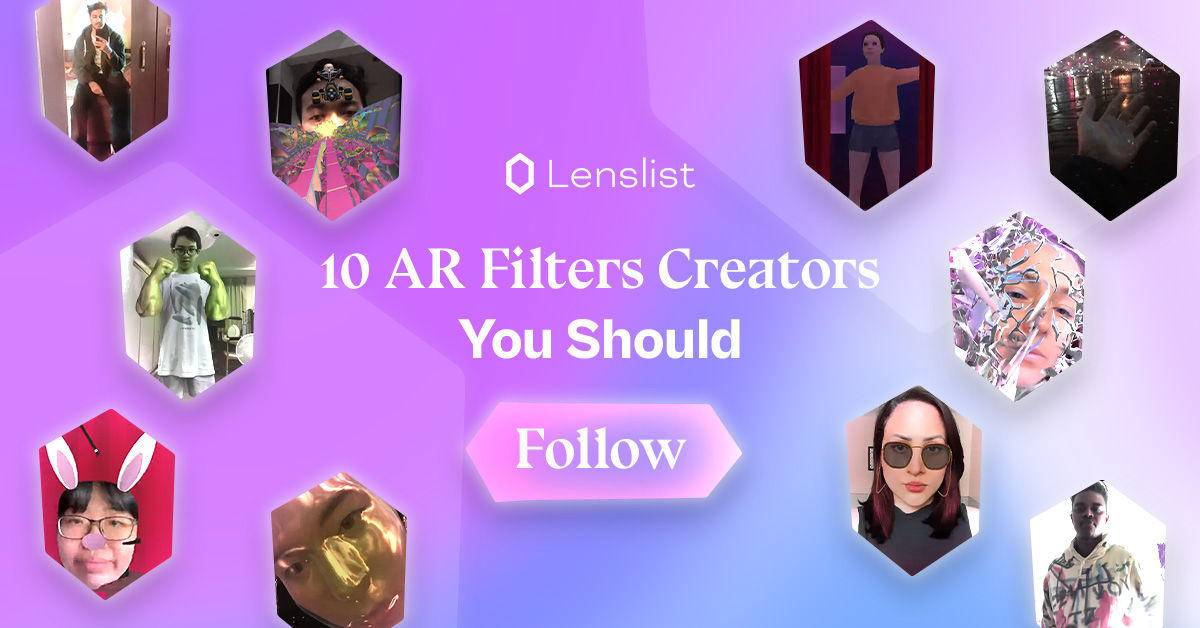 Today, once again, we want to be cARried away into the dreamy world of unprecedentedly talented digital artists, together with you! 🚀😍 Fantastic revolutionary minds of our Creators scattered all over our vast planet come together in the 10 AR Filters' Creators You Should Follow – December edition. 💫 The most dARing, passionate and ideological pioneers and seasoned innovators open the doors to their one-of-a-kind world of augmented art! 🔥🔥🔥
Let's get to know them better, find out their burning stories, and be inspired by their creations! 🥰
James Orrigo

@ladinabattle
James Orriggo is an innovative digital artist with not only big talent, but also a really big heart having its special mission. His original AR projects are aimed to support people with serious diseases. So let's take a closer look at his chARitable goals!
I am interested in AR because I see the potential of using these tools for good. I work with kids and teens who are battling cancer and have been able to use AR to bring a positive distraction to them right where they are. Whether it is transforming their hospital room with portals, creating custom costumes for virtual music videos or making head tracked video games for mobility-limited patients, the magic of AR has helped us to bring joy and feelings of awe to families in need. I would not be able to provide these next level experiences to these kids if it wasn't for the kind hearted AR community. I have had the privilege of working with, collaborating and learning from some of the most creative AR mentors in the community. I am so thankful for each one who has helped us bring imaginations to life. My goal is and will remain to be: use these tools for good and collaborate with the brightest minds to make unforgettable experiences happen.

– James Orrigo
Xopher Wallace

@xopherwallace
Xopher Wallace is an AR Creator, a member of the Spark AR Community based in South Africa. Like many of our Creators, he discovered the AR world during the pandemic and plunged into it with his head! Despite learning from experienced ARtists, Xopher has his own unique and even mysterious style.
I am an anonymous visual artist from South Africa with a love for the AR and VR space.

I accidentally found out about Spark AR during the pandemic, trying to learn 3D modeling. I love how 3D can be layered in a real time setting. Few tutorials later I managed to create an experience using my own imaginations. Always wanted to try to fit AR within my visual style but I started getting very into reflective shaders and distortion. Also being fortunate to use my skills for brands and individuals worldwide.

Appreciate the community especially for being so helpful in my journey.

– Xopher Wallace
Victoria Ali

@victoriaaaali
Victoria is a progressive digital artist, mainly an Instagram filter Creator. Her distinguished works are not just about beauty and entertainment, each of them carries a certain meaning. Are you curious, what is that sense? Let's find out!
I always considered myself as a very curious person, that's why when I found out in 2019 that it was possible to make my own filters, I began to investigate what tools existed to carry them out. That's how I first heard the name Spark AR, back then, there weren't many tutorials on that platform, but then as the community of creators grew, little by little I was able to acquire more information. I started experimenting with this tool, and the results obtained were satisfactory. This encouraged me to capture my own ideas, address different themes and social problems in my effects. For example, one of my latest effects, "Bloom", talks about the importance of protecting our mental health and asking for help in order to "bloom". One of my great inspirations in this industry is Florencia Raffa, an incredible creator from my country, also Paige Piskin, Jr Morgam. One of the things I love most about this community is how much we support each other. I can't wait to see where this great journey will take me, but I'm sure everything to come will be great!

– Victoria Ali
Kemelly Ferreira

@kemysletters
Our next AR talent Kemelly is a Brazilian journalist who set foot on the path of AR about two years ago, and we are sure she will not be able to turn away now! Her growth in this mARvelous field is so fast that perhaps soon she will need no introduction. Meet her exceptional ideas!
A journalist by training and an artist by vocation, I found myself creating filters for Instagram in early 2020, in the midst of a pandemic. Freshly graduated and looking for alternatives that would be my differential in the area of Communication here in Brazil, I started studying Augmented Reality through tutorials on Youtube.

Since then, I have seen more and more possibilities in my area of expertise and more and more I propose to share with other people the immersion that filters provide us with in our digital social relationships. Naturally, as a content creator, it is inevitable for me to seek new forms of artistic expression to narrate small realities. I feel that I have a lot to learn, but as far as I can present the universe of augmented reality to other people, being a spokesperson for artistic manifestation, I already feel very fulfilled!

I hope my art can touch many people!

– Kemelly Ferreira
Charmaine Chan
@chronicles.lab

Our next ARtist definitely has something to show! Charmaine Chan is an AR Creator mainly specializing in 3D modeling. Her main goal is to expand our imagination, and for only two months of work in this ARea, she certainly succeeded! We invite you to enter her extraordinARy world full of surprising designs and inspirations!
It has almost been 2 months since my AR journey started and so far, I am having lots of fun. At first I started out purely making 3D models because I enjoyed it and it is of similar nature to what I studied in school. But one day, I had a sudden thought: "How nice would it be if I could bring this into reality?" And so, that's what I did. I enjoy making fun and immersive filters that combine imagination and reality. A part of what drives my direction is my desire to escape the mundane reality and to feel the excitement of experiencing different(new) things. Moving forward, I hope to create more immersive filters that can push the limits of one's imagination. I feel happy when others enjoy the effects I make and it motivates me to explore more ways to make things more exciting. So join me on this AR adventure!!

– Charmaine Chan
Arrizal
@arrizalk

Arrizal is a young digital artist from Indonesia, but not so young if we are talking about his AR journey! Since 2016, he has been learning and studying AR from all its unattainable angles, not resting on his laurels, but creating more and more incredible spARkling projects, thanks to which he has already deserved to work with not little-known brands!
Hi. My name is Arrizal and I live in Bandung, Indonesia.

Since 2016 I have already been interested and took a dive into the world of Augmented Reality. I have developed an AR game and AR applications for collectors and musicians of cassette tape to visualize and enjoy the music even without a cassette player. Back then the AR industry was still not well known, many people underestimated it, but I already believed that this industry will grow into something significant.

In 2018, me and my partner established Hasabi Studio, A software house and creative studio where we explore our crazy ideas. We also got a chance to work and hone our AR capability with various agencies and well known brands like Starbucks.

I'm really excited to explore and see how much AR can be applied and change the world in the future!

– Arrizal
Askhat Mudarisow
@askhat_mudarisow

Askhat is a programmer and prodigiously capable AR Creator. There is incredible creativity in Askhat's works, along with professional skills in creating complicated designs. Let's see!
I just love math and computer graphics. My journey started at school with simple programs, and still I'm searching for another good challenge. With AR I can share my explorations to the world!

– Askhat Mudarisow
Maninder Singh

@yupmaddy

Maninder Singh is a digital artist based in India mainly known for his AR effects on Instagram. Thanks to his rapid development in the field of Augmented Reality, he soon began to work with numerous brands. But that's not all he planned! Fingers crossed he will make his deAR dreams come true!
Hey! I'm Maninder Singh (@yupmaddy) from India. I started creating AR effects in November 2019 then I started to enjoy creating AR filters. It became a passion and I started to learn blender and photoshop which are very important in AR effects. After some time many clients liked my profile and started giving me AR projects. I also started teaching about AR in Reskilll company which is a partnership of Meta.
I am a fan of mythological serials, anime, and Indian culture. I got lots of ideas just by watching movies and art. I tried to create that into AR filters.
My future goal is straightforward because I want to jump to an advanced level, learn more and open my own AR company.

– Maninder Singh

Karine Rodrigues


@uunique.s
Karine is a promising digital Creator who started her AR journey about 3 years ago and is already the head of an AR specializing company created by herself from scratch. She has no problems with inspiration and searching for new contemporARy design solutions. Her AR filters are especially varied and everyone will find something captivating for themselves.
Hello, I'm Karine Rodrigues and I started working with AR at the end of 2019 when I created the company UniqueStyle to develop filters for myself and clients.

I started developing simple effects, but as I learned, I fell more in love with the possibilities of creating AR effects.

I get a lot of inspiration from the real world to create and bring possibilities for people to experience new things, from a different hair color to interacting with 3D objects in scenes, and recently I love working with fully immersive experiences, and I increasingly deepen my knowledge in techniques that I thought were impossible to do. I have fun while I work and that's the part I love most about everything I do in AR.

– Karine Rodrigues

Sofia Rousinovich

@roussingirl

Sofia Rousinovich is a Ukrainian AR designer with an extremely state-of-the-ARt approach to creating real masterpieces. Her key passion is fashion and she does all her best to connect it with her other newly minted passion – Augmented Reality. Let's get acquainted with her story and mARvel at her cosmic art together!
Nothing is impossible especially in digital arts 🤓
I started studying 3d art 9 months ago on a macbook air, which is 13 years old 😂 with RAM 4 gigabytes
it is so slow that sometimes I had to leave it for half an hour or even more…to think before moving on to the next task 😥
but I wanted to master digital art so much that I didn't care)))
the main inspiration for me are artists and creators, they motivate me to develop)
I created my first lenses with Ukrainian symbols to support my homeland… and now my skills are a great opportunity to support my country, as I can work to develop the economy.
I think I'm still looking for my style. I would like my lenses to be a continuation of my clothing brand, which is currently not working … but I'm still learning, and there are so many interesting and unknown things ahead.
That's why now I'm on the way of experiments and self-discovery 💜💜💜
I have so many thoughts that I can write for several pages… but in short here it's 😆

– Sofia Rousinovich

So much wonder and so many surprises from our think-outside-of-the-box ARtists who never let us get bored! 💥 As always, we are very impressed by the limitlessness of their groundbreaking projects. And as we know, the future will bring more… Can't wait to see that "more"! ☄️💜