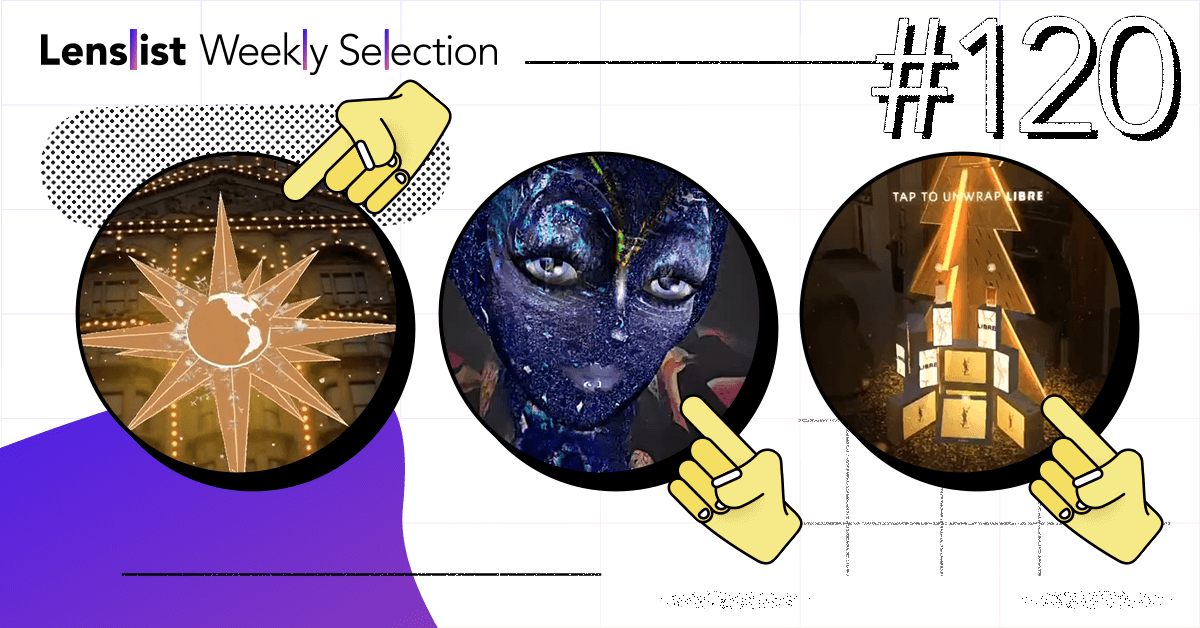 We feel very passionate about every single edition of our Weekly Selection, but this time we are extremely pleased to present to you our special 120th edition! ⭐ Such round editions make us realize how grateful we are for being a part of such a wonderful Community – cheers to another 120 selections! 🥂 Now let's get to the best part – the filters itselves! ✨
Since Christmas is just around the corner, we have picked up a couple Holiday-themed Effects! Get excited for beautiful gold decorations, outstanding Christmas trees, and cheerful AR greetings! 🎄 And if you feel a bit more adventurous this weekend take a look at immersive portals that will take you to different dimensions – whether it is a Santa's factory or liquidy drip-like surroundings – you choose! 🌀 In general, our talented Creators weren't afraid to step outside of reality and provide us with real-like experiences, such as a gigantic pizza world or glowing creatures! ✨🍕 Enjoy!
💡 Our Lenslist database includes thousands of Instagram filters and Snapchat Lenses. Every one of them is teased by a demo video, has a direct link that opens it on mobile social apps, and is tagged depending on its style and functionalities it uses. To help you take full advantage of Lenslist, we've linked some tags related to the filters mentioned in this article. Don't hesitate to try them out!
Related tags:
Related tags:
Related tags:
Related tags:
Related tags:
Related tags:

You may think we are bragging, but this week's selection was exceptional! ⭐ After all, it's all thanks to these talented Creators, who never stop to amaze us. 💜 Now, go enjoy your weekend and get ready for more engaging content very soon. Stay tuned! 🚀