Branded Showcase | Atomic Digital Design x Steve Madden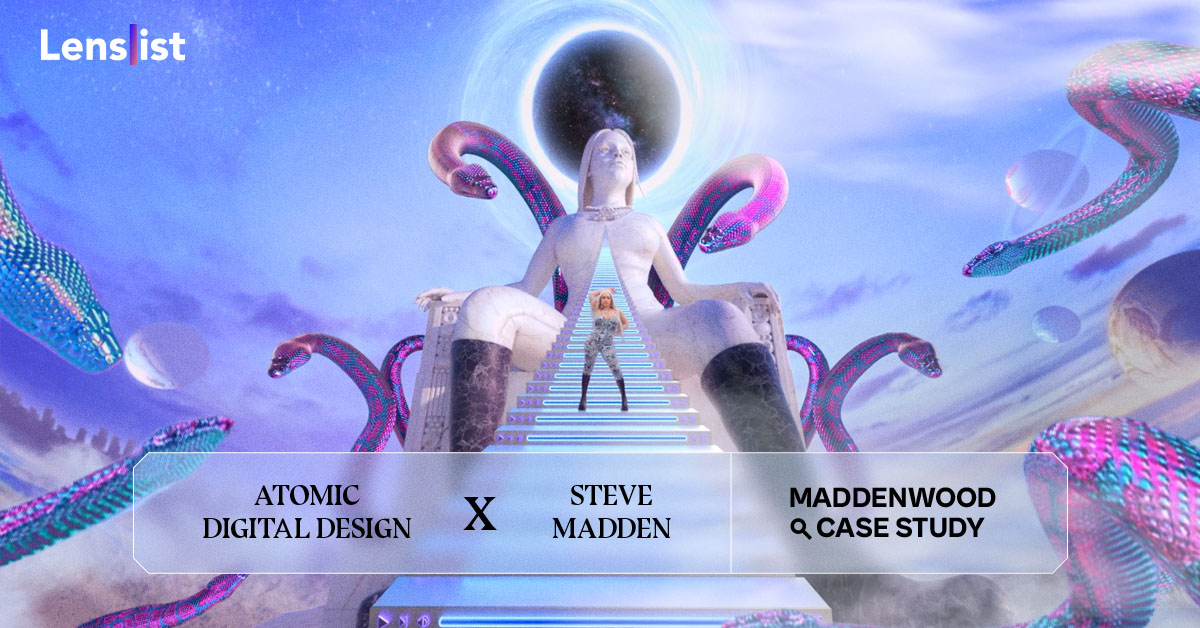 It's no surprise that through Augmented Reality, brands and agencies can transform campaigns and marketing into something unique – adding the immersive and interactive layer truly catches the customer's eye. Today however, we're setting our eyes on Atomic Digital Design, an agency powered by AR, innovation, creative thinking and long-time experience. 🚀 As an honorable guest for our Branded Case Study format, we're taking into the spotlight the campaign made for Steve Madden and following their steps that led to creating the MADDENWOOD universe, starring, among others, Bella Poarch. ✨ Step into the world full of stylish pieces and virtual surprises together with Atomic Digital Design – the floor is yours!
Purpose of Creating the AR Effect
The campaign for Steve Madden, the American shoes and fashion accessories brand, invites us to enter MADDENWOOD — a world where dreams come true. The video clip gives the Lo-Fi 90's vibes and features influencers Chloe Cherry, Bella Poarch and Latto. The opening scene is an audition for Paloma (Chloe), Fantsie (Bella) and Cypress's roles—they are going to portray these characters in the MADDENWOOD. ArtSide conceived the campaign, and Parisian Multimedia Studio Mathematic produced it. The campaign's manifesto expresses the boldness and self-assurance of a generation that straddles both analog and digital worlds. This time around, the client wanted to use augmented reality without having their customers go through an app. We introduced them to WebAR technology, which allows users access rich AR experiences directly from a mobile web browser.
The Idea Behind Creating the Effect
The augmented reality posters, displayed in three major U.S. cities — New York City, Los Angeles and Atlanta (coming soon to Europe) — enabled customers to unlock three virtual doors leading them into MADDENWOOD itself. The first AR experience showcases Bella as a nonchalant pop star, the second lens portrays Latto as a serpentine feminine queen, and the third experience opens with sweet and sexy Chloe taking her friend for an outing.
Tools, Templates and Features Used For Creating the Effect
A rich set of 3D and 2D assets was collected, assembled, and made small enough to run in real time on mobile phones through image tracking using QR codes.
Promotion of the Effect
The effect was promoted in store through augmented posters and in-store print display and on social media.
Results
Using the 8th Wall webAR platform to create this innovative communication campaign that leveraged print allowed ArtSide and Steve Madden to make the offline marketing campaign more intriguing and engaging, with a total of 1,3k+ views in less than 30 days since the campaign launch.
Collaboration With the Brand
We have a dedicated team throughout the production. Team members are picked based on their expertise. We have several internal check-ups to ensure the experience is of high quality and functionality. We're always reactive and flexible as possible regarding client feedback.
⭐️⭐️⭐️
Suppose you want a customer to leave an advertisement feeling like they've just had a unique, tailored experience. In that case, continuity across the different campaign assets is critical: the imagery for your augmented reality (AR) branding experience should feel like a seamless next step from the TV Commercial.
First of all, we would like to say how much we appreciate the insight we received from Atomic Digital Design. ⭐️ Unveiling the mysteries behind successful projects is not only interesting, but also helpful for those thinking about AR-powered campaigns or projects in the future. 💪 We hope you enjoyed the story of MADDENWOOD and felt inspired by this fashionable universe – we definitely did! 🔥 We're always looking out for unique projects and use cases of AR in marketing, so stay tuned for more Showcase Branded!