The Future of… Gaming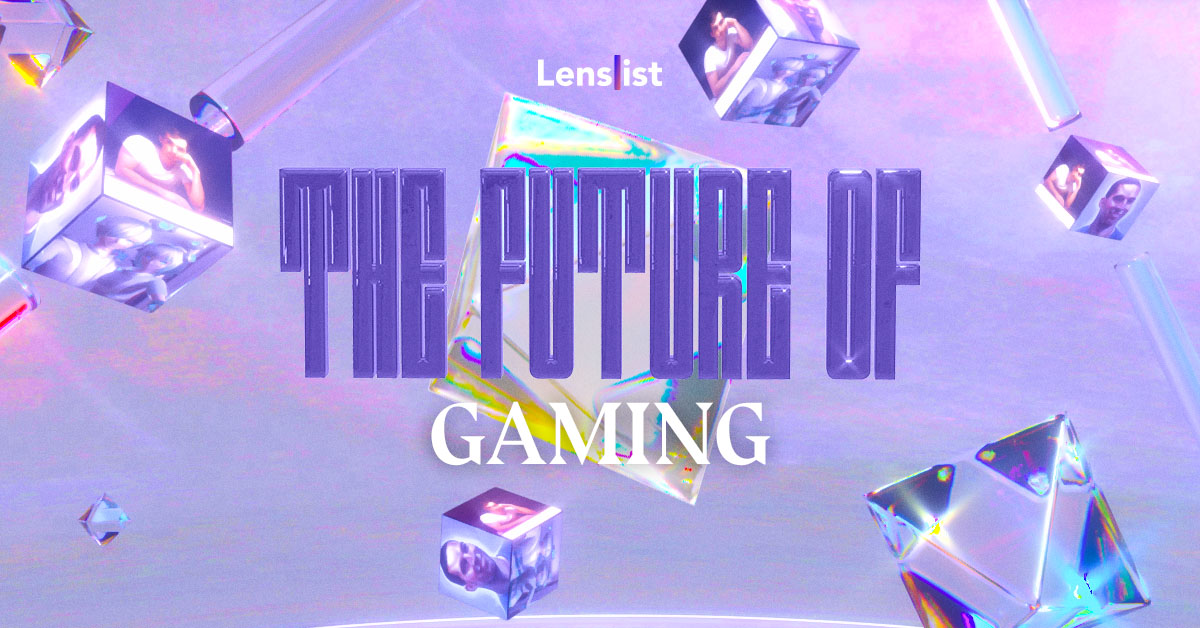 As we all know, the days of Game Boys are long gone, and their place has given way to more refined, elaborated and complex games – we know, we're still nostalgic about all the hours spent playing Snake on the indestructible Nokia… 🥹🎮🐍
However, have you ever wondered how gaming technology will change over the years? What new features will it have? Will new types of games emerge? How will it change the user experience? Don't worry, in the next article of our "The Future of…" series, we tackled this very topic! 💪 We asked Pavlo Tkachenko, Cybernerd Baby, and Danny Parks about how they envisioned the future of Gaming in the context of the development of AR, VR, and XR technologies.🤓
Dive into these three interesting and engaging visions about how modern technologies will change our perception of the weekend chilling with the console in multiplayer mode! 🎮🕹️ Enjoy!
⭐️⭐️⭐️
QUESTIONS
What kind of impact do such technologies as AR and VR have on the gaming industry? Will new types of games emerge? How do you see the future of gaming?
Pavlo Tkachenko
Pavlo is an AR Artist from Ukraine, who received recognition as a Spark AR Creator. Thanks to his high skill level, he manages to create original and refined works.
Just a year ago, I discovered VR gaming, and my world was turned upside down. After VR, I didn't think anything could surprise me more until I tried Augmented Reality glasses. Clearly, AR and VR are the future of gaming.
Going forward, we will see a simplification of interfaces to interact with worlds. Thanks to new technologies, we will be able to fully immerse and experience objects in the digital layer. As a result, the focus of the user's attention in games will shift even more toward the story or interaction with other players. Worlds will become more social and open.
In addition to the development of the games themselves, there will be a development toward the portability of the devices. Headsets will become more and more a part of our everyday life as a smartphone, so that we can play, work, and create anywhere. It's going to be fun!
Cybernerd Baby
Cybernerd Baby is an award-winning duo of Augmented Reality designers and Metaverse builders, based in Malaysia. Since 2021 they have created an overwhelming number of interactive AR experiences, interoperable assets, 3D avatars, Metaverse spaces, web3 collaborations, and many more.
For a long time the gaming industry was concentrated mainly on PC gamers, and a lot of popular games out there, including multiplayer (prototype Metaverse) games, required the latest GPUs and expensive desktop computers (or even more expensive gaming laptops). Even with these requirements, the gaming industry today is one of the top profitable industries in the world. But, as you may know, some smart people just thought: "We are really missing out on bored kids with mobiles out there 😏". And then they made Minecraft or Roblox with not such great graphics but very intelligent concepts and addictive gameplay. Besides, there are so many more young people out there who have mobile phones and a little capacity for buying Robux money, than gamers with home PCs. No one ever took mobile gaming seriously before, and now Roblox is worth seven Ubisoft with more than 50 million active players in the world (200 million daily only in the US). All of that just because mobile is easy to carry, you can play anytime anywhere, and it's so much cheaper than PC – it's convenient and comfortable, and unlike Nintendo Switch or portable PSP – it's a multipurpose device and doesn't require special investments for playing games.
We see the same type of development logic in the VR and AR gaming industry. 2D screen games are not enough anymore to "wow" the user, no matter what they do, people crave immersion in the story and gameplay – they always did. They want to be their favorite character as much as they can while they play. So the VR gaming industry is finally crossing these borders and giving us perfectly immersive gameplay, where you can fully become your character in the game. It's amazing to travel across absolutely immersive fantasy worlds.
But guess what? It's not very popular. And why? In the early rise of VR, we only had PSP VR or pricey Vive, so we still needed expensive computers, and dedicated space in the house where you had to place the cameras, and it was like an exclusive club of gamers. Even with Meta Quest people still feel like it's a bulky device on their heads, and it's really dangerous to use VR in a space where you can hit the wall or furniture with your head. Many people still feel dizzy when they have to submerge into virtual reality because of the body motion vs VR motion conflict. VR has already contributed a lot to immersive art, creativity, education, and gaming, but the hardware is still not catching up with the concept, which makes the whole tech uncomfortable experience that is not popular.
AR glasses shall change and turn around the whole world of immersive gaming, just like mobile gaming did. They will be light, easy to use, wireless and safe, because it doesn't cut you off from the real world – they will rather enhance your visual experience and lifestyle significantly. You can use your AR glasses anywhere anytime, you can for example play games like Pokemon Go on the way to work. AR technology will fully take out the Internet from a 2D screen and bring it into the real world – it will become full of digital magic! Of course, AR tech is not going to be catching up on graphics at first (just like PC vs mobile), so VR is still going to be the main way to go about fully immersive gaming. But as we know people somewhat always prefer comfort and effortless solutions, so the AR gaming industry will outweigh VR very fast.
About new types of games: yes, there will emerge a lot of AR games meant to blend with the physical environment – treasure hunts, multiplayer fighting, etc. Besides, there will be a lot of games that unlike PC games will take care of healthy motion routine of the users and fitness, and that's what we see very positive in the AR industry, as well as safety (you don't have to walk or drive and look into your mobile screen at the same time, which is already the cause of the majority of accidents). Good AR glasses will bring us back to the real world, infinitely enhancing it, and taking us off screens. Our kids will finally look at us again when we address them, and will stop hunching all the time 🙂 One of the most exciting features is the ability to bring digital avatars of your friends into space around you and stay connected with your family without losing touch with reality. That's the future of gaming as we see it.
Danny Parks
Danny is a Vice President Of Technology at Trigger – The Mixed Reality Agency, where he gets to lead an amazing team of engineers and artists. Together, they create some of the most exciting XR experiences in the world.
What kind of impact do such technologies as AR and VR have on the gaming industry?
Like any new technology, AR and VR can create new ways to work and play. Both AR and VR have shown some early examples of what those experiences might look like, but we've barely scratched the surface. Things are going to get really exciting as the hardware friction smooths out.
Will new types of games emerge?
We're absolutely going to see new types of games. Every new innovation in gaming platforms (Arcade, Console, handheld, Wii, mobile) causes a burst of innovation. VR and AR gaming has seen some of that already, but the hardware still has a lot of room to improve. AR is still trying to work within the mobile gaming paradigms while waiting for a truly excellent dedicated hardware platform, which will arrive sooner than expected.
How do you see the future of gaming?
AR and VR are going to become a bigger part of our digital lives because they have tremendous potential to integrate with our physical lives. According to Insider Intelligence, there will be more than 100 million AR users in 2024. And, while gaming is already one facet of our digital lives, as our digital and physical spaces become more and more connected, we're going to see games with exciting new mechanics, games that are persistent and pervasive, and games that connect us in ways we can only imagine. Pro gamers who experiment with new ways of interacting with fans will open up new opportunities and allow businesses to recreate what they have done in the real world.
⭐️⭐️⭐️
We hope that you enjoyed this little journey into the future! 🚀 We are really excited about the visions of our experts, whom we would like to thank for their time and willingness to share with the Community. 🥹🥰
More such formats are coming soon. Stay tuned! 💜