10 AR Filters' Creators You Should Follow | October 2022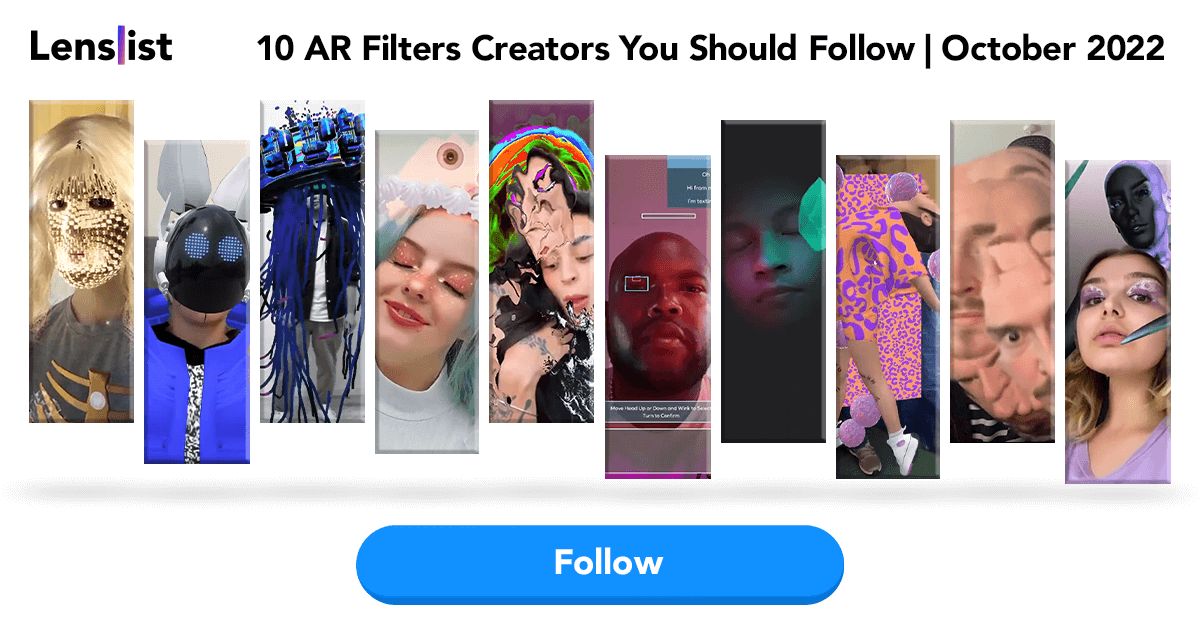 October is slowly coming to an end… 🍂 And since it would be impossible to pass on to another month without giving a proper shout-out to the most promising artists and developers 📣… We have prepared for you another compilation of 10 AR Filters' Creators You Should Follow! ✨
We're really excited to share with you these 10 names of fast-growing Creators, who, in our opinion, will become the future of AR! 🚀
Doddz

doddz
Doddz is an artist with many talents – from being a TED Speaker, to developing his career as a Celebrity Digital Artist. Since he already worked for brands such as Dior, Disney, Tommy Hilfiger, (and many more) he is widely considered to be one of the top Augmented Reality Creators in the world.
My AR journey has been a steep learning curve – I'm coming from a creative background with little to no technical know-how. From an artistic perspective AR opens up so many creative opportunities, it's really freeing. My style combines physical with digital which I feel reflects the world we live in. My plan is to create art that educates the public on the different ways AR can impact our lives.

– Doddz
Livi Wilmore

livicggurl
Livi Wilmore is a digital storyteller and XR experience developer. She likes to use immersive new tech in extraordinary ways to challenge people's perceptions. Her works stand out for their unique style and great ingenuity.
I like to use AR to satirize day-to-day life and inject a bit of whimsy into the world! I love AR as it can challenge people's perspectives on how we see the world around us, as opposed to completely submerging into a different universe. I also like to use AR to teach people about interesting lost histories and have developed several public-facing experiences from a Welsh History poster trail, to an AR Boat trip hunting ancient beasts along the water, and 90s-style experience about a Kentish cult! I have a background in CG Arts, so AR seemed like the natural next step for me. In the future, I'm hoping to develop further my skills as a unity developer to create more learning experiences, and begin hosting AR dining parties!

– Livi Wilmore
Inna Horobchuk

inna.sparrow.xr
Inna Horobchuk is an AR and VR Creator that joins her technical skills with interior design abilities. She likes to work on open-minded projects, showing the character of individual space and personal area. She is passionate about creating the future and implementing new technologies in her works.
I started as an architect and interior designer, and it always keeps me somewhere between creativity and practicality – each time I learn something new in AR, I try to find its purpose in real life. I like rethinking our daily routine, and how it can be changed/improved by implementing new technologies.
AR is a fantastic field of inventing something new. AR changes our points of view on usual things. I believe AR will enlarge human understanding of the surroundings and, of course, improve human communication. I think that future technology should not be perceived as a distraction, but more like a superpower to enhance our vision, know more, and make life easier and happier.
I can't define any exact style of my filters. The concepts of my Lenses come from combining the features that I've learned and my lifestyle. When I have time to learn new tools, I try to create engaging experiences, and think of how they could be used in the foreseeable future.

– Inna Horobchuk

Craig Lewis

iamcraiglewis2
Craig Lewis is an AR artist that excels at creating unique and outstanding filters. His style could be described as a mix of unusual multiplications, strange elements, and great playfulness of forms. His concepts are either completely offbeat by their complexity or surprising by their simplicity.
Hello, I'm Craig, and I've been making Instagram filters since late 2019. I initially decided to give it a try because I kept seeing sponsored adverts on Facebook for Meta's filter creation software – Spark AR Studio.
I work as an artist in the videogames industry and have a keen interest in shaders, so making filters has been a good opportunity for experimentation and learning different techniques.
I like that Spark AR allows me to take the input of a phone's camera and transform mundane everyday imagery into weird and wonderful interactive works of art that anybody can use.

– Craig Lewis
Nick Kazakov

nickazak
Nick Kazakov is an experienced XR Developer, Innovator, and Digital Creative. His work has a combined reach of half a billion impressions around the globe! Nick's also a certified Snap AR Developer.
Hi! My name is Nick Kazakov. I'm an AR Visualist from Sofia, Bulgaria, and I've been working in the XR industry for more than 3 years now. I've always been fascinated by interactive storytelling and I try to convey that with my projects. I'm currently working on my first interactive AR short "Breath" and I'm super excited for everyone to try it out! If you ever have any XR-related questions or just want to hit me up, I'm on most socials as @nickazak

– Nick Kazakov
Zofia Krzyżanowska

zof.ienda
Zofia's artwork combines working in a variety of software and mediums, such as 3D world building, animation, and haptic interfaces, also including her extensive experience in photography, but especially focusing on Augmented Reality. What inspires her visually is brain work during night dreaming, which results in plenty of surreal works.
I'm Zofia – a mixed media artist, and a student at the Royal Academy of Art in Hague. My love for AR started at the Academy, which motivated me to intern at the Dutch AR studio Videorbit, before transferring to my current position at Beyond. I love working with futuristic, psychedelic, and cyber-liquidy-glowy aesthetics. Currently, I create mostly on Instagram and TikTok. I simply love seeing people interacting with the little creations so they can adjust to the Augmented layer of their lives. I also draw inspiration from my other hobbies like makeup and VJ-ing. Extremely excited to explore more and be one of the Co-Creators of the AR world.

– Zofia Krzyżanowska
Vitoria D'Ugo

vitoriadugo
Vitória D'Ugo is a digital artist and AR Creator. She excels at creating trendy, aesthetic filters. She focuses on preparing content for brands and helps them step up their mARketing game!
Hey guys! I am Vitória D'Ugo (@vitoriadugo) AR creator from São Paulo, Brasil. Back in 2020, I started to create beauty filters just for fun, and nowadays it's pretty much my life! Since the beginning I had always seen its power as a marketing tool and jumped straight into the AR Marketing scene, building up my own company. I've already had the opportunity to work with many cool big brands such as Coca-Cola, Puma, 3M Company, Endemol Shine, etc.
I was always passionate about audiovisual communication, and by developing filters I am always doing something that entertains me a lot. It's crazy to think about all the possibilities that you can get with AR, you can pretty much bring your dreams to the real world, and this is what amazes me the most when we're talking about AR or VR. It's all about providing meaningful, enjoyable, and bonding experiences.
For me, inspiration comes from everywhere. Every week I try to walk around the city and discover new art exhibitions or even try to do something different that I've never tried before. I love to see other perspectives and listen to other opinions and this influences my work for sure.
My focus is branding filters however I'm all into the artistic side of it, exploring new features and new Spark AR potentials, mainly with colors. The more you know about designing, coding, and even modeling, the more you can explore. Can't wait to see what's coming next when we're talking about AR, I truly believe in its full potential!

– Vitoria D'Ugo
Ajiechx

ajiechx
Ajie Chandra is an AR Artist that focuses mainly on creating face mask filters. He incorporates many different styles and effects. He is also a youtube Creator sharing his technical knowledge with others.
Hi, my name is Ajie Chandra (IG: @ajiechx) from Indonesia. The beginning of my journey in Augmented Reality started with the Metaverse concept. Combining fantasy and reality that's what I think of the Metaverse. My daily life is making filters for fun and also helping clients to complete their AR campaigns. I also made AR tutorial videos in Indonesian (Youtube: Vafilter). To find inspiration I visited the Spark AR Gallery and Lenslist pages, lots of extraordinary works from creators that encourage me to keep trying new things in AR.

– Ajiechx
Charles Johnson

ceej.vega
Ceej Vega is a motion graphic designer at Tidal and Block, and also owns his own agency, Vega Studio, a mobile-first media partner helping brands craft curated experiences designed for mobile. He's worked with brands like Google, Netflix, and Foot Locker on creative consulting, social media, and AR/VR strategy.
I'm an Interactive Designer, Art Director, and official AR partner for Meta. AR has added an additional layer to my artistic expression with interactivity. I love to create immersive worlds that users can navigate and engage through their own lens. As AR technology advances, I plan to dive deeper into the creative application of Virtual Spaces and Products.

– Charles Johnson
Egidijus

egyda_digitalthing
Egidijus is a digital creative that never fails to surprise us with his outstanding and conceptual works. He excels at refining every detail to achieve the most amazing results.
Hey, my name is Egidijus. I'm a Lithuania-based AR creator with a skill set ranging from 3d modeling, shaders, and lighting to VFX. I try to use it all to create visually stunning experiences.
My main source of inspiration comes from animated films and games. I love how each of these media can transfer you into different worlds and let you experience things that you wouldn't be able to experience in real life. My goal is to achieve the same with AR.
I see our lives as if it would be a video game or a movie. We all live as characters with our own unique stories and life paths. In my recent creations, I started to explore universe-building with the help of AR. I want to see my work as cartridges that users can open and play through a new storyline. Would it be a digital wearable that turns the user into a mystical character or an object which turns your environment into a post-apocalyptic set.
As for style – I love blending 2D and 3D media. It gives me a unique graphic style that works well in AR. It creates some sort of stylized world effect which helps to convey that you are transferred out of this world into a truly different universe.

– Egidijus
It's always a great dose of inspiration to read about other people's experiences! ✨ We hope that you'll find it helpful and encouraging on your own AR journey! 💜
A big thank you to all the Creators who agreed to be featured in today's post – we're more than happy to be able to grow and support our AR Community! 🤝
We'll get back to you very soon, stay tuned for more!